Learn how to make miso soup at home! Brimming with savory, umami flavor, this easy recipe is a delicious side dish, starter, or meal on its own.
Raise your hand if you love miso soup! Same. The cloudy broth is warming, nourishing, and deeply flavorful. On a cold, gray winter day, there's nothing I crave more. It clears my head and warms me up from the inside out.
For years, I only ate miso soup at Japanese restaurants. But after Jack and I traveled to Japan for the first time, we got curious about Japanese cooking at home. We cooked soba noodles, we made matcha, and we decided to try a miso soup recipe. I don't know what I was expecting, but I certainly didn't imagine the process to be so simple. We had steaming bowls of miso soup on the table in under 20 minutes!
Now, this miso soup recipe is a staple in our house. It has a rich, savory, umami flavor, and it's brimming with chewy seaweed, crisp scallions, and soft tofu. Serve it as a starter or a side dish with your favorite Japanese food, or enjoy it as a meal on its own.
Miso Soup Recipe Ingredients
The first step in any miso soup recipe is making dashi. Unlike meat or vegetable soup stocks, this Japanese broth takes minutes to make. In traditional miso soup, the dashi is made with a mix of dried bonito flakes and dried kombu kelp. To keep my recipe vegetarian, I skip the bonito flakes. On its own, the kombu adds plenty of umami flavor to the base of this soup.
Here's what else you'll need to make this recipe:
Miso paste – You'll find this fermented soybean paste in the refrigerated section of Asian markets and most grocery stores. For this recipe, look for white miso paste. Because it's fermented for less time than darker types of miso, such as red miso, it has a milder, sweeter flavor that's delicious in this simple soup.
Silken tofu – I like to use extra-firm tofu when I'm baking tofu, but in this miso soup recipe, silken tofu is a must. With its super-smooth texture, it practically melts into the savory soup.
Wakame – Find this dried seaweed in an Asian market, the Asian section of your grocery store, or online. 3 tablespoons might not seem like much for a whole pot of soup, but don't be deceived. Soak the dried wakame in a little warm water, and it'll expand like crazy!
Scallions – They add a nice crunch and sweet, oniony flavor to the soup.
Tamari – For serving! Add a drop at a time until your soup has a well-balanced savory flavor.
Find the complete recipe with measurements below.
How to Make Miso Soup
This miso soup recipe is super simple to make! Here's what you need to do:
First, make the dashi. Rinse the kombu, place it in a medium pot with the water, and gently simmer over low heat. Careful not to let it boil! If you do, the kombu flavor will become bitter. After 10 minutes, remove and discard the kombu.
Meanwhile, rehydrate the wakame. Place it in a medium bowl, and cover it with warm water. Set it aside for 5 minutes. You won't believe how much it grows!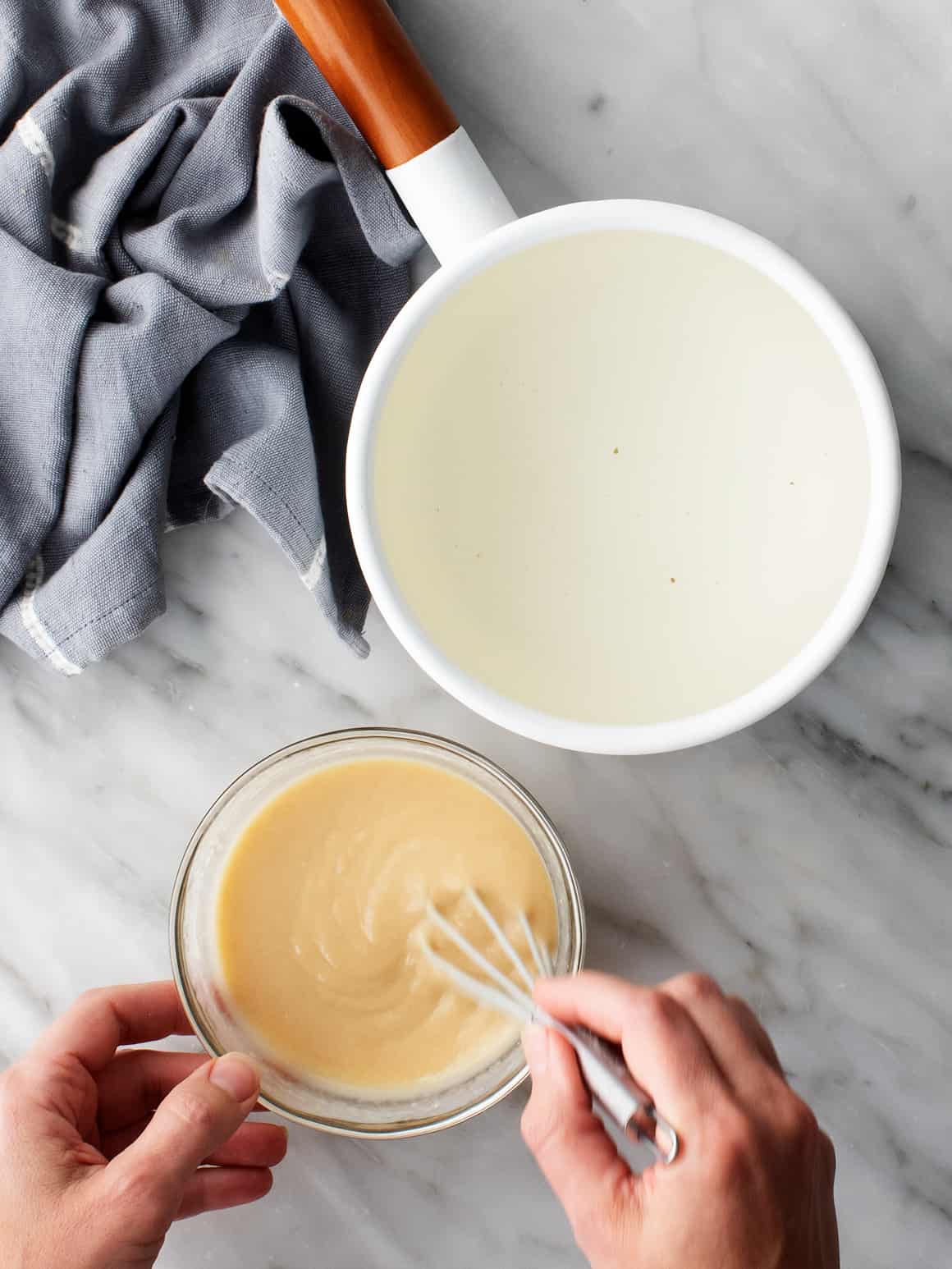 Next, make the miso slurry. Ladle some of the hot dashi into a small bowl, add the miso paste, and whisk until smooth. This step is crucial for making a smooth, well-combined miso soup. If you skip it, and add the miso directly to the pot, your soup will be lumpy.
Finally, add the miso mixture to the remaining dashi. Drain the wakame and add it to the soup, along with the green onions and tofu. Simmer the soup over very low heat for 1 to 2 minutes, just to warm it through. Again, don't let it boil! Because miso is a fermented food, it's teeming with probiotics. Boiling miso kills these beneficial bacteria, so you'll miss out on some of its health benefits.
When the soup is warm, enjoy! I like to serve it with tamari to taste.
Miso Soup Serving Suggestions
Serve this miso soup recipe as a starter, side dish, or meal on its own. When I'm eating it as a main dish, I serve it with cooked rice or soba noodles. If I want to make the soup even heartier, I add extra veggies. Japanese turnips, shiitake mushrooms, radishes, carrots, kabocha squash, and greens like spinach or bok choy all work well here. Add them to the dashi and simmer until tender before stirring in the miso slurry.
If I'm serving this miso soup as a starter or side dish, I pair it with other Japanese-inspired recipes like tamago kake gohan or okonomiyaki. Jack and I also love eating it with vegan sushi,  shiitake maki or avocado mango sushi for a fun, at-home sushi night!
More Favorite Miso Recipes
I hope you love this miso soup recipe! After you make it, have fun using miso in other ways in your kitchen. It adds savory, umami flavor to all of these recipes:
Miso Soup
Learn how to make miso soup at home! We love serving this nourishing, savory soup with shiitake maki for a fun, at-home sushi night.
Ingredients
1

(3-inch)

piece of kombu

4

cups

water

3

tablespoons

wakame dried seaweed

¼

cup

white miso paste

⅓

cup

chopped scallions

6

ounces

silken tofu

,

cubed

tamari,

to taste
Instructions
Gently rinse the kombu piece. Place it in a medium pot with the water and gently simmer for 10 minutes. Don't let it boil, or the kombu flavor will turn bitter.

Soak the wakame in a small bowl of warm water for at least 5 minutes to rehydrate.

Remove the kombu from the soup. In a small bowl, stir the miso paste together with some of the hot broth until the mixture is smooth, then stir it back into the soup.

Drain the wakame and add it to the soup pot along with the scallions and tofu. Simmer over very low heat for 1 to 2 minutes. Season, to taste, with tamari.