When I miss Austin, I make this migas recipe for breakfast. Made with a handful of basic ingredients, it's fun, flavorful, and easy to make!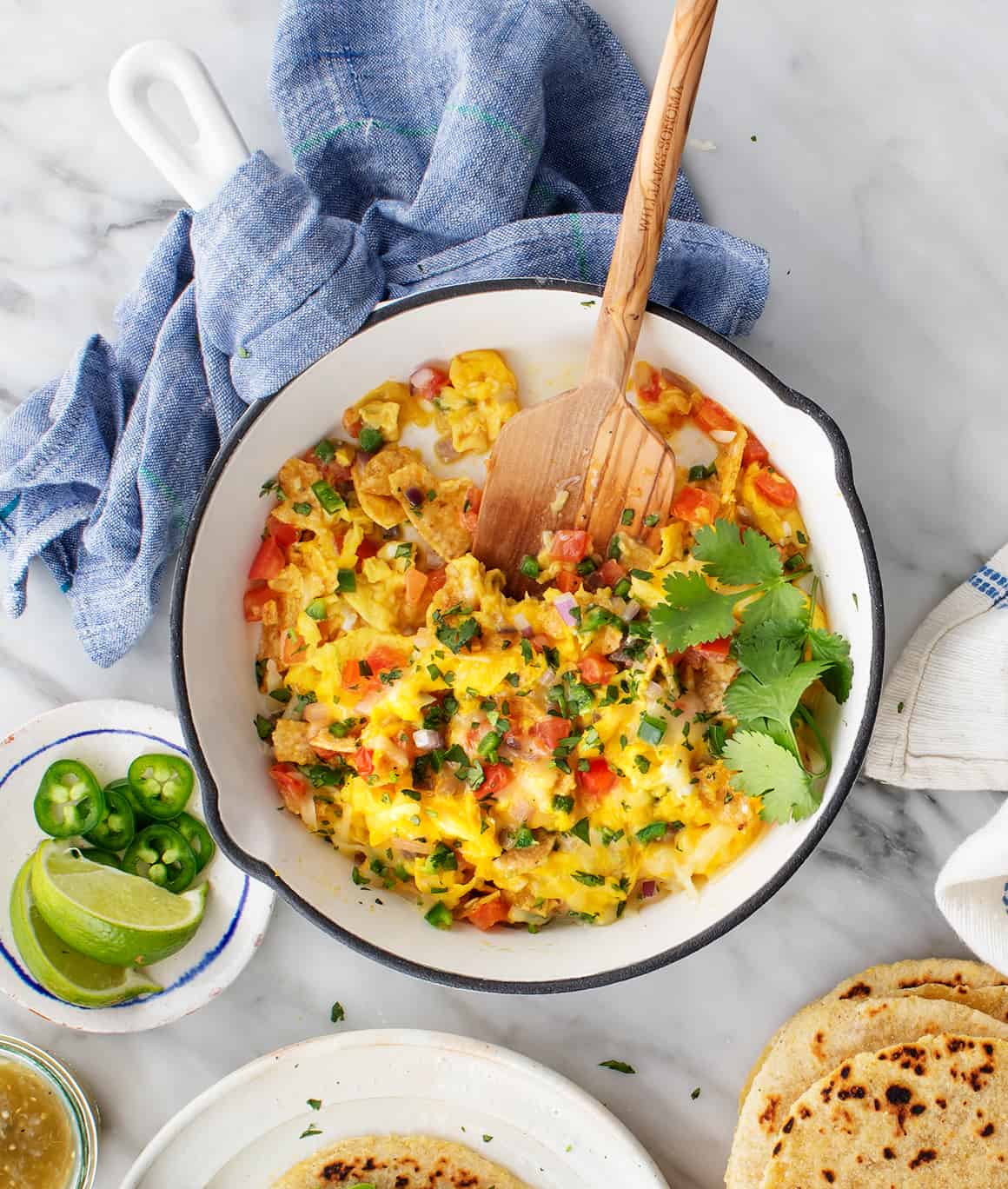 Looking back now, I can't believe that there was a time when I hadn't heard of migas. Growing up in the Midwest, I ate muffins for breakfast every morning. When I went to college, I started each day with a bowl of oatmeal. If you asked me where to find great migas, I would have looked at you like you were crazy.
But in Austin, migas are everywhere. Go out to brunch, and they'll be on the menu. Stop at a taco truck in the morning, and everyone there will be getting migas breakfast tacos. It didn't take me long to understand the hype. Crumbled tortilla chips, melty cheese, and soft scrambled eggs create an incredible creamy/crunchy texture. Onions, tomatoes, and cilantro add lots of fresh flavor, and jalapeños amp up the heat. Splash your migas with salsa and stuff them into tortillas, and you'll be asking for seconds before you know it!
I loved getting migas out to eat in Austin (my favorites were at Veracruz All Natural, Taco Deli, and South Congress Cafe), but now that we're back in Chicago, I make this migas recipe at home instead. If you've never tried migas before, please give this recipe a go! It uses a handful of basic ingredients, and it's really flavorful and fun. After years of living in Austin, it's become one of my favorite breakfast recipes. I hope you love it too!
Migas Recipe Ingredients
Here's what you'll need to make this Austin-style migas recipe:
Eggs, of course! I like to take the migas off the heat when the eggs are still a little runny. That way, they'll be soft and creamy when you eat.
Crumbled tortilla chips – Migas began as a something-from-nothing kind of dish, where leftover corn tortillas were sliced into strips, fried until crisp, and scrambled with eggs. At home, for convenience, I substitute crumbled tortilla chips for the fried tortilla strips. They add crunch and rich corn flavor to the soft scrambled eggs!
Monterey Jack cheese – I'm not always a fan of cheese with eggs, but I love it here. I fold it in right at the end so that it melts into the eggs without clumping or becoming gummy.
Red onion and garlic – They add sharp, savory depth of flavor.
Roma tomatoes – The type of tomato is important here! Always use seeded, cored roma tomatoes, as they're less watery than other varieties.
Jalapeño – For heat! I like to make this migas recipe with an entire jalapeño, but if you're sensitive to spice, start with less and add more to taste.
Cilantro – Sprinkle it on top for bright green color and fresh flavor!
Heat a little olive oil in a nonstick skillet over medium heat. Add the onion, garlic, tomatoes, and jalapeño and cook, stirring, until they soften, about 2 minutes. Add the eggs and crumbed tortilla chips, and stir to scramble. Then, fold in the cheese and turn off the heat. Sprinkle with cilantro, season with salt and pepper to taste, and serve!
Find the complete recipe with measurements below.
Migas Serving Suggestions
My favorite way to enjoy migas is in breakfast tacos, so I always serve them with tortillas on the side. Add your favorite salsa (I like pico de gallo, fresh tomato salsa, or tomatillo salsa) and sliced avocado or guacamole. Then, finish them off with a big squeeze of lime juice, and dig in! If you're craving a bigger breakfast or brunch, round out the meal with cooked black beans, pinto beans, or refried beans.
More Favorite Breakfast Recipes
If you love this migas recipe, try these delicious breakfast recipes next:
Migas
These Austin-style migas are a fun breakfast or brunch!
Ingredients
1

teaspoon

extra-virgin olive oil

¼

cup

diced red onion

2

roma tomatoes

,

cored and diced

½ to 1

jalapeño

,

seeded and diced

1

garlic clove

,

finely chopped

5

eggs

,

beaten

¼

cup

crumbled tortilla chips

½

cup

shredded jack cheese

¼

cup

chopped cilantro

Sea salt and freshly ground black pepper
for serving
4

tortillas

,

charred

Avocado slices

Lime wedges
Instructions
Heat the oil in a medium nonstick skillet over medium heat. Add the onion, tomato, jalapeño, garlic, ¼ teaspoon sea salt, and several grinds of fresh pepper. Cook for 2 minutes, stirring, until softened. Add the eggs and crumbled chips and stir to scramble. Stir in cheese and remove from the skillet.

Sprinkle with cilantro, season to taste with more salt and pepper, and serve with tortillas, avocado slices, lime wedges, and salsa.