This Mexican street corn salad is one of my all-time favorite summer sides. Fresh, bright, lightly creamy & spicy, it's easy to make and sure to please.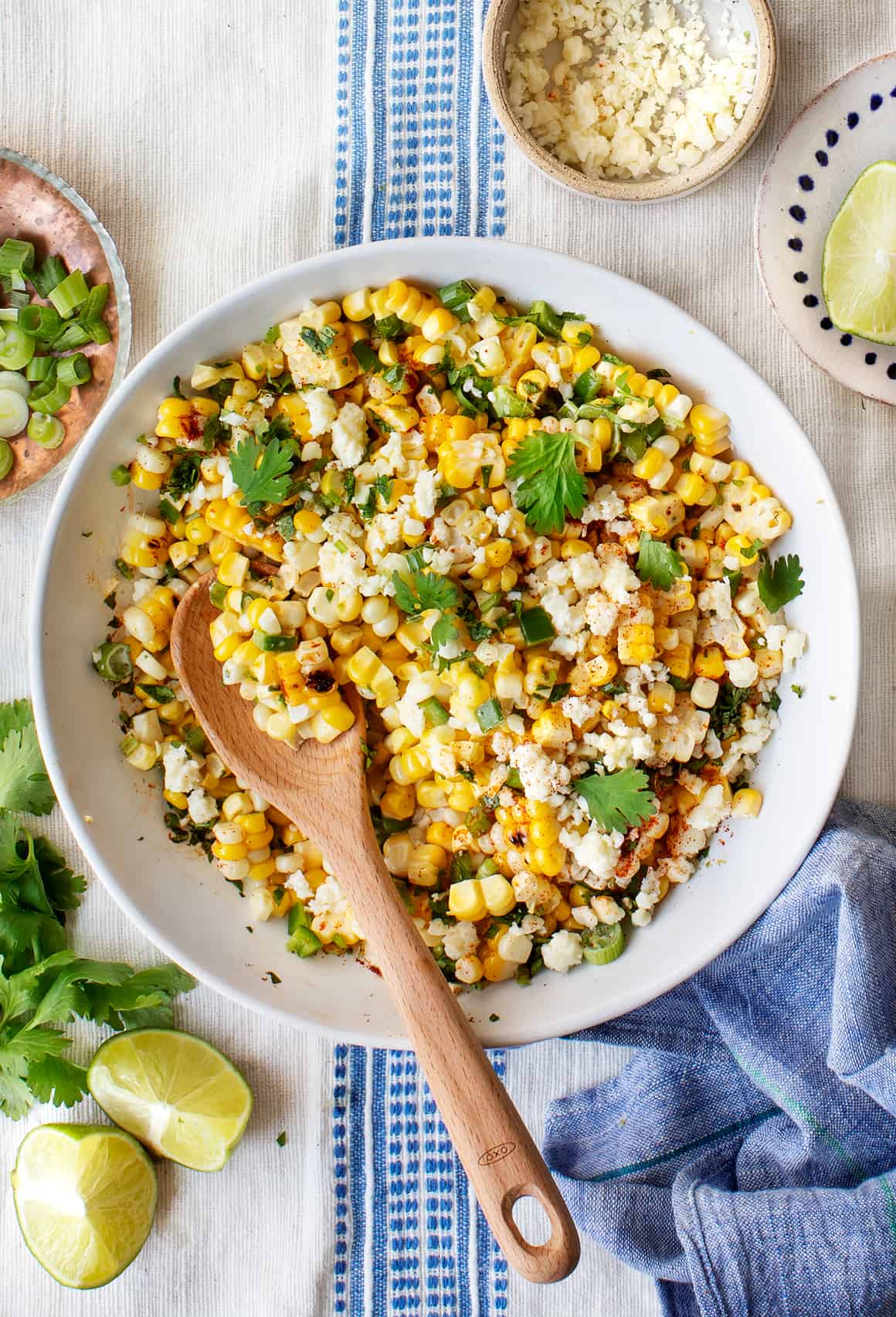 This Mexican street corn salad is my at-home version of all the elotes we ate in Austin. Creamy, tangy, and a bit spicy, it's one of my favorite ways to showcase summer sweet corn. If you've been reading the blog for a while, you know that fresh corn is one of my all-time favorite foods. Crisp, juicy, and sweet, you just can't beat it. Of course, I'll always love it straight off the cob, but this Mexican corn salad takes it to a whole new level.
Mexican Street Corn Salad Recipe Ingredients
If you're not familiar with them, elotes are Mexican grilled corn topped with mayonnaise, hot sauce or chile powder, lime, and Cotija cheese. I used them as inspiration for this spicy, crisp, and creamy Mexican corn salad. It only has 1o ingredients, so each one adds something essential. Here's what's in it:
Grilled corn is my starting point. It's sweet, lightly charred, and juicy – delicious!
Mayo gives the corn a lightly creamy coating.
Lime juice and zest make it bright & zingy.
Garlic & scallions add sharp, oniony accents.
Cotija cheese dots it with tangy, salty pops of flavor. If you can't find Cotija, use feta instead.
Cilantro adds freshness.
Smoked paprika underscores everything with a smoky depth of flavor. Chili powder works too!
Jalapeño spices it up. Try pickled jalapeños for a fun variation!
And sea salt ties it all together.
To make this salad, grill the corn on the cob and mix together the mayo, lime juice and zest, and garlic in a small bowl. Cut the corn kernels off the cob and add them to a bowl along with the scallions, Cotija cheese, cilantro, smoked paprika, and jalapeño. Fold in the dressing, and it's ready to go.
You can serve this Mexican street corn salad just after you make it, although I love it best after it chills for a bit. Consequently, it's a great make-ahead option for cookouts and picnics!
Mexican Corn Salad Serving Suggestions
This salad is a great one for making ahead, so bring it to any cookout on your calendar. It's excellent with classic picnic fare like veggie burgers, BBQ sandwiches, black bean burgers, or portobello burgers.
It would also be a good addition to a Mexican-themed dinner. Serve it with any of these recipes:
If you have leftovers, add them to a DIY burrito bowl with cilantro lime rice and dressing, guacamole, black beans, pico de gallo, and mango or tomatillo salsa. Don't forget the margaritas to drink!
More Favorite Summer Salads
If you love this Mexican corn salad, try one of these summer salad recipes next: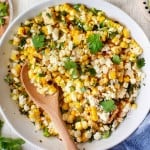 Mexican Street Corn Salad
This easy Mexican street corn salad is the ultimate summer side dish! Lightly creamy, spicy & bright, it's a recipe you'll make again and again.
Equipment
Grill Pan

(This one from Staub is great for grilling vegetables)
Instructions
Preheat a grill to medium-high heat. Brush the corn with olive oil and grill for 2 minutes per side, or until char marks form. Remove from grill and set aside.

In a large bowl, combine the mayo, garlic, and lime zest and juice. Slice the kernels off the corn and add to the bowl along with the scallions. Stir to coat, then add the cheese, cilantro, smoked paprika, jalapeño, and salt. Season to taste and serve immediately or chill until ready to serve.
Notes
*Roast the jalapeño alongside the corn if you'd like.
Make this recipe vegan by omitting the cheese.