A 3-day easy, healthy, vegetarian meal plan using fresh summer produce. Includes a printable grocery list. Perfect for weeknights and busy schedules.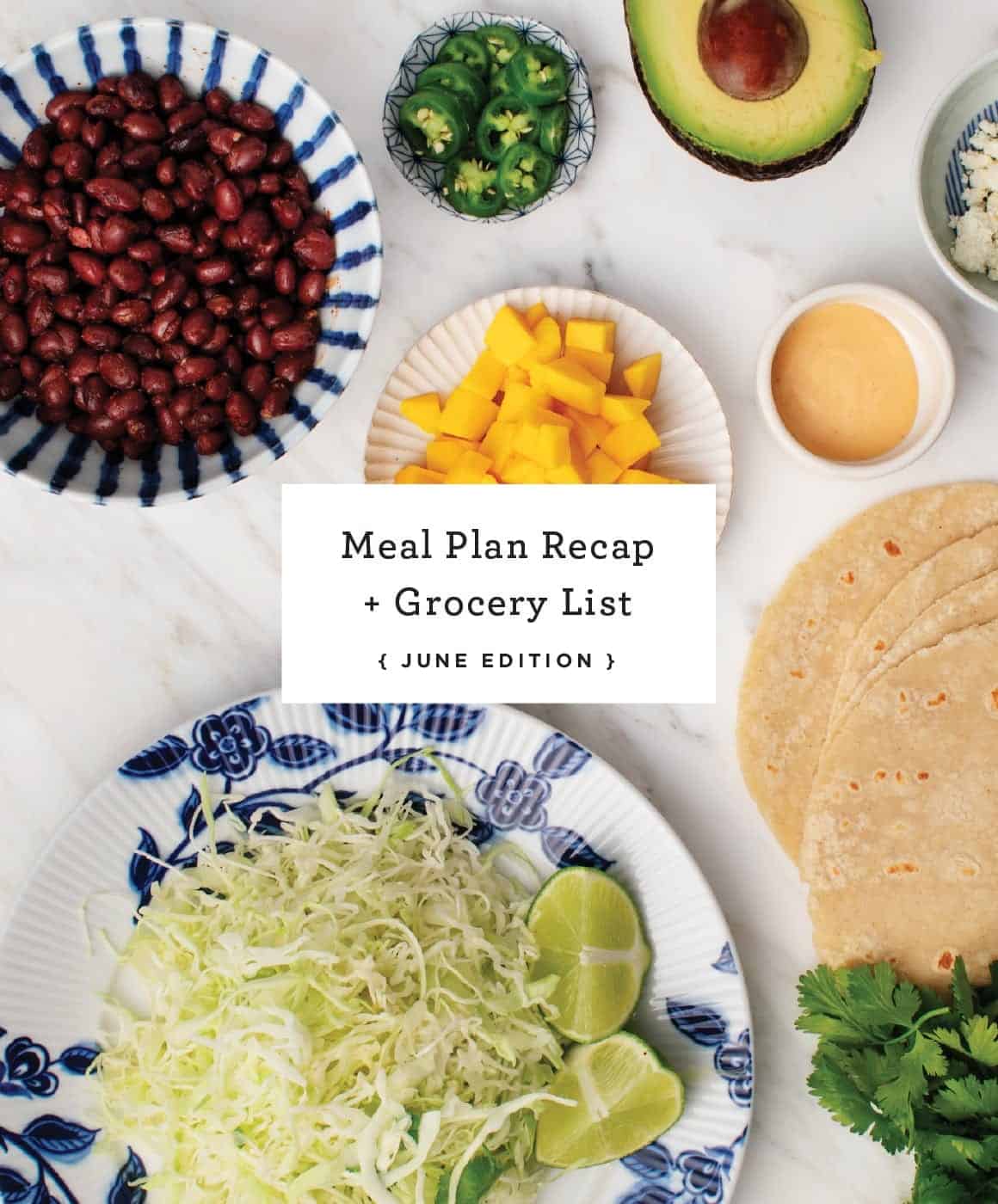 Happy Sunday! As promised, here's a recap of this week's 3-day meal plan! If you're tuning in for the first time this week, here's what's happening: A few months ago I did a 5-day plan where I started with one set of ingredients that worked into 5 consecutive meals. A lot of you wrote me to say that it was helpful, so using that same inspiration – meals that share similar ingredients but do not all taste the same – I came up with this week's plan:
Here are the main ingredients:
Mangoes: because they're so juicy and refreshing for summer.
Cucumber: again – refreshing.
Green Cabbage: because I always need multiple uses for a head of cabbage
Black Beans: because I don't often finish a whole can at once.
Avocados: because everyone loves avocado!
Rice: Since we got back from our trip to Japan, I've been on a rice kick. And when I make a big batch, I have extra.
Other: Limes, tamari, pickled ginger, sriracha, avocado mayo – for overall flavor boosting. I generally have these things on hand at all times.
And here are the recipes! (click here for the Grocery List).
1. Mango & Black Bean Ginger Rice Bowls
I've been on this sweet-savory-crispy bowl kick lately – it's packed with SO many refreshing veggies, making this a perfect meal for summer. The sauce – a tamari-lime vinaigrette is light but full of punchy flavor. Also – these bowls are quite large and some readers have commented that it made enough for lunch the next day.
This is veggie sushi for people like me who don't want to spend time rolling maki. I've been a fan of this avocado-cucumber-mango combination ever since I made it for this sushi recipe. I love the juicy texture of the mango next to the crisp cucumber. It's delicious wrapped with seasoned rice and yummy spicy mayo. For this recipe, I used up the rest of my rice and the 1/2 leftover cucumber from recipe #1. If you've never used nori at home – now's your chance! Sea vegetables are so good for you and it's an easy pantry staple to keep on hand. (Tip: if you can't find nori, make lettuce wraps).
3. Spicy Mango, Black Bean & Avocado Tacos
If you're like me, your meal cravings rotate in this circular pattern: 1. salad/bowl-type-meal 2.  sushi 3. tacos… and repeat. So naturally, recipe #3 here is to take everything leftover – that chunk of leftover green cabbage from recipe #1, leftover black beans, the last mango, the remaining 1/2 avocado, and the yummy spicy mayo that was leftover from recipe #2. This recipe was the quickest to put together but – yum yum yum.
So that's it! CLICK HERE for the Printable PDF Grocery List.
Let me know if you find this kind of post useful and if you'd like to see more of these!