Banana, vanilla & almond milk make the sweet, creamy base of this matcha smoothie. It's a healthy, antioxidant-filled breakfast or afternoon snack!
Matcha treats – I can hardly remember my life without them. Since we've been in Japan, matcha ice cream, matcha doughnuts, and matcha cakes have become daily afternoon snacks. This matcha smoothie, I promise, is a much healthier treat than any of those. Sure matcha is healthy, but a doughnut is still a doughnut after all.
At home, this is how we enjoy matcha. I use my go-to smoothie base – almond milk and bananas – and add matcha powder along with a bit of vanilla bean.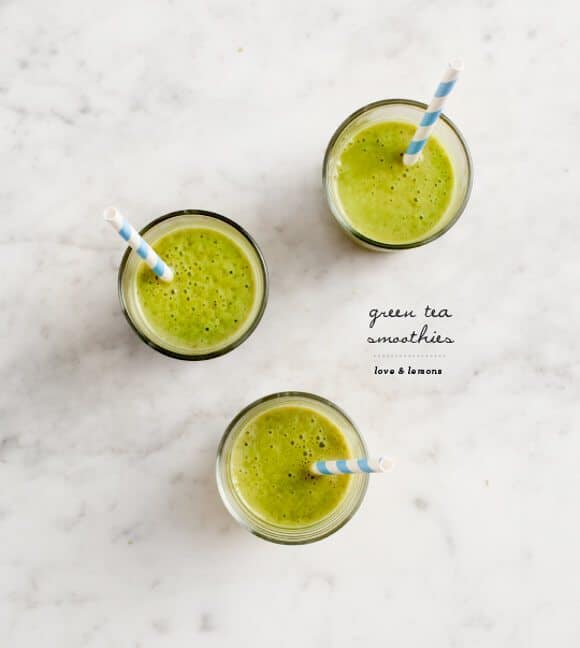 If you're new to matcha, it's very finely ground, high quality green tea powder. It's sweeter than steeped green tea and is super healthy because all the amazing green tea antioxidants are more concentrated. Try it in this matcha smoothie, and you'll be hooked.
What Is the Best Matcha Powder?
Buying matcha for the first time can be confusing – there are so many brands, and they vary widely in quality. I've tested out all of the top matcha powders as tea with water, in lattes, and in baking recipes. My favorite one for smoothies is Golde Pure Matcha Ceremonial Grade! It doesn't have any added sugar, and its bold flavor cuts through the other ingredients in a smoothie.
Get the Golde Pure Matcha Ceremonial Grade on Amazon for $29, or check out some of the other matcha powders I tested to find the best one for you!
If you love this matcha smoothie recipe…
Try this one with mango and this one with kale & peach!
Vanilla Matcha Smoothie
This lightly sweet matcha smoothie is made with banana, vanilla, and almond milk. It's a healthy, antioxidant-filled breakfast or great afternoon pick-me-up.
Serves:
3 small smoothies, as pictured (or 2 larger ones)
Ingredients
2 bananas, frozen
1 cup original Almond Breeze Almond Milk
Matcha powder - a few teaspoons to a few tablespoons depending on your matcha and your taste. I used a few tablespoons of this kind.
Vanilla bean - a tiny scrape from about 1-inch of the pod
A few handfuls of ice
Honey, agave, or sweetener of choice (optional)
Instructions
Blend everything together. Taste & adjust to your liking. Add some sweetener if you wish.
Notes
The vanilla bean pod isn't completely necessary, it was just a nice addition. If you don't have one handy, just omit it rather than substitute with vanilla extract.
A note about matcha – you should be able to find it at your organic grocery store (Whole Foods or similar). If not, check an Asian market in your area or order it online. The cost of matcha will vary depending on the quality – more expensive matcha is more mellow, less expensive matcha has more bitterness. Some may have sugar added (the best kinds won't). If you want to get crazy about it, search online for any type made in Uji, it's the area of Japan where the best matcha is produced.