St. Patrick's day is right around the corner, and I suppose this coconut milk matcha latte is as close as I'm going to get to a McDonald's Shamrock Shake. (Not that I want to get really close to a Shamrock Shake, but it does have its nostalgic memories). Today's recipe is just as colorful, but is quite the opposite in every other way. This matcha latte is a yummy, frothy mug of health that's vibrant green without dye… flavorful without being "flavored."
What is matcha?
Matcha powder is made from ground green tea leaves. Unlike when you drink steeped green tea, you consume the entire tea leaf in a matcha latte. As a result, matcha has approximately 10x more nutrients than regular green tea! (If you're interested in more matcha benefits, click here). We, of course, love it because it tastes good.
Matcha powder has a slightly bitter, earthy taste that I love to use in sweet recipes like smoothies, ice cream, milkshakes, frosting, and even doughnuts! My favorite way to enjoy matcha, though, is in a creamy matcha latte like this one.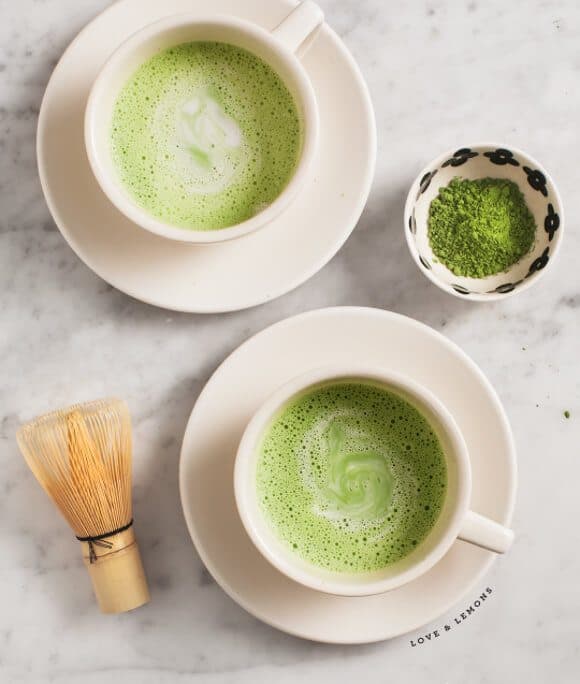 How to Make a Matcha Latte
This matcha latte recipe is super easy. It's just three ingredients (and a tiny bit of sweetener, if you want), and you don't need any fancy barista skills or equipment. If you're going to make a lotta lattes you might want to invest in an official (and very cute) matcha whisk, but a small kitchen whisk or milk frother will foam it up just the same. Here's how you do it:
Start by sifting your matcha powder. It clumps easily, and the clumps can be difficult to whisk away, so this step will help make your matcha latte smooth, creamy & lump-free.
Add the matcha to a mug, and pour hot, recently boiled water over it. Whisk vigorously until the matcha green tea powder is fully dispersed and there's a foamy layer on top. You want to move your whisk in an up-and-down or side-to-side motion, not the usual circular pattern, in order to get your matcha to foam.
Pour the warmed coconut milk over the foamy water (almond milk is good too!) and whisk again to froth the milk.
Taste your latte and decide how much sweetener you want to add, if any. I like mine with a drop of maple syrup.
That's it! Enjoy.

If you love this matcha latte…
Try my favorite turmeric latte, hot chocolate, or cold brew latte next!
Matcha Latte
This 3-ingredient matcha latte is packed with antioxidants and delicious flavor. A cozy, healthy drink for cool days. Vegan!
Instructions
Sift your matcha so it is lump-free (This step is optional).
Spoon the matcha into a large mug. Add the hot water and coconut milk and whisk briskly, in an up and down motion, until frothy - about 30 seconds or so. (You can also use a small kitchen whisk if you don't have a matcha whisk).
Taste and add additional water, coconut milk, and/or sweetener to your liking. (I added just a bit of honey).
Notes
I used light coconut milk, but you could use full-fat coconut milk if you prefer a richer latte.
This recipe was created for Aiya Matcha.