This margherita pizza recipe is a celebration of simple, fresh ingredients! Juicy tomatoes, basil, and mozzarella cheese top a crisp, chewy crust.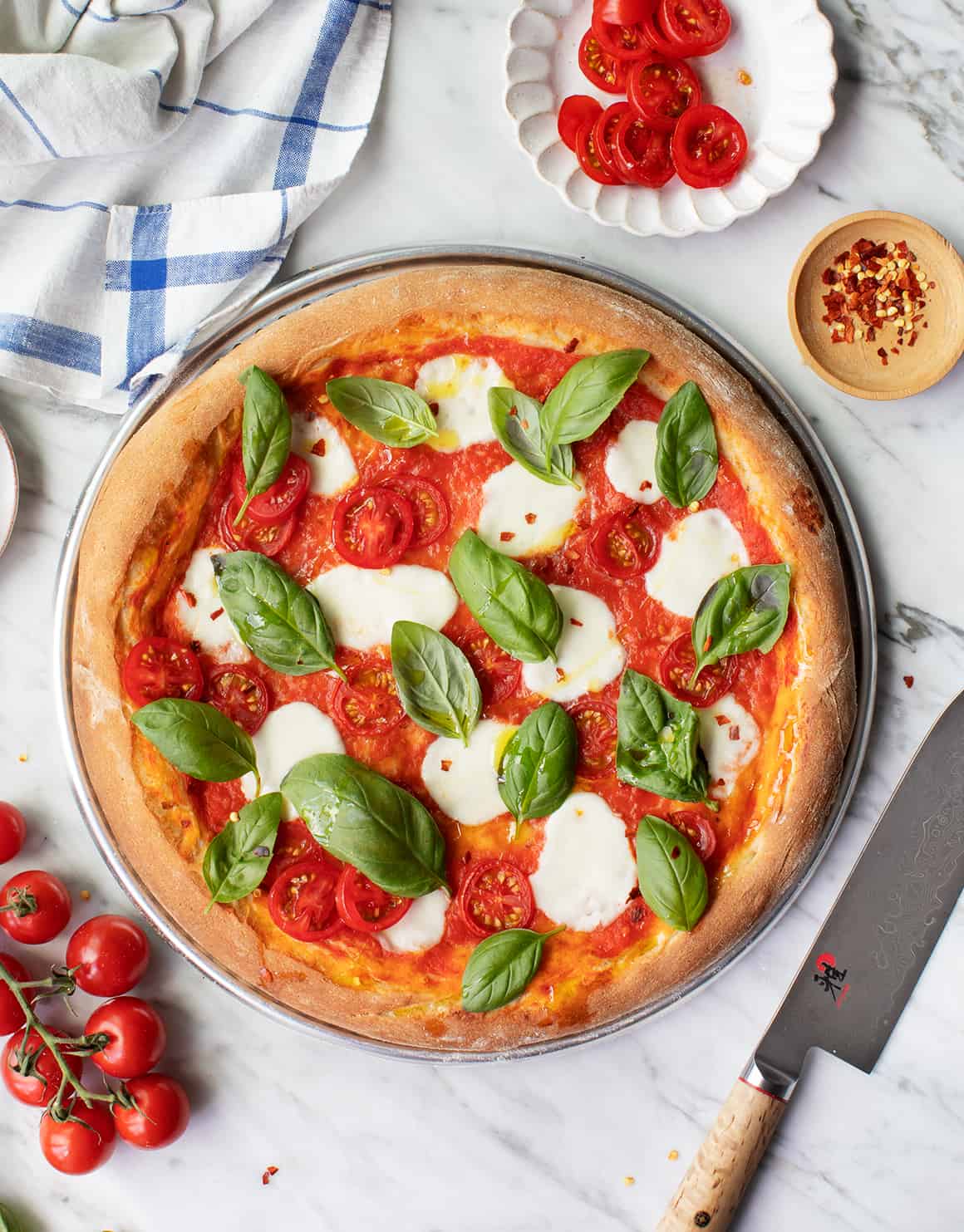 I like to think of a good margherita pizza as a heartier cousin of Caprese salad, with a crisp, chewy crust supporting the delicious trio of tomatoes, basil, and fresh mozzarella. You'll find this classic pizza on the menu of any Neapolitan pizza joint, but you can also make a really great homemade version. This margherita pizza recipe is here to prove it!
If you're new to making homemade pizza, don't let it intimidate you. You won't need any fancy equipment to make this recipe. No pizza peel or pizza stone, just a baking sheet and a hot oven. The ingredients here are straightforward too, but I recommend using the best ones you can find. A margherita pizza is so simple that the quality of each component counts. Using peak-season summer tomatoes, fresh basil, and homemade pizza sauce made with San Marzano tomatoes will make all the difference.
Margherita Pizza Recipe Ingredients
Here's what you'll need to make this margherita pizza recipe:
Pizza dough, of course! Pick up fresh dough from your grocery store, or make your own with this pizza dough recipe.
Pizza sauce – My 5-ingredient recipe is quick and easy to make in the food processor. No cooking required! For the best results, use good-quality canned tomatoes, preferably San Marzanos, to make the sauce.
Cherry tomatoes – Fresh tomatoes aren't actually a traditional margherita pizza topping, but I can never resist adding a fresh veggie to a recipe. I like to use cherry tomatoes here because they're less watery than larger ones are. Thinly slice them before layering them onto the crust.
Fresh mozzarella cheese – The perfect rich counterpart to the fresh tomatoes and herbs! Cut it into thin slices or tear it before topping the pizza.
Fresh basil – Sprinkled on the pizza after it comes out of the oven, it adds a lovely freshness to this simple pie.
Red pepper flakes – They add a kick of heat.
And extra-virgin olive oil – For rich, fruity flavor.
Find the complete recipe with measurements below.
Stretch the dough and spread on the tomato sauce. Layer on the cheese and fresh tomatoes. Then, bake until the cheese is melted and the pizza crust is golden brown. Top with fresh basil leaves, red pepper flakes, and a drizzle of olive oil. Slice and serve!
We love to eat this margherita pizza with a salad on the side. Pair it with a chopped salad, arugula salad, Caesar salad, or simple green salad. Enjoy!
Margherita Pizza Recipe Variations
This margherita pizza recipe is fantastic as written, but don't hesitate to make it your own! Add your favorite pizza toppings, or try one of these easy variations:
Let me know what variations you try!
More Favorite Pizza Recipes
If you love this margherita pizza recipe, try one of these pizzas next:
Craving more Italian classics? Try this eggplant caponata, eggplant Parmesan, or spaghetti aglio e olio recipe.
Margherita Pizza
This homemade margherita pizza recipe is so easy and delicious! My biggest tip for this recipe is to use good-quality ingredients like fresh basil and sauce made with San Marzano tomatoes. Because the recipe is so simple, you'll really taste the difference.
Instructions
Preheat the oven to 500°F

Spread the pizza sauce onto the dough. Top with the fresh mozzarella and tomatoes and bake 10 to 12 minutes, or until the crust is browned. Remove from the oven and top with fresh basil leaves and a pinch of red pepper flakes. Drizzle with olive oil and serve.