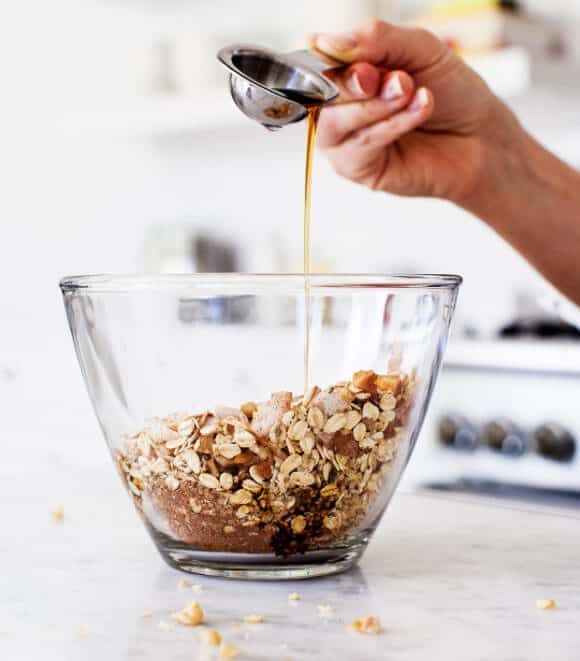 While we don't have kids that are going back to school this week, I'm starting to think more and more about healthy make-ahead breakfast ideas. You know – to send to work with my big kid (Jack) in hopes that one day he might start skipping the greasy breakfast tacos & processed Costco bagels that are usually waiting for him at the office. (I can at least try, right?)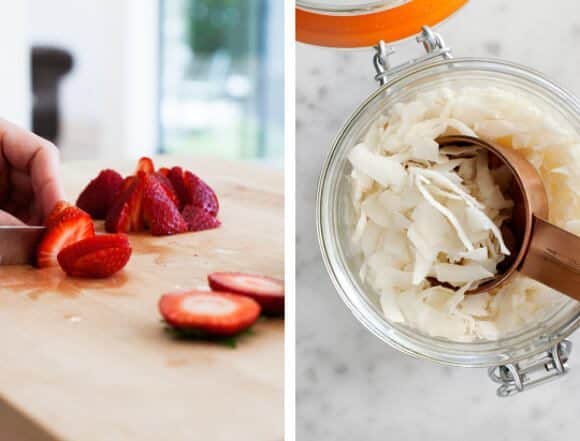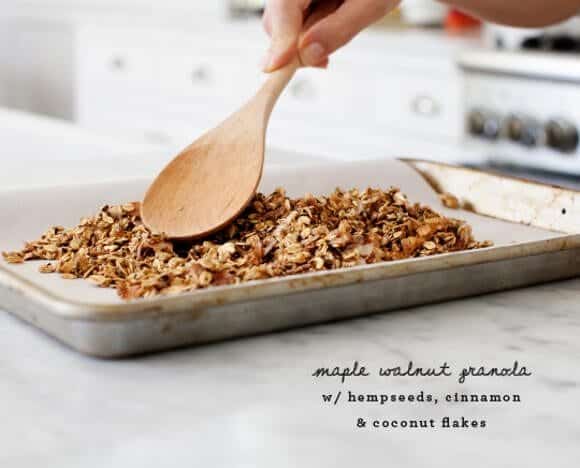 I can always win him over with a smoothie, but I don't always have time in the mornings to break out the blender. He loved these peanut butter crispy treats but I like to change things up. This week's plan is to have these parfaits ready and waiting in the fridge so he can easily grab and go.
This is a spin on my favorite granola recipe – this time I used hemp seeds & walnuts. It isn't a super clumpy granola (some might call it more of a cereal), but it's tasty and packed with protein and some good omega 3's.


Use whatever fruit you like – I used strawberries, blueberries and frozen tart cherries (like I said before, we're in love with them). Feel free to use your favorite yogurt – plain, greek, or coconut yogurt if you're vegan. I should also mention that you might want to keep your granola separate until you're ready to eat these so it stays crunchy.
maple walnut granola parfaits
Serves:
about 4 parfaits (makes about 1 heaping cup of granola)
Ingredients
¾ cup rolled oats (not instant)*
¼ cup hemp seeds (or skip & use ¼ cup more oats)
⅓ cup chopped walnuts
1 teaspoon cinnamon
½ teaspoon salt
1 tablespoon melted coconut oil
3 tablespoons maple syrup
¼ cup coconut flakes
for the parfaits:
fruit - fresh or frozen (strawberries, blueberries, tart cherries, etc)
plain yogurt or vegan yogurt - ½ cup per jar
optional: more maple syrup or honey to sweeten the fruit
Instructions
Preheat oven to 300 F.
In a medium bowl, mix together the oats, hemp seeds, walnuts, cinnamon and salt. Drizzle coconut oil & maple syrup and mix again.
Spread onto a baking sheet lined with parchment paper and bake for about 20 minutes. Remove from oven, add the coconut flakes, stir, and bake for 15 more minutes or until everything is nicely toasted.
Let cool for 15 minutes before adding to the parfaits.
Mix fruit and add a drizzle of maple and honey if you wish. Assemble parfaits with fruit on the bottom, a scoop of yogurt, and granola on top.
Notes
*If you're gluten free make sure you get oats that are labeled as Certified Gluten Free. Oats are often processed in factories w/ gluten so it's important to look for that label.

If you're making these in advance, keep the granola separate until you're ready to eat. (so it doesn't get soggy).