A few weeks ago, I was pretty sick. It's not usual for me, but I didn't leave the sofa for three or four days in a row. Jack would bring me veggie soup and crackers, and somehow we started watching Friends – in marathon form – from the very beginning. He doesn't want his friends and coworkers to know this, but we're now 3 seasons in, and he couldn't BE anymore into it.
Once I was back on my feet, I was still craving soup, and I had a ton of random veggies to use up. This vegetable soup recipe is a great one to have on hand whenever you crave a healthy, nourishing, vegetable-packed soup.
Use whatever vegetables you have on hand and/or skip the ones you don't have. Make a big pot, eat it the next day, and the day after that. (It also freezes well). A warm bowl of this vegetable soup is great to cozy up with – especially when it hasn't been your day, your week, your month, or even your year.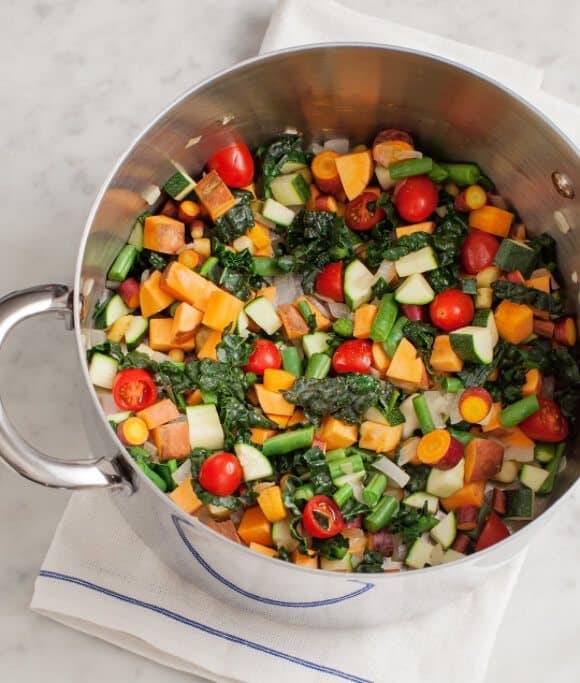 And if you love cooking with many veggies, try these tacos or this roasted vegetable pasta!
Many-Veggie Vegetable Soup
This flexible vegetable soup recipe is perfect for using up whatever veggies you have on hand! It's a healthy, vegan meal that's great for cool fall and winter days.
Ingredients
2 tablespoons extra-virgin olive oil
1 medium yellow onion, diced
Sea salt and fresh black pepper
1 medium carrot, diced
1 small sweet potato, diced
¼ cup dry white wine (i.e., pinot grigio)
1 (14.5-ounce) can diced fire roasted tomatoes
4 garlic cloves, chopped
2 teaspoons dried oregano (or 2 tablespoons chopped fresh thyme or rosemary)
¼ teaspoon red pepper flakes, more to taste
4 cups vegetable broth
2 bay leaves
1 cup halved cherry tomatoes
1 cup chopped green beans
1 zucchini, diced
1 (15-ounce) can chickpeas, drained and rinsed
2 tablespoons white wine vinegar
1½ cups chopped kale
Instructions
Heat the oil in a large pot over medium heat. Add the onion, ½ teaspoon salt, and several grinds of pepper, and cook, stirring occasionally, for 8 minutes. Add the carrot and sweet potato, stir and cook 2 more minutes.
Add the wine and cook for about 30 seconds to reduce by half, then add the canned tomatoes, garlic, oregano, and red pepper flakes. Stir in the broth and bay leaves. Bring to a boil, then reduce the heat to a simmer and cook, covered, for 20 minutes.
Stir in the cherry tomatoes, green beans, zucchini, chickpeas, and cover and cook 10 to 15 more minutes, until the green beans are tender.
Stir in the vinegar, kale, an additional ½ teaspoon salt (or to taste), and more pepper.
Notes
Store extra soup in the fridge for a few days (this one tastes better on the second day). Freeze after that.