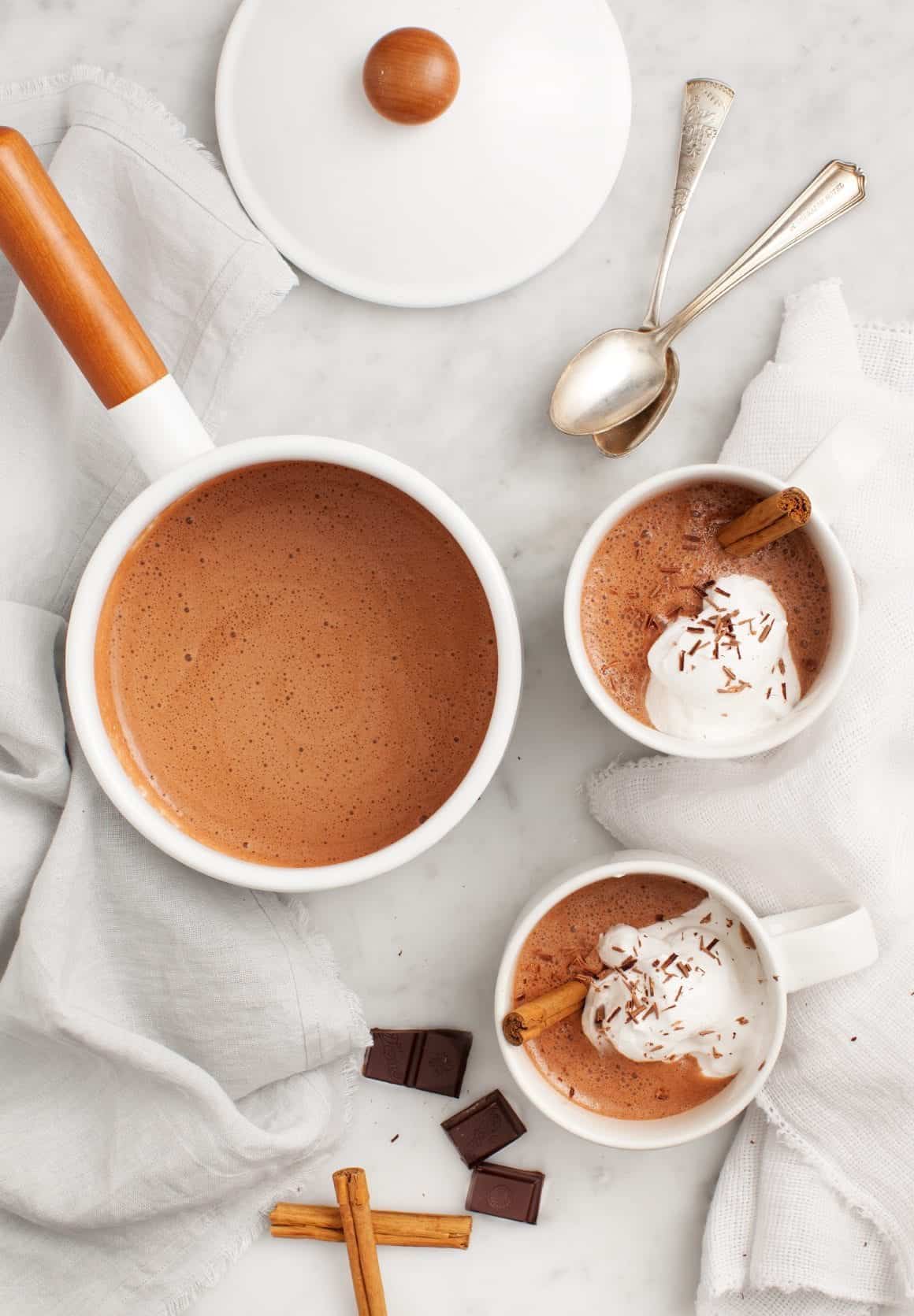 Happy December! That feels so weird to say because in Texas it never truly feels like December (and I'm ok with that), but we did wake up to an especially chilly morning the other day. I went downstairs, made my daily ice cold smoothie, and brought it to my desk. I sat here shivering, realizing that I'm doing this late-fall morning thing all wrong.
Since then, I've been mixing up this concoction for me and Jack – it's a healthier hot chocolate than the Swissmiss from the snow days of my childhood. Instead of cocoa, I decided to use a combo of cacao powder and maca powder. Cacao is the most pure form of chocolate and it's packed with antioxidants, fiber, and magnesium. Maca (powder from the Peruvian maca root) has a malty vanilla flavor and it's good for fatigue, memory, and a slew of other things.* It offers a little pick me up that's similar but not as extreme as coffee. Perfect for a little morning boost.
I don't actually serve this with whipped cream for breakfast, but if you're making this for dessert go ahead and make it pretty with a dollop coconut whip (recipe below) and shaved chocolte.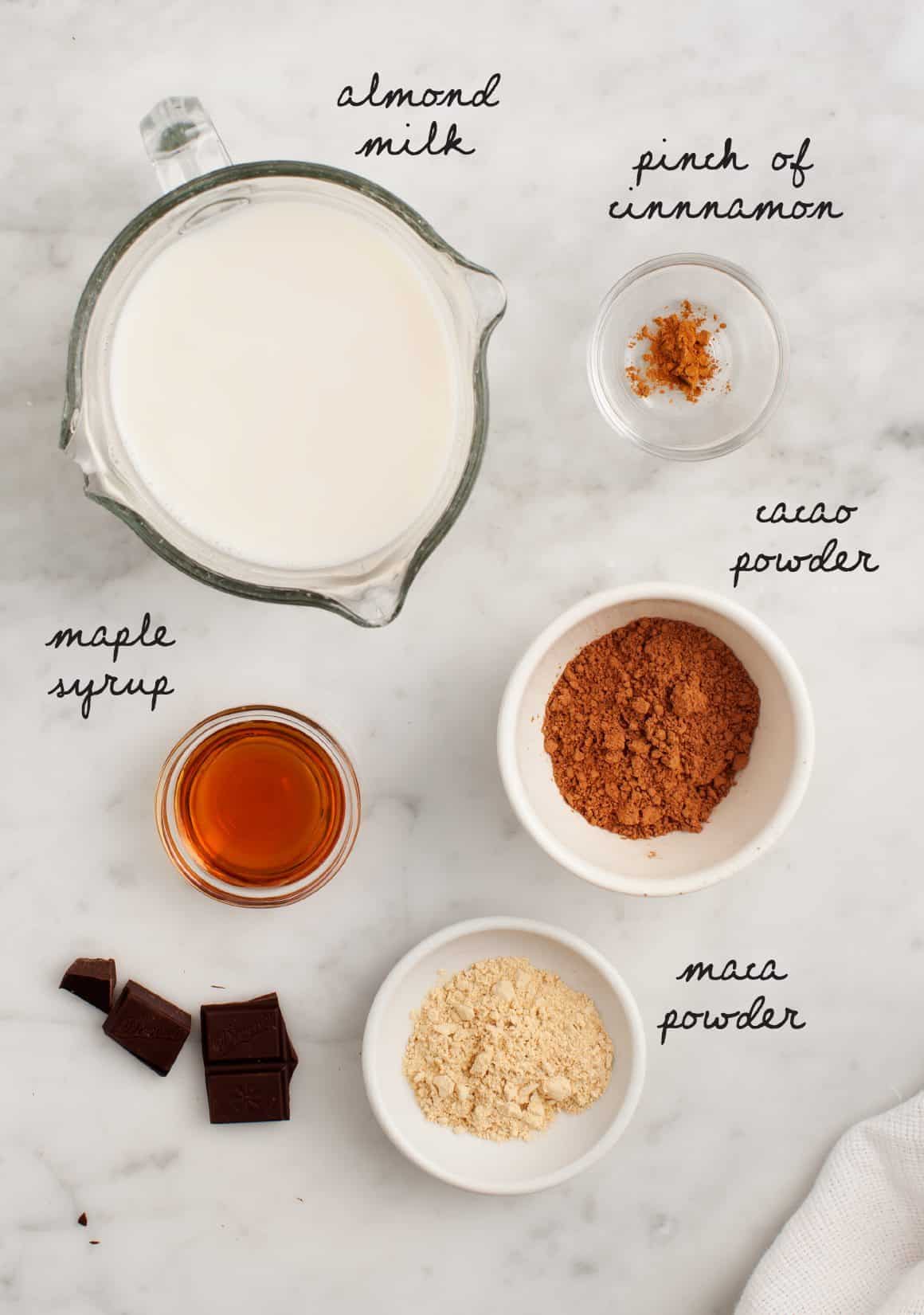 These superfood powders are a bit of an investment, but stored in the fridge they last a really long time. I get mine at my local Whole Foods. They'd be great items to pick up if you're one of the lucky winners of our gift card giveaway (just a reminder – it closes on Tuesday!).
In addition to our giveaway, Whole Foods is giving away groceries for ONE YEAR as part of their #mytradish program – click here to enter the sweepstakes.
Maca Cacao Hot Chocolate
Ingredients
2½ cups almond milk (I use Almond Breeze Original)
2 tablespoons cacao powder (I use Nativas Naturals)
1 tablespoon maca powder (I use Essential Living Foods)
2 tablespoon maple syrup, or to taste
½ teaspoon coconut oil
pinch of cinnamon
tiny pinch of sea salt
optional toppings:
coconut whip** (see homemade instructions below)
shaved dark chocolate
Instructions
In a blender, mix the almond milk, cacao powder, maca, maple syrup, coconut oil, cinnamon and salt. (You can also whisk this together by hand). Transfer to a medium saucepan and heat. Taste and adjust the sweetness if desired. If it's too thick, add a little bit more almond milk.
Serve with coconut whip and shaved dark chocolate, both optional.
Notes
** Homemade Coconut Whip:
solids from 1 (14-ounce) can full-fat coconut milk, refrigerated overnight
⅓ cup powdered sugar
Few drops of vanilla extract

Make the coconut whip by combining the ingredients in a mixer and mix until whipped and fluffy. Note: some cans of coconut milk are duds - meaning that the solids and the water do not separate and the whip cream will not whip. I've had the best luck using Whole Foods 365 brand full fat canned coconut milk.
*I'm not a nutritionist, but you can google to read about the benefits of cacao and maca. Most sites list these same attributes.
Special thanks to Whole Foods for kindly supplying the gift cards for our giveaway.