You still have tons of zucchini right? Ok, I thought so, just checking. If you don't (hi, Australia!), you can use this recipe as a template for whatever vegetable you do have (ie. broccoli would be delicious here). It's a straight-forward simple pasta recipe – perfect for highlighting a special seasonal ingredient like summer squash.
My zucchini and yellow squash were on the small side, so I sliced them into thin little coins and paired them with orecchiette pasta. I like how the shape of the summer squash and the shape of the pasta are somewhat similar. It makes for a nice "easy-to-get-it-all-on-your-fork" sort of texture.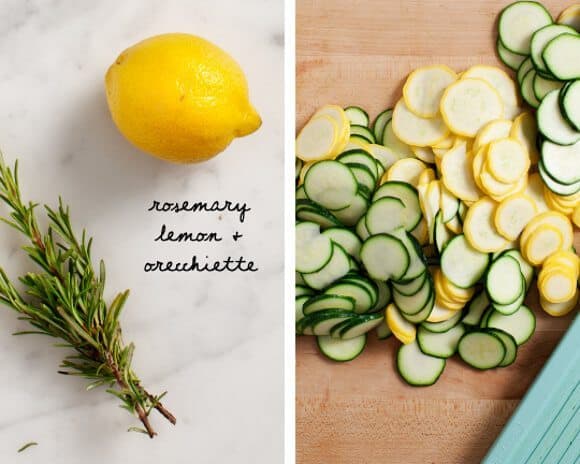 Rosemary isn't super summery, but it's what I had (my basil didn't last through the heat). If you've been more successful with your herb-growing, feel free to switch it up – thyme, basil, or mint would all be great here. If you use leafy herbs, just be sure to add them closer to the end so they stay fresh and bright.

Just a few minutes in the pan and you're done. I folded in some creamy feta near the end – for a vegan option, add pesto instead.

If you still have summer squash left after you make this pasta, try this zucchini bread, this pasta salad, this baked zucchini, or this pizza next.
Lemony Summer Squash Orecchiette
This lemony summer squash pasta is a great easy summer meal! If you don't have summer squash on hand, another seasonal vegetable would be equally delicious.
Ingredients
3 small summer squash (or 2 medium)
8 ounces dry orecchiette pasta
1-2 tablespoons olive oil
1 garlic clove, minced
1 teaspoon finely chopped rosemary
Big handful of chopped spinach or other leafy green
Big squeeze of lemon
⅓ cup feta cheese
2 tablespoons capers
A few pinches red pepper flakes
Optional: grated Parmesan cheese
Sea salt & fresh black pepper
Instructions
Thinly slice squash, about ⅛ inch thick (on a mandoline if you have one). Lay squash slices on a towel and pat dry.
Cook pasta in salted boiling water until al dente (about 9 minutes).
In a large skillet heat oil over medium-low heat. Add the garlic and rosemary. Stir until fragrant, then add the sliced squash, salt and pepper. Stir, then let the squash cook on each side until lightly browned.
Add a big squeeze of lemon, stir, then add chopped leafy greens. Stir again. Cook greens until they're just beginning to wilt, then add in the pasta along with a bit of starchy pasta water.
Stir in feta, capers and red pepper flakes. Taste and adjust seasonings - add shaved Parmesan cheese, more lemon, and a little bit more olive oil if you like.
Notes
Vegan option: skip the cheese and add dollops of
pesto
toward the end.
For a richer pasta, use 1T olive oil and 1T butter at the beginning.
Feel free to use different herbs - if you use leafy ones (basil, tarragon), add them at the end.
Stainless sauté pan: Williams-Sonoma Open Kitchen Stainless Cookware