This lemon yogurt cake is my ideal dessert. It's a breeze to make, and it's moist, tender, and full of zesty flavor. A simple glaze takes it over the top.
Here's a little something to brighten up your week: an easy, zesty lemon yogurt cake recipe!
This style of yogurt cake has its roots in France, and the beauty of it is its simplicity. The ingredient list is short and sweet, and you don't need any special equipment to make it – a couple bowls, a loaf pan, a whisk. You'll also need measuring cups to make this recipe, but – fun fact! – in France, home bakers might measure the cake ingredients in a yogurt container, making it even simpler still.
Because I love anything lemony (anyone surprised?), I spike my yogurt cake with lemon zest and top it with a quick lemon glaze. The result is a cake that's moist, rich, and tender, with a subtle tang from the yogurt and a citrusy zing from the lemon. If you're anything like me, you'll be reaching for a second slice as soon as you've finished your first.
Lemon Yogurt Cake Recipe Ingredients
Here's what you'll need to make this lemon yogurt cake recipe:
Lemons, of course! You'll whisk lemon zest into the cake batter and use lemon juice to make the glaze. I also like to sprinkle more zest on top!
Greek yogurt – Stonyfield Greek Yogurt is my favorite brand to use in this cake. It has a looser consistency than some very thick Greek yogurts, but it's creamier and tangier than regular plain yogurt.
All-purpose flour – Spoon and level it to avoid packing too much into your measuring cup.
Almond flour – It makes this yogurt cake extra-moist and tender.
Baking powder and eggs – They help the cake puff up as it bakes.
Extra-virgin olive oil – It add richness and gives the cake fruity depth of flavor.
Cane sugar – It makes the cake lightly sweet.
Vanilla extract – For warm depth of flavor.
My quick lemon glaze – Make it by stirring together powdered sugar and lemon juice. So easy!
And sea salt – To make all the flavors pop!
Find the complete recipe with measurements below.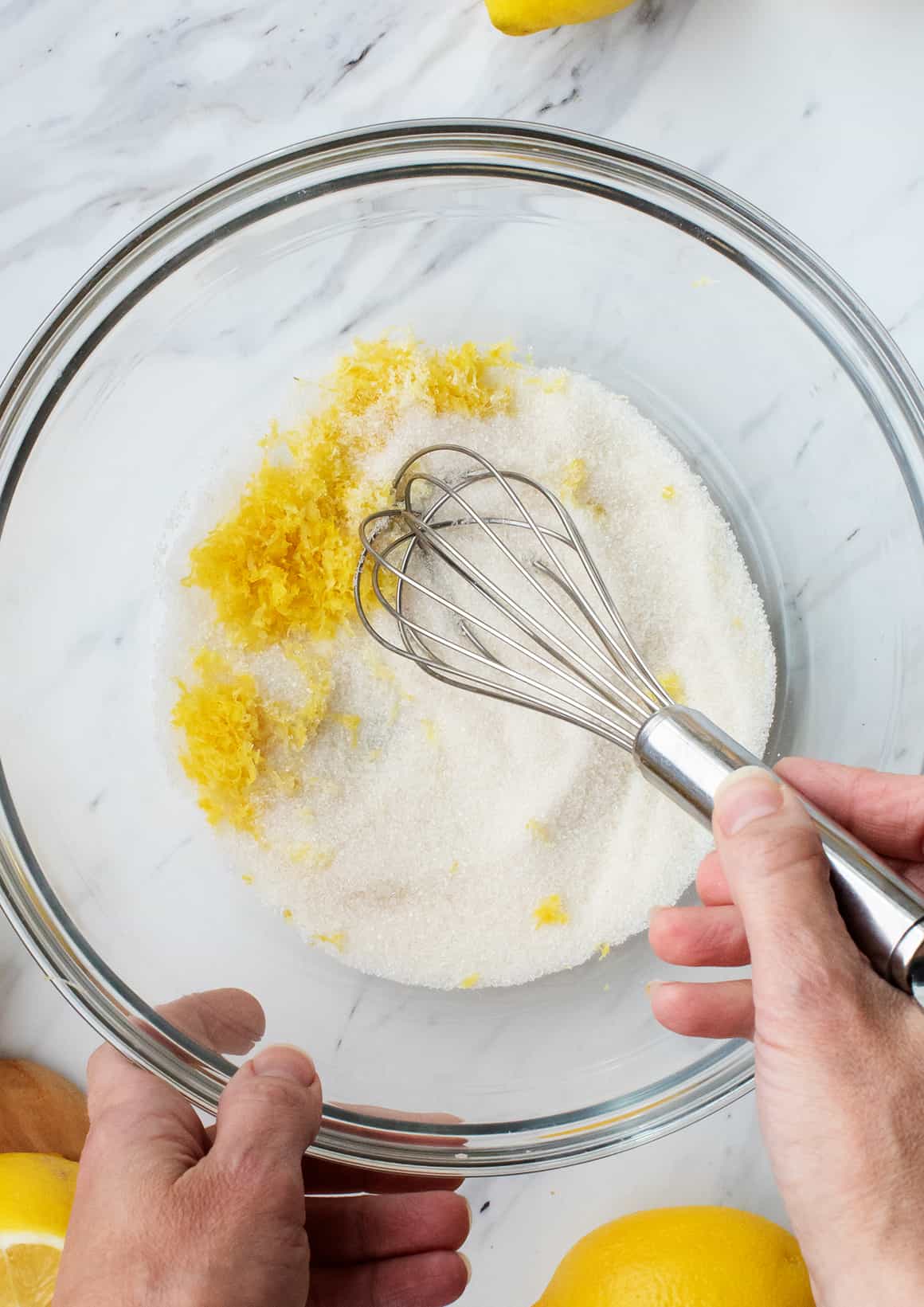 How to Make Lemon Yogurt Cake
This yogurt cake recipe is SO simple to make! Here's how it goes:
First, make the batter. In a large bowl, whisk together the cane sugar and lemon zest.
Add the remaining wet ingredients, and whisk until combined.
In another large bowl, whisk together the dry ingredients.
Add the dry ingredients to the bowl of wet ingredients, and stir until just combined. Careful not to overmix!
Then, bake. Pour the batter into the a greased loaf pan, and transfer it to a 350° oven.
Bake until the cake is puffed and golden and a toothpick inserted in its center comes out clean. Allow the cake to cool completely in the pan.
Finally, add the glaze. When the cake has cooled to room temperature, remove it from the pan, and mix up the quick lemon glaze.
Pour the glaze over the cake…
… and sprinkle it with lemon zest. Then, slice and serve!
Lemon Yogurt Cake Recipe Tips
Use whole milk Greek yogurt. Skip the low- or non-fat stuff for this recipe, please! The whole milk yogurt adds essential moisture and richness to the cake.
Don't overmix. We want this cake to be moist and tender, not dense. Overmixing the batter starts to develop the gluten in the flour, which results in denser, heavier baked goods. To achieve a perfect light texture, mix the batter until the wet and dry ingredients are just combined.
Allow the cake to cool completely. If you pour the glaze over the warm cake, it will melt! Plus, allowing the cake to cool completely improves its moist texture and lemony flavor.
Do your future self a favor. This lemon yogurt cake keeps well in an airtight container at room temperature for up to 3 days. It also freezes well! I like to freeze individual slices so that I can thaw one for a quick treat down the road. Do the same, and your future self will thank you!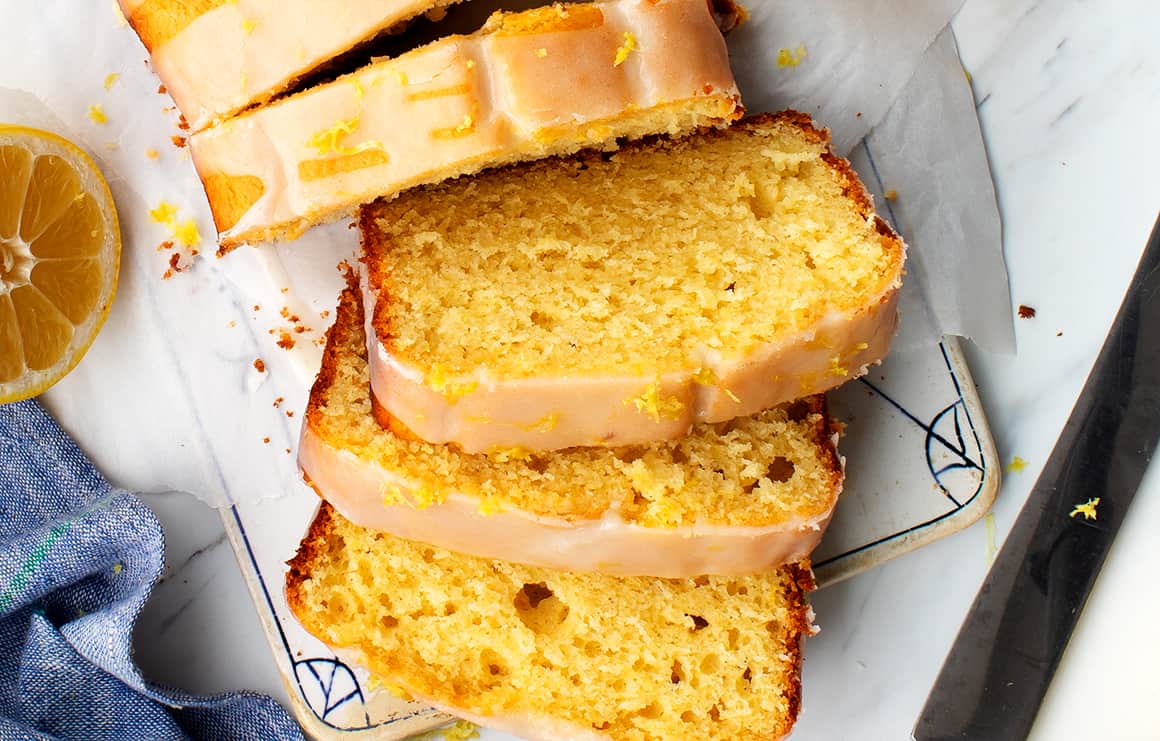 More Favorite Easy Desserts
If you love this lemon yogurt cake, try one of these easy treats next:
Lemon Yogurt Cake
Ingredients
1

cup

all-purpose flour

,

spooned and leveled

½

cup

almond flour,

spooned and leveled

2

teaspoons

baking powder

¾

teaspoon

sea salt

½

cup

cane sugar

1

tablespoon

lemon zest

,

plus more for sprinkling

¾

cup

whole milk Greek yogurt*

½

cup

extra-virgin olive oil

2

large eggs

1

teaspoon

vanilla extract
Instructions
Preheat the oven to 350°F and spray an 8x4-inch loaf pan with cooking spray.

In a large bowl, whisk together the flour, almond flour, baking powder, and salt.

In another large bowl, whisk together the cane sugar and lemon zest. Then add the yogurt, olive oil, eggs, and vanilla and whisk to combine.

Pour the dry ingredients into the bowl with the wet ingredients and stir until just combined. Don't overmix.

Pour the batter into the prepared pan and bake for 40 to 50 minutes, or until a toothpick inserted comes out clean.

Let cool completely before removing the cake from the pan.

Make the lemon glaze according to this recipe and drizzle it over the cooled cake. Sprinkle with lemon zest, slice, and serve.
Notes
*For this recipe, we like the creamy consistency of Stonyfield Greek Yogurt (it's not as thick as some other brands).