This lemon vinaigrette recipe is SO easy to make! With its zingy, bright lemon flavor, it'll blow any store bought dressing out of the water.
How is it possible that in 8+ years of writing Love and Lemons, I haven't shared a basic lemon vinaigrette recipe until now?! Often, I post salad recipes with a dressing included – a kale salad with carrot ginger dressing, a watermelon salad tossed with lime juice. But a few weeks ago, as I was whisking together this lemon vinaigrette, I realized that tying a dressing to a specific salad recipe can sometimes sell it short.
This lemon vinaigrette is one of my favorite salad dressings. It's zippy, fresh, and bright, it comes together in minutes, and it keeps well in the fridge. With its vibrant lemon flavor, it's a dressing that you'll use for so much more than salad. Sure, it peps up greens, but it also makes roasted veggies more exciting, adds life to grain bowls, and more. So whisk it up, pop it in the fridge, and start drizzling it over everything. Easy, versatile, and delicious, this lemon vinaigrette recipe is one you'll make again and again.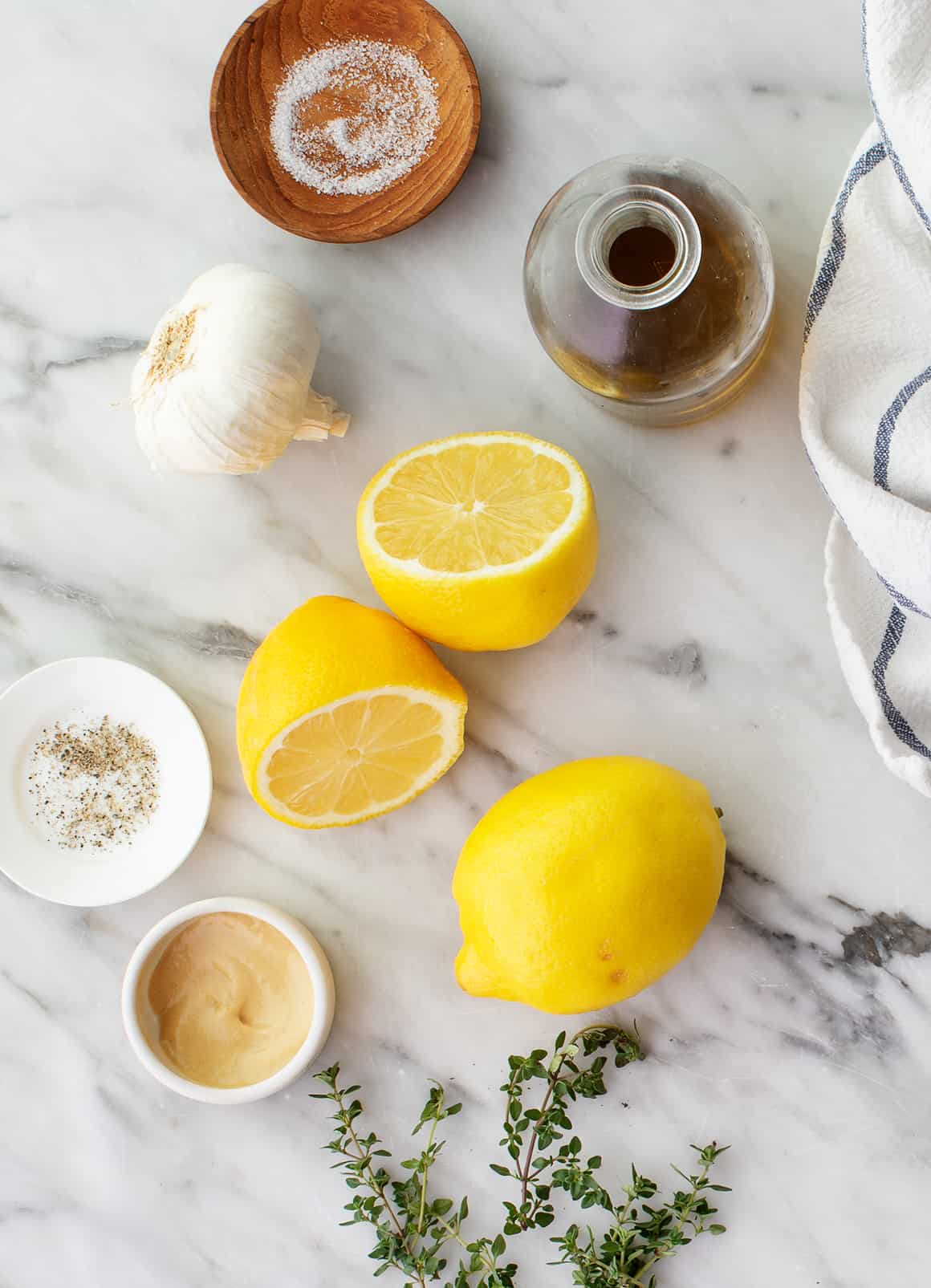 Lemon Vinaigrette Recipe Ingredients
This lemon vinaigrette dressing recipe is super simple to make. Here's what you'll need:
Fresh lemon juice – To make it zippy and bright!
Extra-virgin olive oil – It gives the dressing body and richness.
Garlic – It adds a nice kick.
Dijon mustard – For tangy depth of flavor.
Honey or maple syrup – I list it as optional, but its sweetness perfectly balances the sharp garlic, lemon, and Dijon mustard.
Fresh or dried thyme – Again, it's optional, but if you ask me, herbs make everything better. With its fresh, aromatic flavor, it adds something special to this lemon vinaigrette.
And salt and pepper – To make all the flavors pop!
When you're ready to make the dressing, add the lemon juice, garlic, mustard, honey, salt, and pepper to a small bowl, and whisk to combine. Then, add the olive oil. As you'll see in the recipe below, I make my lemon vinaigrette with varying amounts of oil. If I'm tossing it with raw greens and vegetables, I want it to have a mellower flavor. Then, I use 3 parts acid to 4 parts oil. If I'm dressing heartier ingredients like roasted vegetables or potatoes, I want it to taste sharper, so I use a 1:1 ratio. I recommend starting with a 1:1 ratio and adding more oil as needed.
As you pour in the oil, whisk continuously until the dressing is emulsified. Stir in the thyme, and season to taste with more oil, salt, and/or pepper. Enjoy!
Find the complete recipe with measurements below.
How to Use Lemon Vinaigrette
This lemon vinaigrette will keep in an airtight container or jar for up to 1 week in the fridge. Of course, it's a great way to dress up a simple green salad, but there are so many other delicious ways to use it. Here are a few ideas to get you started:
How do you like to use lemon salad dressing? Let me know in the comments!
More Favorite Dressings and Sauces
If you love this lemon vinaigrette recipe, try one of these homemade salad dressing recipes next:
Lemon Vinaigrette
This easy lemon vinaigrette recipe is a great one to have in your back pocket. It's delicious and versatile - perfect for tossing with salads, roasted vegetables, and more!
Instructions
In a small bowl, whisk together the lemon juice, garlic, mustard, salt, pepper, and honey, if using.

Drizzle in the olive oil while whisking and continue to whisk until the dressing is emulsified. Alternatively, combine everything in a jar with a tight-fitting lid and shake to combine.

If your dressing is too tangy, add more olive oil, to taste.

Add the thyme, if desired, and season to taste. Store in the fridge for up to 1 week. The olive oil will solidify a bit in the fridge. To soften, let the dressing sit at room temp for a few minutes and stir before using.