You only need 2 ingredients to make this easy lemon glaze! It's the perfect zesty topping for baked goods like cakes, cookies, and scones.
This lemon glaze recipe is my favorite way to make everyday baked goods feel a little bit more special. With just 2 ingredients, it's amazingly easy to make (just add them to a bowl and stir!), and the minimal effort is always worth it. It looks so pretty on top of a loaf cake, cookies, or scones, and it gives them an extra pop of sweet, zesty flavor.
I'm sharing some of my favorite recipes to pair with it in the post below. But really, anytime you want to elevate a simple treat, this lemon glaze will do the trick.
Lemon Glaze Recipe Ingredients
To make this lemon glaze recipe, you'll need two basic ingredients:
Powdered sugar – Aka confectioner's sugar or icing sugar. It sweetens the glaze and helps it firm up on top of baked goods. Use store-bought, or make your own!
Fresh lemon juice – It makes the glaze smooth and runny and adds bright lemon flavor. Use more or less depending on how thick you want your glaze to be.
Find the complete recipe with measurements below.
How to Make Lemon Glaze
This recipe is super quick and easy to stir together!
Place the powdered sugar and 2 tablespoons of the lemon juice in a medium bowl.
Whisk to combine, making sure to incorporate all the dry powdered sugar.
When the glaze is smooth, adjust the consistency to your liking. If it seems too thick, add more lemon juice, 1 teaspoon at time, until the glaze is pourable. That's it!
How to Use Lemon Glaze
To use the glaze, pour or drizzle it over any baked good that has cooled to room temperature. (Don't add it while the baked goods are still warm. If you do, the glaze will melt!)
I especially like it on fruity or lemony treats, such as…
How do you like to use this easy glaze? Let me know in the comments!
More Easy Baking Basics
If you love this recipe, try making one of these baking basics next: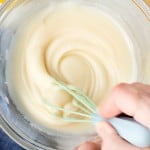 Lemon Glaze
This simple lemon glaze is delicious on cakes, cookies, scones, and more! To help the glaze set up nicely, pour it over baked goods after they have cooled completely.
Instructions
In a medium bowl, combine the powdered sugar and 2 tablespoons of the lemon juice. Whisk to combine, adding more lemon juice as needed to create a smooth, pourable glaze. 

Drizzle over cakes and cookies that have cooled completely after baking. See the blog post above for more ideas to use lemon glaze.