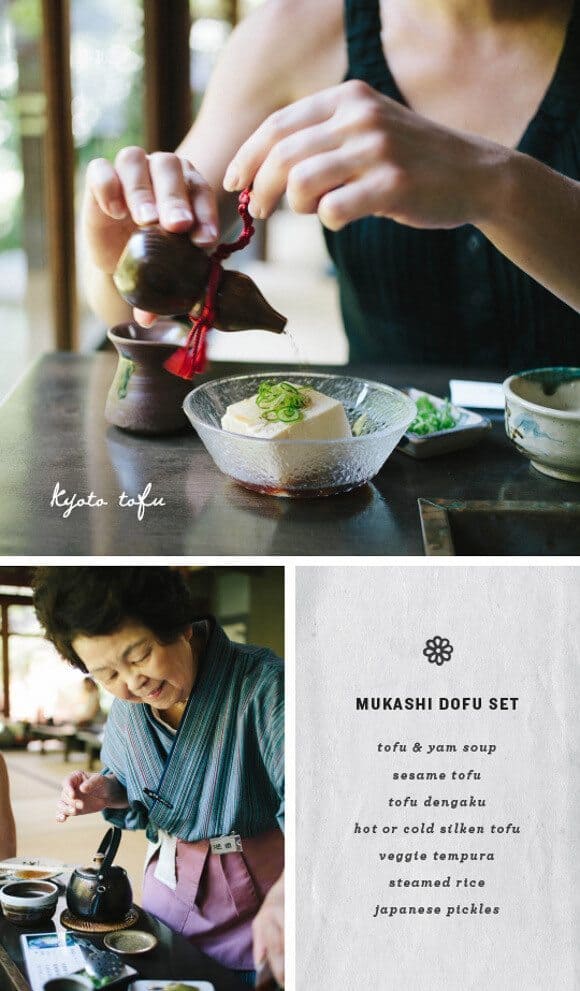 In Japan, tofu is not a meat or dairy replacement. It's just a regular food that regular people eat – and hardly anyone there is vegetarian. The very best way to experience tofu is at a yudofu restaurant in Kyoto. You sit down (on mats) to a set meal which starts with a few small dishes made out of various types of tofu. Then comes the big star – the simmering pot of soft tofu. It's luscious, creamy, and unlike any kind of tofu that has ever come out of a box. This particular meal was at Okutan, a 350 year old establishment, where they make their own tofu on site every morning.
Cute story – this woman, our Japanese grandmother (at least for that afternoon), noticed us taking photos at the start of the meal. When she brought out the big hot pot, she motioned to Jack and made a charades-style camera-clicking motion… preparing him to get the camera ready before she opened the steaming pot. It's always awkward trying to photograph in restaurants, so of course we loved her participation… language barrier and all.
The tofu is served simply – with soy sauce, grated daikon, scallions and shichimi. The meal is finished off with crispy veggie tempura, rice & Japanese pickles. I wish could eat like this every day!
For more Kyoto restaurant/travel recommendations, see this post.