Made with toasted hazelnuts, red onions, and apples, this easy kohlrabi slaw is crisp and refreshing. It's a light, lovely side dish for any autumn meal.
If you still have space for one more dish on your Thanksgiving menu, make this kohlrabi slaw recipe! It's crisp and refreshing – the perfect way to balance out indulgent holiday fare like stuffing and mashed potatoes. Plus, it calls for just 10 ingredients, and it comes together in right around 15 minutes. You can chop the veggies, whisk up the dressing, and have it on the table in the time it takes to warm your dinner rolls or sweet potato casserole in the oven!
The recipe comes my friend Andrea's new book Local Dirt: Seasonal Recipes for Eating Close to Home. In 2018, Andrea challenged herself to eat only food grown within a 200-mile radius of her farm for one month. Local Dirt commemorates her experience. It's chock-full of stories, recipes, and tips for eating locally, or, in Andrea's words, "discovering and celebrating what we have." What could be more in the Thanksgiving spirit? The book isn't vegetarian, but it still includes a number of enticing veggie options. I can't wait to try the Chilled Beet & Yogurt Soup, Fennel & Hazelnut Gratin, and classic Apple Pie next!
Kohlrabi Slaw Recipe Ingredients
If you're thinking, "What the heck is kohlrabi?", I hear you. I first learned what it was years ago, when it appeared in my CSA box. Like cabbage and broccoli, it's a member of the brassica family. It has a mustardy, peppery taste and crisp texture similar to a turnip. It's super versatile – you can roast it and sauté it – but I like it best raw. This slaw shows off its crunchy, juicy texture perfectly. I think you're going to love it!
Once you get your hands on some kohlrabi (you only need 1!), gather these simple ingredients to make the slaw:
An apple – Look for a variety that's crisp and sweet. I used a Gala apple, and it was delicious, but a Honeycrisp or Pink Lady apple would work well too.
Red onion – It adds a mild bite to the salad.
Apple cider vinegar and mustard – They make the dressing nice and tangy.
Honey – It balances the assertive mustard and vinegar.
Extra-virgin olive oil – Andrea actually calls for hazelnut oil, but I swapped in olive oil because it's what I keep on hand. Use what you have or what's local to you!
Hazelnuts – They add extra crunch and rich, nutty flavor.
And parsley – It gives the kohlrabi salad a lovely fresh finish.
Find the complete recipe with measurements below.
When you're ready to cook, clip off the kohlrabi leaves, peel the bulb, and slice it into thin planks. Then, slice the planks into matchsticks. While you're at it, thinly slice the onion, and chop the apple into matchsticks too.
Whisk the oil, vinegar, mustard, and honey together at the bottom of a large bowl. Add the remaining ingredients, and toss to coat. Season to taste with salt and pepper, garnish the salad with parsley, and serve!
Kohlrabi Slaw Variations
For every recipe in the book, Andrea offers suggestions to "Localize It," or use different ingredients that you might have on hand. Here are her ideas for this kohlrabi salad:
Switch the fruit. Try using a ripe pear instead of an apple. Heads up: you might want to shop in advance. Pears are often sold underripe and need a few days to soften on the counter.
Try another nut. No hazelnuts? No problem. Use walnuts, pecans, or almonds instead.
Use a different veggie. Andrea recommends using thinly sliced broccoli stems instead of kohlrabi. How creative is that?!
Add some cheese. This suggestion actually comes from me. I think some shaved pecorino or Parmesan would be fantastic in this salad! The salty flavor would contrast nicely with the sweet apples.
Andrea writes that "Cooking and eating should be fun," and I completely agree. I hope you enjoy experimenting with these variations. Let me know which ones you try!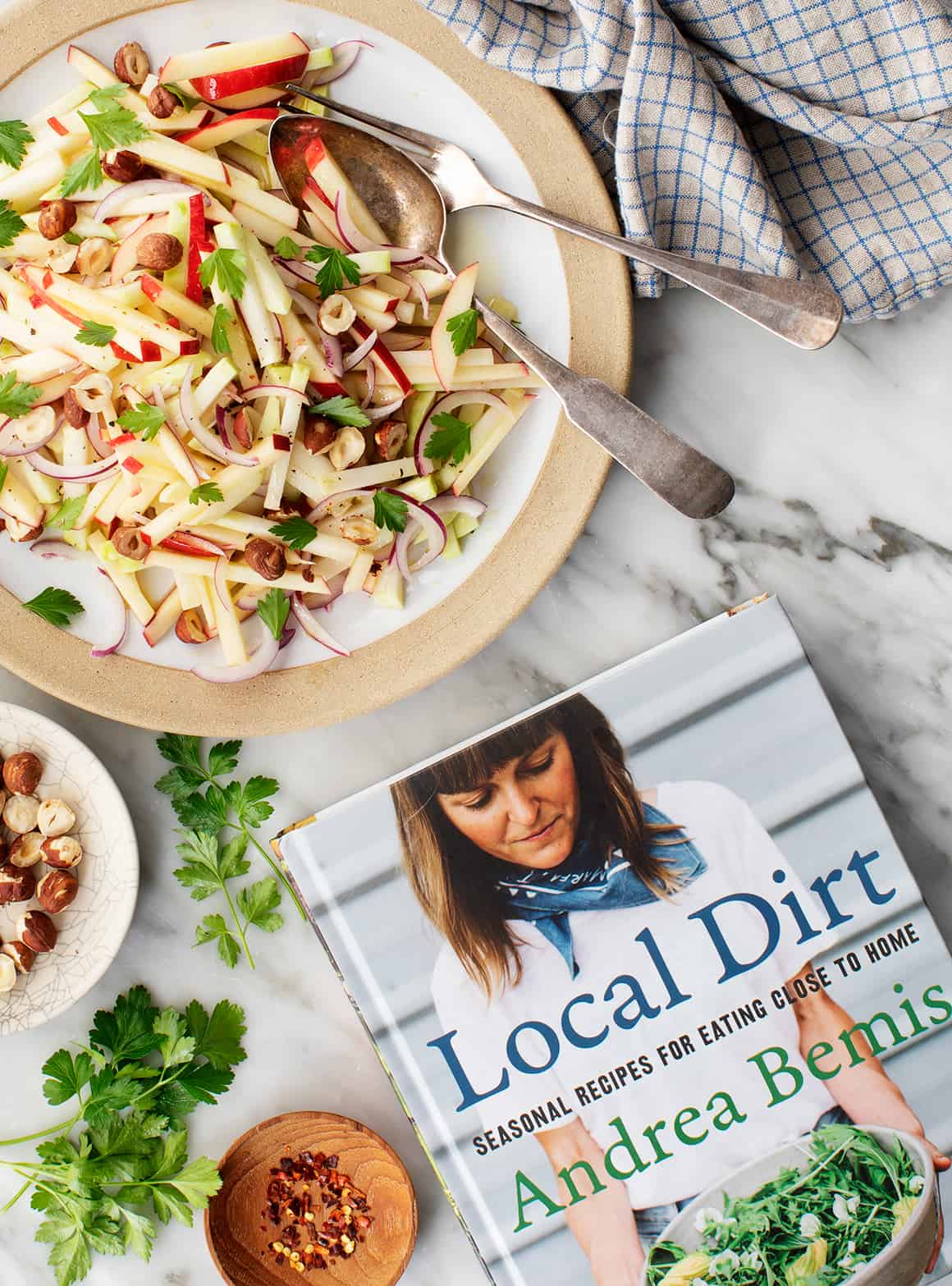 Kohlrabi Salad Serving Suggestions
Because it's so simple, this kohlrabi slaw is a great recipe to have in your back pocket in the fall. Whip it up anytime you need a quick side dish to round out an autumn dinner. It would pair nicely with Stuffed Acorn Squash, Creamy Mushroom Polenta, Pumpkin or Butternut Squash Soup, or any of these pasta recipes:
And as I mentioned above, this kohlrabi salad would also be a wonderful addition to a Thanksgiving dinner! Serve it with classic side dishes like green bean casserole, mashed sweet potatoes, gravy, and cranberry sauce. For more Thanksgiving ideas, check out this post, and don't forget the pumpkin pie for dessert!
More Favorite Fall Salads
If you love this kohlrabi slaw, check out Local Dirt! In the meantime, try one of these fall salad recipes next:
Kohlrabi Slaw
This easy kohlrabi slaw is a refreshing, delicious fall side dish! It's adapted from Local Dirt by Andrea Bemis with permission from the publisher.
Ingredients
1/4

cup

extra-virgin olive oil or hazelnut oil

1

tablespoon

apple cider vinegar

2

teaspoons

honey

1

teaspoon

whole grain mustard

1/2

teaspoon

fine sea salt

1

large apple

,

cored and cut into matchsticks

1

medium kohlrabi

,

peeled and cut into matchsticks

1/4

cup

thinly sliced red onion

1/4

cup

toasted chopped hazelnuts

1/4

cup

finely chopped parsley

,

more for garnish
Instructions
In the bottom of a large bowl, whisk together the oil, vinegar, honey, mustard, and salt.

Add the apple, kohlrabi, onion, hazelnuts, and parsley, and toss to coat.

Season to taste with salt and pepper, garnish with additional parsley, and serve.