Shopping for a home cook? We're here to help! Explore our guide to the best kitchen gifts. It features ideas like top-rated appliances, knives, and more.
If you're looking for kitchen gifts for the home cooks in your life, you've come to the right place!
Below, I've rounded up the best kitchen gifts of 2023. They include ideas for everyone on your list: the home baker, the vegetable lover, the cook who's obsessed with meal prep, that person who lives for their morning coffee, and really anyone who loves cooking.
These kitchen gift ideas range from all-star appliances to handy cooking tools to high-quality food items. Though they vary in size and price point, they're all great additions to a home kitchen. You can't go wrong!
The Best Kitchen Gifts of 2023: Our Top Picks
It's impossible for me to write a kitchen gift guide without including a Vitamix blender. Vitamix makes the best high-speed blenders on the market. They stand the test of time (our editor Phoebe has had hers for almost 10 years!), and they can blend up the creamiest smoothies, sauces, and soups. Plus, they're on sale!
I currently own the Vitamix A3500 Ascent Series Smart Blender. This advanced blender has settings for smoothies, hot soups, dips, and frozen desserts. The 2.2 HP motor can easily puree tough ingredients like nuts—no soaking required. I also love their food processor attachment, which is a great deal if you buy it as a set with the blender.
If you're looking for kitchen gifts at a more accessible price point, I recommend the Vitamix E310 Explorian blender. It has a 2 HP motor and ten variable speeds to help you refine the texture of whatever you're blending.
Buy the Vitamix A3500 Ascent Series Smart Blender:
Buy the Vitamix E310 Explorian Blender:

If you know someone who's looking for inspiration in the kitchen, my latest cookbook, Love and Lemons Simple Feel Good Food, would be an amazing gift. This New York Times-bestselling book is packed 125+ fresh, delicious recipes. Half the recipes are easy to make with on-hand ingredients, like quick weekday breakfasts, toss-together salads, and sheet pan dinners. The other half are designed for meal prep, like sturdy packable salads, freezer-friendly lasagnas, and make-ahead desserts.
Some of my favorite recipes from the book are the Freezer Carrot Cake Bars (p. 247), Sweet Potato Paneer Burgers (p. 153), and the Creamy Cauliflower Enchiladas (p. 107). I can't wait to hear what yours are!
My second cookbook, Love and Lemons Every Day is packed with plant-based recipes for every occasion, from quick weeknight dinners to holiday meals. It also includes handy cooking charts (i.e., how to roast any vegetable, a giant grid of 5-ingredient salad dressings) and resources (like a list of what kitchen tools you actually need) to help readers become more confident and resourceful home cooks.
If your favorite home cook loves making cakes, cookies, and bread, they NEED a KitchenAid Stand Mixer. In my opinion, it's of the ultimate kitchen gifts. 10 speeds and 3 beaters—the paddle, dough hook, and whisk—will allow them to tackle nearly any baking project with the help of this trusty appliance. It's built to last—recipients will use this cooking gift for years. This is seriously the best price I've seen!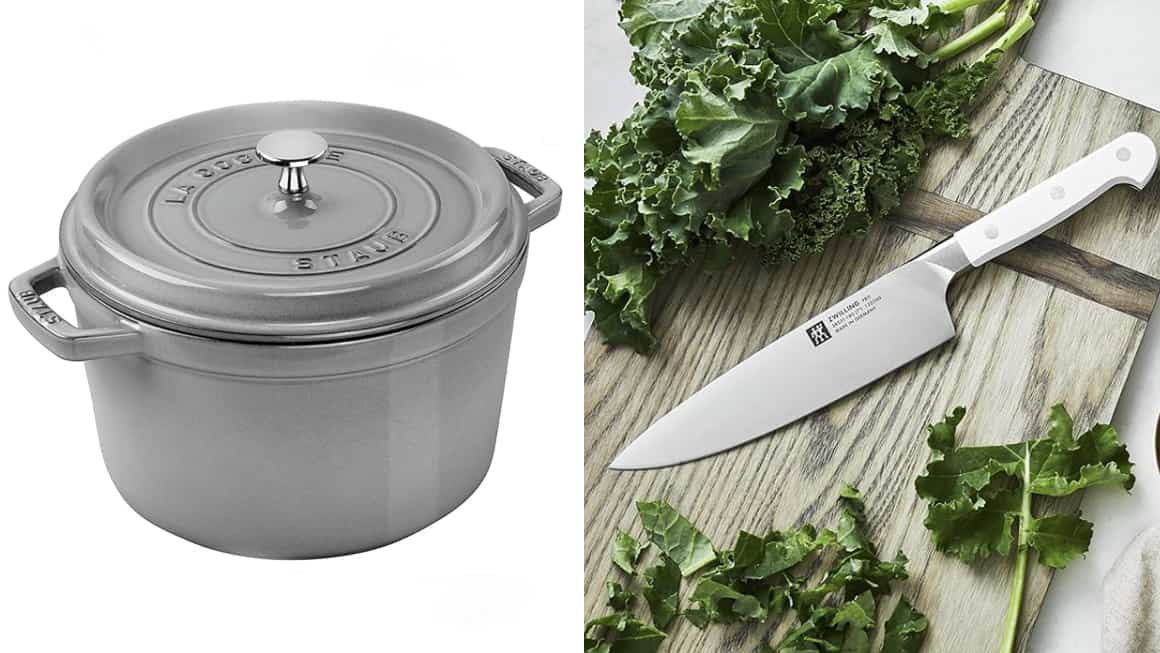 A Dutch oven is one of the best cooking gifts because of its versatility. You can use it for making soups, stews, and sauces on the stove or pop it in the oven to bake a loaf of bread!
I love Staub's 5-quart tall cocotte. The cast-iron material is fantastic at retaining and conducting heat, and it's coated with enamel, meaning that it's easy to clean with just soap and water. This Dutch oven also comes in a gorgeous array of colors. I like to serve food straight out of it at the table. The pot looks pretty and keeps everything hot! It's often pricier than some other options, but this is a GREAT deal for for it and it will last a lifetime.
We all know a home cook who wants to sharpen or replace their knives. Surprise them with a new chef's knife as a gift! I'm a huge fan of all of Zwilling's knives, but I especially love the smaller profile and lighter weight of this 7-inch knife. Compared to a traditional 8-inch chef's knife, it fits more comfortably in my hand and is easier to maneuver for precise cutting. The white handle and carbon steel blade look striking too.
Stocking Stuffers for Cooks
These silicone stasher bags are one of my favorite gifts for cooks cutting back on single-use plastic. I use my set everyday for packing snacks for our kiddo and sealing up partially-squeezed lemons. The best thing about them? They're easy to clean in the dishwasher!
A tofu press would be a great kitchen gift for the vegan or vegetarian in your life. I tested the best tofu presses earlier this year, and the Tofuture Tofu Press was my favorite. Its compact size makes it easy to store, and with just 3 pieces, it's super simple to use! After only 20 minutes of pressing, it yields ultra-firm, chewy tofu that's perfect for grilling, baking, or pan-frying.
I LOVE mini kitchen utensils because a) they're adorable and b) they're actually super useful! A mini whisk is great for mixing up salad dressings, and a mini spatula is essential for prying the last little bit of mustard or honey out of a tablespoon. This set is only $5! It's one of the cutest kitchen gifts.
Fresh herbs take any dish to another level, but I'll be the first to admit that chopping them can get tedious. Enter: these herb cutter scissors! Equipped with 5 pairs of rust-resistant stainless steel blades, they allow you to cut herbs, dried chiles, and more quickly and efficiently. They come with a small cleaning brush and blade cover for safe storage.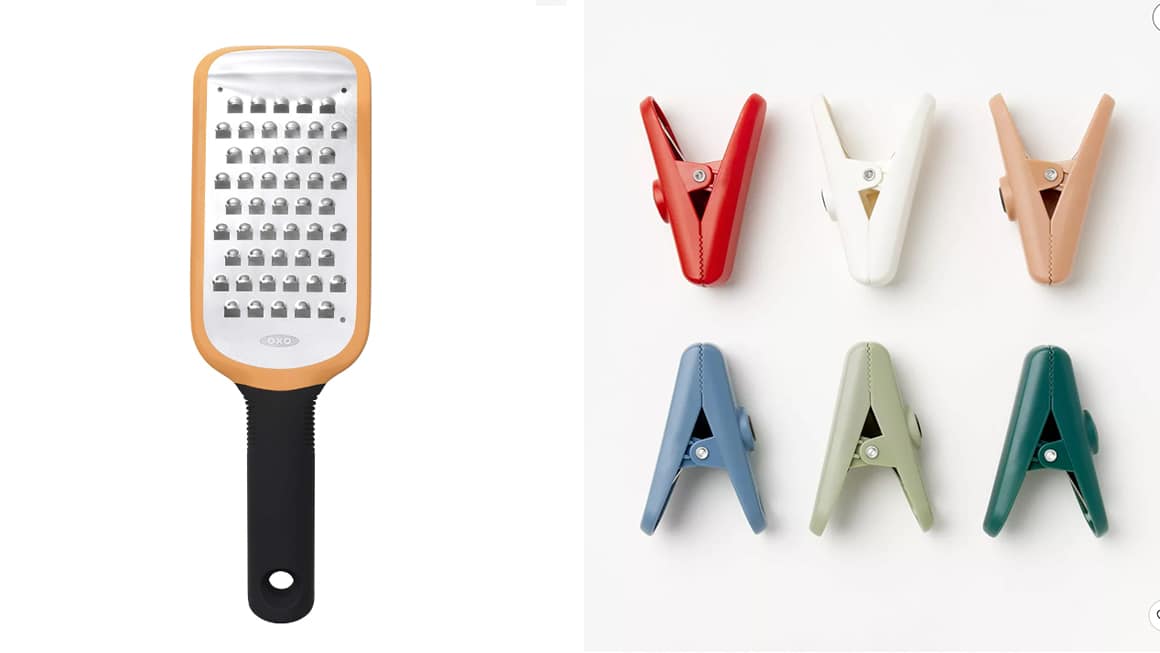 Know a cook who's short on storage space? This OXO grater is a great alternative to a traditional box grater because it's easy to stash in a drawer. Its non-slip foot keeps it sturdy during grating. The large holes are the perfect size for grating cheese, butter, and vegetables.
Chip clips have never been cuter! We all know it's easy to lose little kitchen gadgets (just me?), so I love that these are magnetic. When I'm not using them, I stick them to my fridge.
Surprise a tea lover with this high-quality matcha powder from Ippodo! I tested the best matcha powders earlier this year, and the Ippodo Ummon matcha stood out from the rest. It has a deep, earthy flavor with only a hint of bitterness. Rich in antioxidants, it's wonderful in matcha lattes, iced matcha, and traditional matcha tea.
Matcha drinkers will love this 3-piece bamboo set. It includes a bamboo whisk, also called a chasen; a traditional scoop, or chashaku; and tea spoon ideal for making frothy, lump-free matcha. Gift it on its own or with the matcha powder above!
I'm not kidding when I say that Seed + Mill makes THE BEST TAHINI. Creamy, nutty, and not at all bitter, it's so delicious that I like to eat spoonfuls straight from the jar. Of course, it's also wonderful for making recipes like tahini sauce, tahini dressing, hummus, and baba ganoush. The sesame lover in your life will devour this kitchen gift.
Quality olive oil is one of the best kitchen gifts for foodies. This year, I'll be gifting the Brightland Olive Oil two-pack, which includes the Awake oil for cooking and a smoother Alive oil that is best for drizzling on bread or veggies. Brightland uses olives grown on small family farms in California that are cold-pressed for freshness and flavor. Their products are a cut above the average olive oil from the grocery store.
Cooking Gifts for Vegetable Lovers
This mini 3.5-cup food processor is the perfect size for making small-batch sauces, dressings, and pesto! Its small footprint makes it easy to store, and you can wash the bowl and stainless steel blade in the dishwasher for simple cleanup. Bonus: it comes in a fun variety of colors!
Making homemade pasta has never been simpler with the KitchenAid pasta roller and cutter attachments! Powered by the stand mixer's motor, they roll and cut dough SO much more quickly and efficiently than the hand crank pasta makers I've tried. Get this set for the pasta lover in your life!
I was an immersion blender skeptic until I tried this immersion blender. The 625-watt motor blends soups and sauces to smooth and creamy perfection, and the unique bell guard protects pots and pans from scratches. The blender has 5 variable speeds and a convenient long cord. If you know a home cook who can't get enough butternut squash soup, the Vitamix immersion blender is the kitchen gift for them.
The Our Place Always Pan isn't just cute—it's highly functional too. It has a stainless steel handle and lightweight recycled aluminum body, and the nonstick ceramic coating is free of toxins like PTFEs, PFOAs, PFAS, and lead. The deep lidded skillet is oven-safe and comes with a removable steamer basket, so it's good for more than just sautéing. Use it for frying, boiling, braising, searing, and more! A vegetable lover won't find a more versatile piece of cookware for their kitchen.
Any home chef will love this gorgeous set of non-stick, non-toxic cookware from Caraway. It includes a 10.5-inch fry pan, a 3-quart lidded saucepan, a 6.5-quart Dutch oven, and a 4.5-quart lidded sauté pan, all of which are coated with non-stick ceramic. The cookware works beautifully on gas, induction, and electric stoves and is oven-safe up to 550°F. The set also comes with 4 magnetic pan racks and a canvas lid holder to help keep your kitchen organized.
The Instant Pot is one of the best kitchen gifts for home cooks that are short on time. I use it to cook rice, beans, steel-cut oats, soup, and more. I LOVE that the Instant Pot makes the cooking process quick and entirely hands-off so that I don't have to hover over the stove while dinner's cooking. It's currently on sale for 46% off—snag it for the AMAZING price of just $69.99!
Do you know an air fryer-curious cook? They'll love this air fryer from the makers of the Instant Pot. It preheats almost instantly, and it makes French fries, tofu, and veggies like broccoli perfectly crisp in minutes! And it doesn't just air fry—it has functions for baking, roasting, broiling, dehydrating, and reheating too.
Have you ever accidentally dumped WAY too much oil onto a tray of roasted vegetables? Same! I love this oil pour bottle from Figmint because it helps me not do that. The tapered stainless steel spout controls the flow of oil, making it easy to drizzle just the right amount over a salad, veggies, or bread. It looks super cute on the countertop too!
Every vegetable lover needs a good set of salad tongs! These Figmint serving spoons are made of gorgeous acacia wood. At just $10, they're one of the most beautiful and affordable kitchen gifts.
Miyabi makes some of the best knives out there, and this 8-inch chef's knife proves it. With a birch handle and thin micro carbide powder steel blade, it's lightweight and easy to maneuver. The ice-hardened blade's layered Damascus design looks beautiful while providing durability. If you know a veggie lover who does a lot of chopping, this razor-sharp knife is the kitchen gift for them!
Veg-table is bestselling author Nik Sharma's latest cookbook, and it's a must-have for home chefs who want to take their understanding of vegetables to the next level. Sharma digs into the origins and biology of more than 50 vegetables and shares over 100 flavorful recipes using them. Sharma is known for his science-based approach to cooking. If you're a fan of Serious Eats (where Sharma is a columnist), you'll love this book.
Hetty McKinnon is one of my biggest inspirations. Her compelling storytelling and inventive approach to cooking with vegetables always impress me. You'll find both in her latest cookbook Tenderheart. The book explores Hetty's relationship with her father while packing in 180 insanely delicious vegetarian recipes. If you love cookbooks that are just as satisfying to read as they are to cook from, Tenderheart is for you.
Kitchen Gifts for Home Bakers
This Staub baking dish set includes a 7.5×6-inch pan, 10.5×7.5-inch pan, and a 13×9-inch pan. The baker in your life will use them to make lasagna, focaccia, sheet cakes, fruit crisps, cobblers, and more. With a porcelain-enamel finish, these pieces are highly scratch resistant. They also retain heat well (and look GORGEOUS!), so they transition perfectly from the oven to the dining room. This is an amazing price for this quality set.
This beautiful ceramic batter bowl has a sturdy handle and pour spout, which allows you to easily transfer batter to a baking dish after mixing it up. Great for cakes, muffins, and quick breads!
No more paper liners! These silicone baking cups yield perfectly shaped cupcakes and muffins, and their quick-release design makes them easy to remove after baking. Just toss them in the dishwasher to clean!
This nesting bowl set comes with 4 glass bowls ranging from 1 to 4 quarts plus 4 matching lids. You can use them for mixing up cookie dough, tossing together a salad, or stashing away leftovers after a meal. Microwave- and dishwasher-safe!
This Nordic Ware baking pan set includes a quarter sheet pan, jelly roll pan, and half sheet pan. These durable pans are rust-resistant, and their galvanized steel rims stop them from warping in the oven. I use them daily for roasting vegetables, baking cookies, and more. I love having a variety of sizes so that I can grab the right pan for whatever I'm cooking!
This adjustable rolling pin would be one of the handiest kitchen gifts for bakers who like making pie crust, pita bread, and cookies. It comes with four sets of rings that can raise and lower the pin away from/towards your work surface, making it easy to roll out dough to your desired thickness. Measurements are also etched in its surface, so you don't need a separate ruler to measure the dimensions of your crust or cookie dough.
Cooking Gifts for Meal Preppers

I've been a huge fan of Le Parfait jars for years. The company makes beautiful, durable glass jars with wide openings that allow you to get out every last drop of whatever's inside. I love to use this 11-ounce set for making overnight oats, and it's also perfect for homemade pickles, jams and compotes, and salad dressings. Any meal prepper will love it!
If you know a home cook who always has a stash of freezer meals on hand, add these Souper Cubes to your list of kitchen gifts to buy them. Essentially extra-large, lidded ice cube trays, these silicone molds make it easy to freeze (and thaw!) soup, sauces, and more in individual portions. Bonus: they're dishwasher-safe for simple cleanup.
One of the BEST kitchen gifts for the meal prep pro! This storage set includes 1 small, 1 medium, and 1 large vacuum food storage container that pair with Zwilling's rechargeable vacuum sealer machine (sold separately) to help maximize food's storage life. The containers are safe for use in the fridge, freezer, and dishwasher. They sync with the Zwilling Culinary World app, which tracks the sealed food's freshness to prevent spoilage.
Do you know someone who packs a lunch for work or school? This Rubbermaid Brilliance set will become their new favorite containers! The BPA-free plastic material is microwave-safe and stain- and odor-resistant, and the lids are leak-proof and airtight. The lightweight containers have two handy compartments. Put a main in one and a side in the other, or use the small compartment to keep a sauce separate until you eat.
Kitchen Gift Ideas for Coffee and Tea Lovers

This Instant Pot milk frother lets coffee lovers be their own baristas! It has 4 programs—cold foam, light warm foam, thick warm foam, and warming without foaming—that are perfect for cappuccinos, lattes, and more. It works quickly and quietly, so you won't wake up the whole house while you're making your morning beverage. And when you're not using it, it's small enough to stash in a cupboard.
This cute pour over coffee maker from OXO makes it easy to brew a morning cup of joe! Just add your favorite coffee grounds and hot water (easy-to-read measurement markings show you how much!), and the auto-drip tank will control the flow of water for optimal flavor.

Jack recently splurged on this espresso machine, and he is OBSESSED (I wish I'd gotten it for him as a gift!). It has a built in grinder (with 16 precision grind settings) that allows you to go from whole coffee beans to a steaming espresso in 1 minute, and it uses the optimal water pressure and temperature to yield a great-tasting cup. Use the powerful steam wand to turn milk into microfoam for your next cappuccino or latte.
Our editor Phoebe has this electric kettle, and she loves it! It quickly and efficiently boils water for coffee and tea (and automatically shuts off once the water boils). The gooseneck spout gives you control over the speed and consistency of the water flow as you pour, making it ideal for pour over fans. The stainless steel body and cork handle are lightweight and easy to maneuver. This kettle is a steal at just $32.99!
Prices were accurate at the time of publication. This post contains affiliate links which means we receive a small commission with each purchase. We appreciate your support!