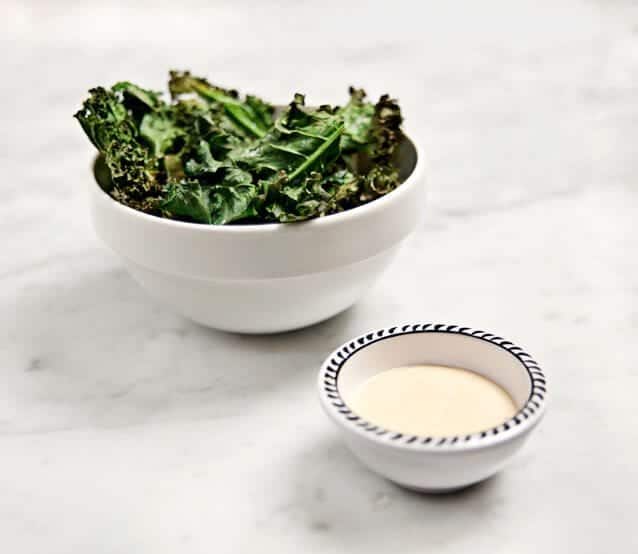 I find that I have a weekly quota of kale that I must get into my diet. When I'm not incorporating it into a meal, rest assured I will find a way to get it on the side. Last night, I threw together this little sauce that nicely offset the bitterness of the charred kale.
The only caveat is that crispy kale doesn't exactly hold up like a potato chip. I found that the way to eat this is to dip it very carefully and then kind of shove the whole thing in your mouth with the palm of your hand before it has the chance to crumble all over you. Jack assured me that this was very attractive to watch.
Kale Chips with Miso Dipping Sauce
Ingredients
For the chips:
1 bunch curly green kale
Extra-virgin olive oil, for drizzling
Sea salt and fresh black pepper
For the miso dipping sauce:
3 teaspoons mayo
1 teaspoon white miso paste
1 teaspoon agave syrup, honey, or sweetener of your choice
½ small garlic clove
1 teaspoon toasted sesame oil
Squeeze of lemon (optional)
Fresh grated ginger (optional)
Instructions
Preheat the oven to 400 degrees.
Wash and completely dry the kale. Cut off stems and chop the leaves into chip-sized pieces. You'll want to err on the larger size because they break easily after they're crisped.
Spread kale leaves onto 2 baking sheets, drizzle with the olive oil, and season with salt and pepper. Salt with moderation, as the miso sauce is salty. Bake for 10-15 minutes or until crispy, checking often.
Make the miso dipping sauce: Mix together the mayo, miso, sweetener, garlic, sesame oil, lemon juice, and ginger, if using. Taste and adjust to your liking.
Notes
Use vegan mayo to make this vegan.