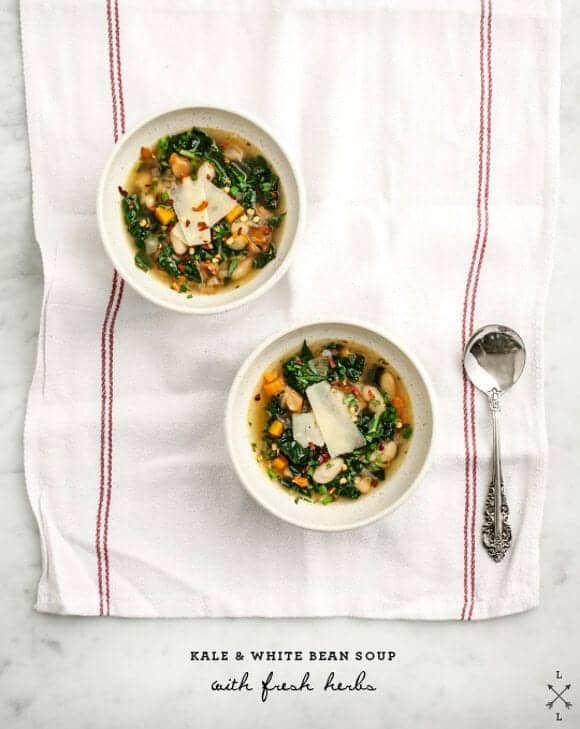 I just love making soups. There's something so cozy and comforting about the whole process. It hasn't exactly been soup weather around here, so last week when it dipped down into the 60's, a stay-home, curl-up-on-the-sofa, soup night happened.
This soup is hearty but still kind of light. The sherry vinegar gives it a nice zing and the fresh herbs bring it alive. Feel free to mix in whatever herbs you like – I went out of my herb-comfort zone here and used tarragon, but basil would also be delicious also.
Enjoy with lots of crusty bread and some nice red wine…
serves 2 as a main course, scale accordingly
adapted from Bon Appetit
INGREDIENTS:
a few tablespoons of olive oil
1 cup mushrooms
1/2 cup chopped carrots
2-3 chopped shallots (or about half an onion)
2 garlic cloves, minced
1/2 cup white wine
3 cups veggie broth (or more)
1 15-oz can white beans
1 tablespoon finely chopped rosemary
1 tablespoon sherry vinegar
1 small bunch of kale, chopped, coarse parts of the stems removed
1 tablespoon chopped fresh tarragon
1 tablespoon chopped chives
salt & pepper
parmesan or pecorino cheese, shaved or grated on top (optional)
a few pinches of red pepper flakes
crusty bread, for serving
METHOD:
In a medium pot, heat oil over medium heat. Add shallots, salt & pepper, cook until they're beginning to turn translucent (about 5-7 minutes). Add carrots, garlic, and mushrooms (some more salt) and stir. Continue cooking until mushrooms wilt down, another 10 minutes or so, stirring occasionally (turn down the heat on your stove slightly if your vegetables start to burn).
Add white wine, stir to get the bits off the bottom of the pan, and cook until the liquid reduces, 5-7 minutes. Add white beans, broth, rosemary and bring to a boil. Add kale. Reduce heat and simmer for 15-20 minutes or so.
Mix in sherry vinegar, tarragon and chives. Toss in a few pinches of red pepper flakes Taste and add more salt & pepper to your liking.
Serve with freshly grated parmesan cheese and crusty bread.