This green-on-green salad was inspired by St. Patrick's Day, but its fresh flavor & creamy dressing have made it one of my year-round lunch favorites.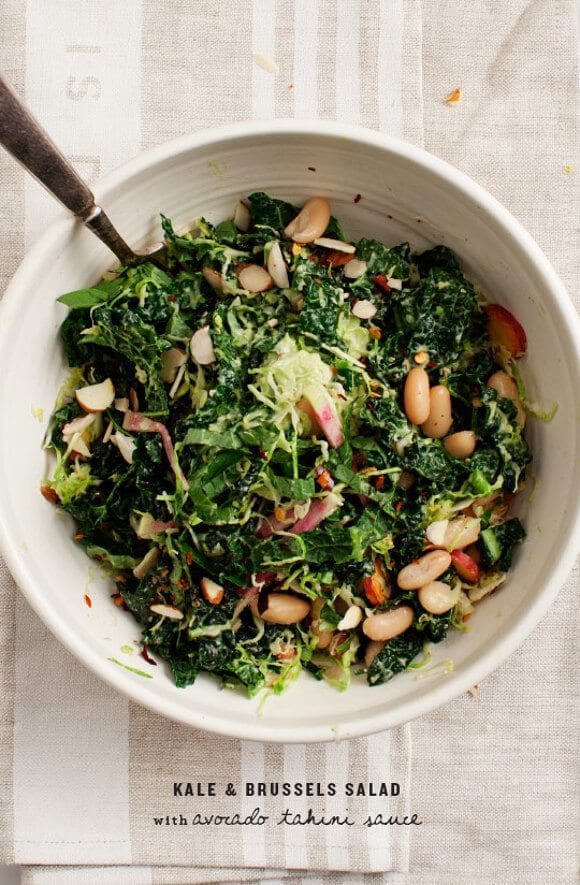 I have a very green, yet not very St. Patrick's Day-themed recipe today. Maybe next year will be the year that I finally decide to revamp the shamrock shake (why don't I think of these things earlier?). But for now, I've got green-on-green-on-green. Kale, brussels sprouts and avocado…. with some other veggies tossed in for crunch and a pop of color.
The trick to raw kale salads is usually to massage the kale – this time I just chopped the leaves really small, mixed them with shaved brussels sprouts, and tossed it all with a creamy avocado tahini dressing to help wilt the hearty greens. Consider this one your post-St. Paddy's day detox.
Kale Salad w/ Avocado Tahini Sauce
Serves:
2 as a meal, 3-4 as a side
Ingredients
avocado tahini sauce:
1 small avocado (or ½ a large one)
1½ tablespoons tahini
2 tablespoons lemon juice
1 small garlic clove
1 tablespoon olive oil
2 tablespoons water
salt and pepper
salad:
2 cups kale, thinly sliced
2 cups shaved brussels sprouts
¼ cup radishes, sliced into matchsticks
¼ cup thinly sliced carrots
½ cup white beans
¼ cup sliced almonds, toasted
1 cup chopped basil
Instructions
Place avocado, tahini, lemon juice, garlic, and olive oil into a food processor. Pulse, then add water salt and pepper and blend until creamy.
In a large bowl, toss the kale, brussels sprouts, radishes and carrots with half the dressing. Mix well, then let it sit at room temp for about 15 minutes.
Add white beans, almonds, basil and as much of the remaining dressing as you like. Taste and add more salt, pepper, and lemon juice as needed.