These delicious kale recipes include comforting pastas, cozy soups, bountiful salads, and more! This vibrant leafy green has never tasted better.
On the internet, kale recipes were all the rage a few years ago. But in my kitchen, they're just as cool as ever. What can I say? Kale is versatile, it's delicious, and it just so happens to be one of the healthiest veggies out there. You betcha I'm blending it into smoothies, tossing it into pastas, and simmering it in soups whenever I have the chance!
At this time of year, many people start to think about adding more veggies to their diets. If that includes you, I encourage you to try kale! To get you started, I'm sharing 33 of my best kale recipes below. They include bountiful salads, comforting soups, yummy pastas, and so much more. Whether you're a longtime kale enthusiast or you're experimenting with it for the first time, you're sure to find something you love.
Basic Kale Recipes
When I cook kale, I often use one of these basic kale recipes as a starting point. Think of them as building blocks – they can become fantastic pastas, bowls, and more!
Sautéed Kale
On its own, this lemony sautéed kale is a nourishing side dish, but it's also a great addition to larger recipes. Toss it with pasta, add it to a frittata, or pile it onto pizza. The options are endless!
Kale Pesto
This vibrant pesto is my cold weather alternative to classic basil pesto. Toss it with pasta, scoop it onto soups, slather it on a sandwich, dot it onto pizza…you really can't go wrong.
Kale Salad Recipes
We've all eaten kale salads that are tough and dry, but don't worry – you won't find any like that here. Instead, these bountiful salads are bursting with exciting flavors and textures. Tip: they all hold up well if you make them ahead of time (you can even add the dressing!), so they're great recipes to pack for lunch.
Kale Salad with Carrot-Ginger Dressing
If you make just one recipe off of this list, this kale salad should be it. It's so energizing, refreshing, and satisfying that it'll win over even the biggest kale skeptics. Roasted chickpeas and toasted seeds add crunch, a rainbow of root veggies makes it vibrant and colorful, and an electric carrot-ginger dressing ties it all together.
Wheat Berry Salad
Roasted shallots, sage, and thyme bring complexity and depth to this salad. It's a stunning dinner side dish, but thanks to the wheat berries and roasted squash, it's also hearty enough to eat for lunch.
Soba Noodle Picnic Salad with Tahini Miso, page 117 of Love & Lemons Every Day
These colorful picnic salads are perfect for packing up and taking on-the-go! I almost always massage kale when I use it in salads, but not here. Instead, I chop it very finely to help it soften. This method saves time, and the finely chopped kale integrates nicely with the noodles when you eat.
Kale Quinoa Salad
This mean green salad is a kale explosion! The hearty greens make up the base, while a creamy kale pepita pesto acts as the dressing. I round it out with cooked quinoa, crispy chickpeas, roasted veggies, and scoops of sauerkraut for pop.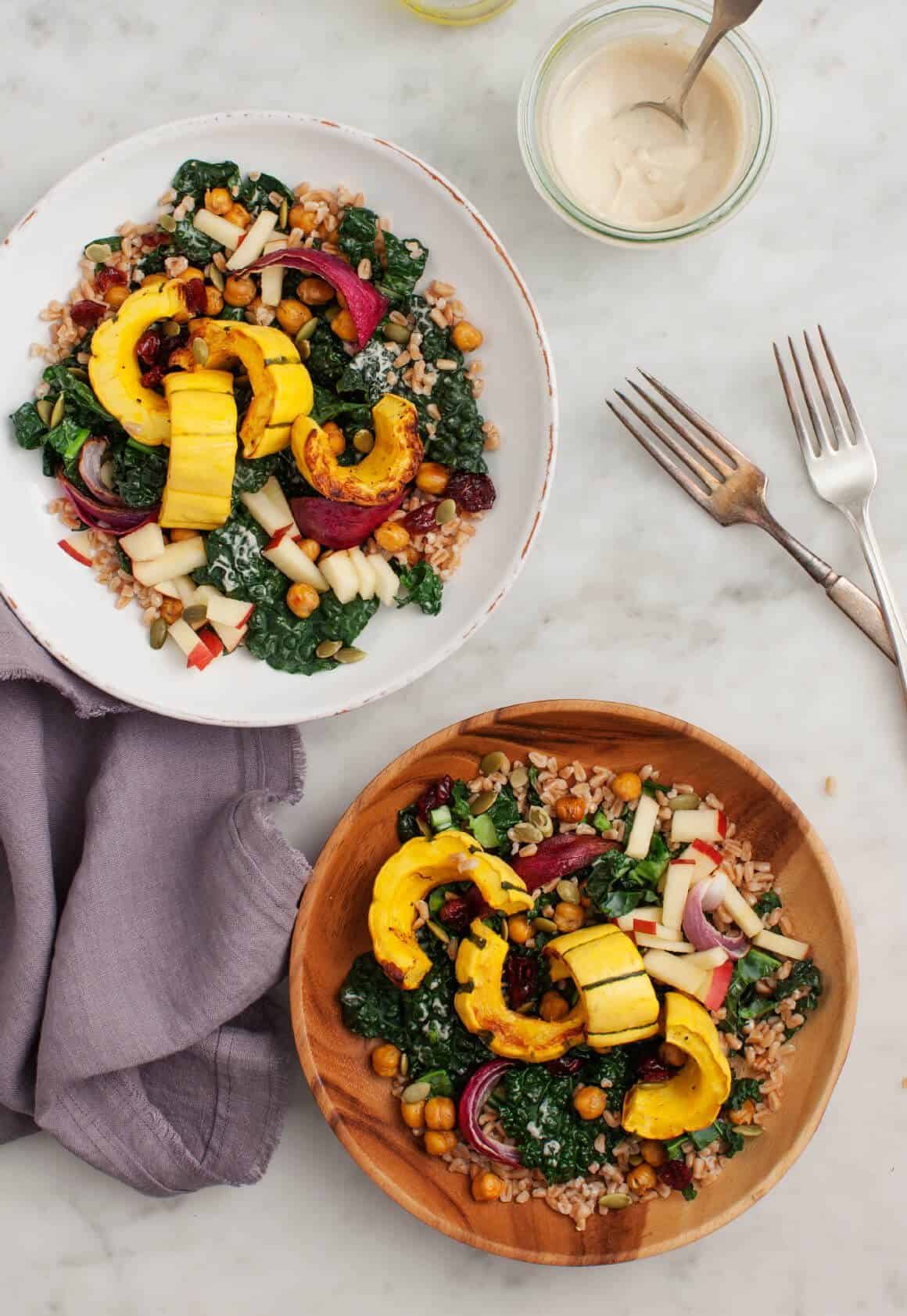 Roasted Delicata Squash Kale Salad
The ultimate fall lunch! I love how the sweet, creamy delicata squash plays off the nutty farro and Tuscan kale in this recipe.
Bowls
Steamed, blanched, sautéed, and massaged kale are all fantastic additions to grain bowls. They add a boatload of nutrients and a gorgeous shock of green.
Best Buddha Bowl
Make this Buddha bowl recipe as-written, or use it as a template to invent your own bowl! Swap cooked lentils for the chickpeas, or substitute butternut squash for the sweet potatoes. Try using quinoa instead of brown rice, or drizzle on a different sauce. Cilantro lime dressing, green goddess dressing, or any of my tahini sauce variations would be great.
Rainbow Bowls with Almond-Ginger Dressing
Tender baby kale adds extra green power to this veggie-packed noodle bowl.
Cauliflower Rice Kimchi Bowls
This grain-free grain bowl is one of my favorite recipes to make when I'm in need of a healthy reset. With a base of cauliflower rice, it's super light and nourishing. Still, sriracha baked tofu, kimchi, and a creamy coconut sauce pack it with bold flavor.
Peanut Noodle Kale Bowls, page 147 of The Love & Lemons Cookbook
This recipe = peanut sauce + noodles + a whole bunch of greens. What's not to love?!
Macro Veggie Bowl
Double the sauce when you make this recipe. It's a bright, brilliant turmeric tahini sauce, and it's so flavorful that you're going to want to drizzle it over everything!
Kale Pesto Mushroom Pistachio Bowls
Here's another recipe where I use kale two ways. I add massaged kale to the base of the bowls and dollop a creamy kale pesto on top. See how green the pesto is? I make it with pistachios instead of pine nuts for extra-vivid color!
Pasta Kale Recipes
I love using leafy greens in all sorts of pasta dishes, and kale is no exception. It adds lovely color and texture to the recipes below:
Spaghetti Aglio e Olio
I can never resist adding green veggies to a classic pasta dish! Sautéed kale brightens this lemony take on spaghetti aglio e olio.
Kale & Sweet Potato Lasagna Roll-Ups, page 197 of Love & Lemons Every Day
Seriously, WHAT could be more fun than these cozy lasagna roll-ups?! Made with a creamy tofu and cashew ricotta, they're completely vegan and dairy-free.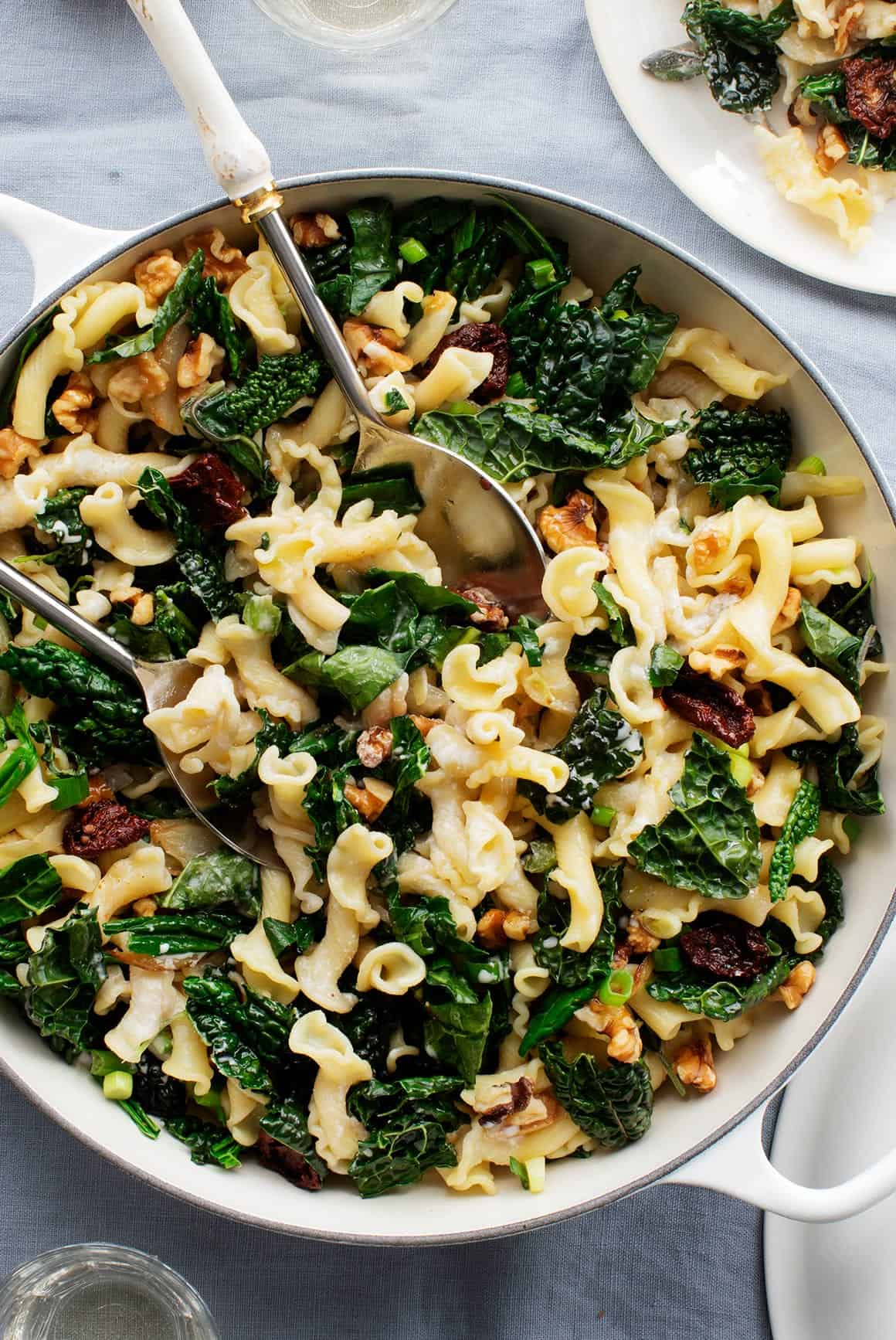 Sun-Dried Tomato Pasta with Kale
This elegant winter pasta is a breeze to make. Sauté the veggies, boil the pasta, and toss it all together with grated pecorino cheese on top.
Best Vegetarian Lasagna
My favorite healthy comfort food! Packed with roasted veggies and fresh kale, this lasagna is my ideal dinner on a cold winter night.
Sweet Potato Noodles with Garlic and Kale
Is it pasta? Not really. Is it delicious? Yes! This recipe would work equally well with spiralized butternut squash instead of sweet potato.
Spaghetti Squash with Chickpeas and Kale
I shared this spaghetti squash "pasta" over 6 year ago now, and to this day, it's one of the most popular recipes on Love & Lemons. Savory sun-dried tomatoes, chickpeas, and kale transform the roasted squash into a flavorful main dish.
Soups
I have these cozy kale recipes on repeat throughout the fall, winter, and early spring! I love the way the hearty greens hold onto their texture in soups and stews, becoming tender, but not at all mushy.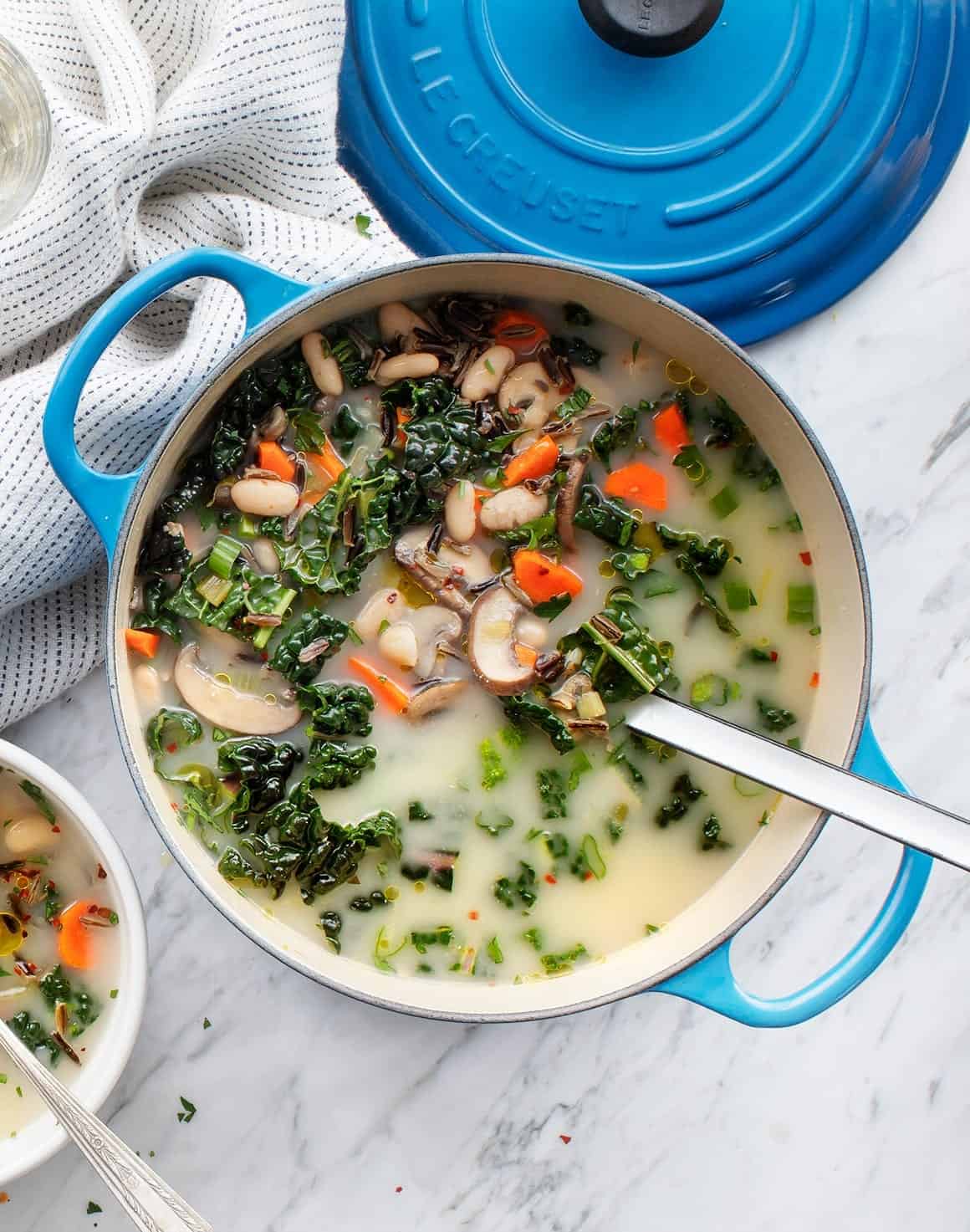 Wild Rice Soup
Pssst! This comforting wild rice soup looks rich, but it's secretly vegan and dairy-free! Blended white beans, cashews, and miso paste make up its creamy, savory base.
Coconut Soup with Sweet Potatoes & Kale, page 85 of Love & Lemons Every Day
This vegan riff on Thai tom kha is one of my favorite recipes from my second cookbook. Lime zest, lemongrass, ginger, and cilantro add bright, aromatic flavor to the rich coconut broth.
Lemon Miso Spring Green Soup, page 89 of Love & Lemons Every Day
Making a big pot of this brothy soup is my favorite way to welcome spring! Lacinato kale mingles with spring veggies like snap peas, asparagus, shell peas, and scallions. A refreshing mint pesto takes it all over the top.
Ribollita
Not sure how to use that stale bread on your counter? Make ribollita! The bread acts as a thickener in this pantry-friendly Tuscan kale and white bean soup.
Kale & Fennel Vegetable Soup, page 149 of The Love & Lemons Cookbook
I simmer this soup with a Parmesan rind to infuse it with umami depth of flavor. But if you're vegan, feel free to leave it out. Thanks to white wine, fennel, lemon juice, and fresh thyme, this healing soup is plenty flavorful without it.
More Main Dish Kale Recipes
Don't worry – if you're not craving pasta, a grain bowl, or a soup, we still have main dish kale recipes for you!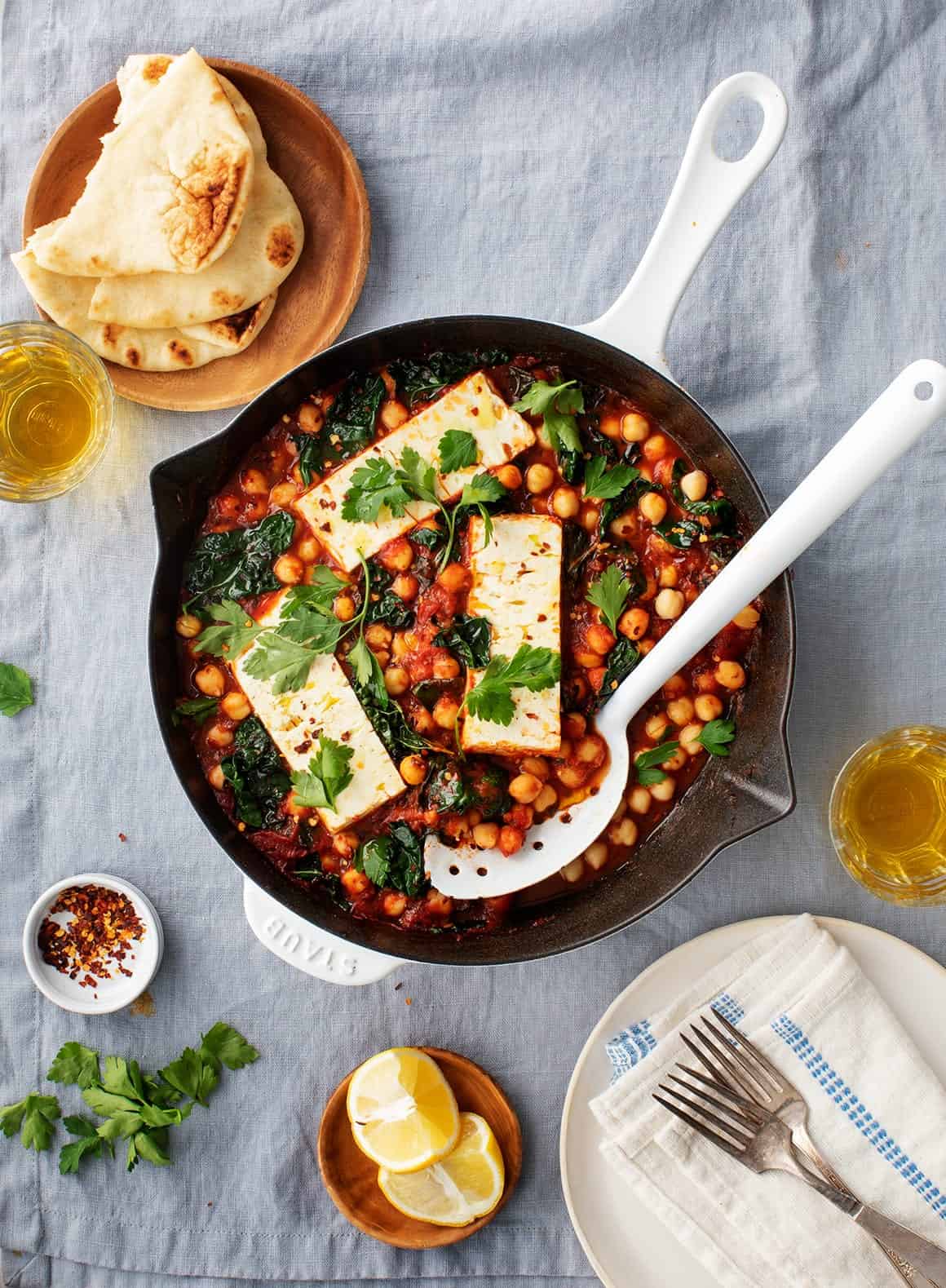 Baked Feta
Creamy, tangy slabs of feta cheese melt into a kale and chickpea-filled tomato sauce. Mop it up with fresh pita or good crusty bread.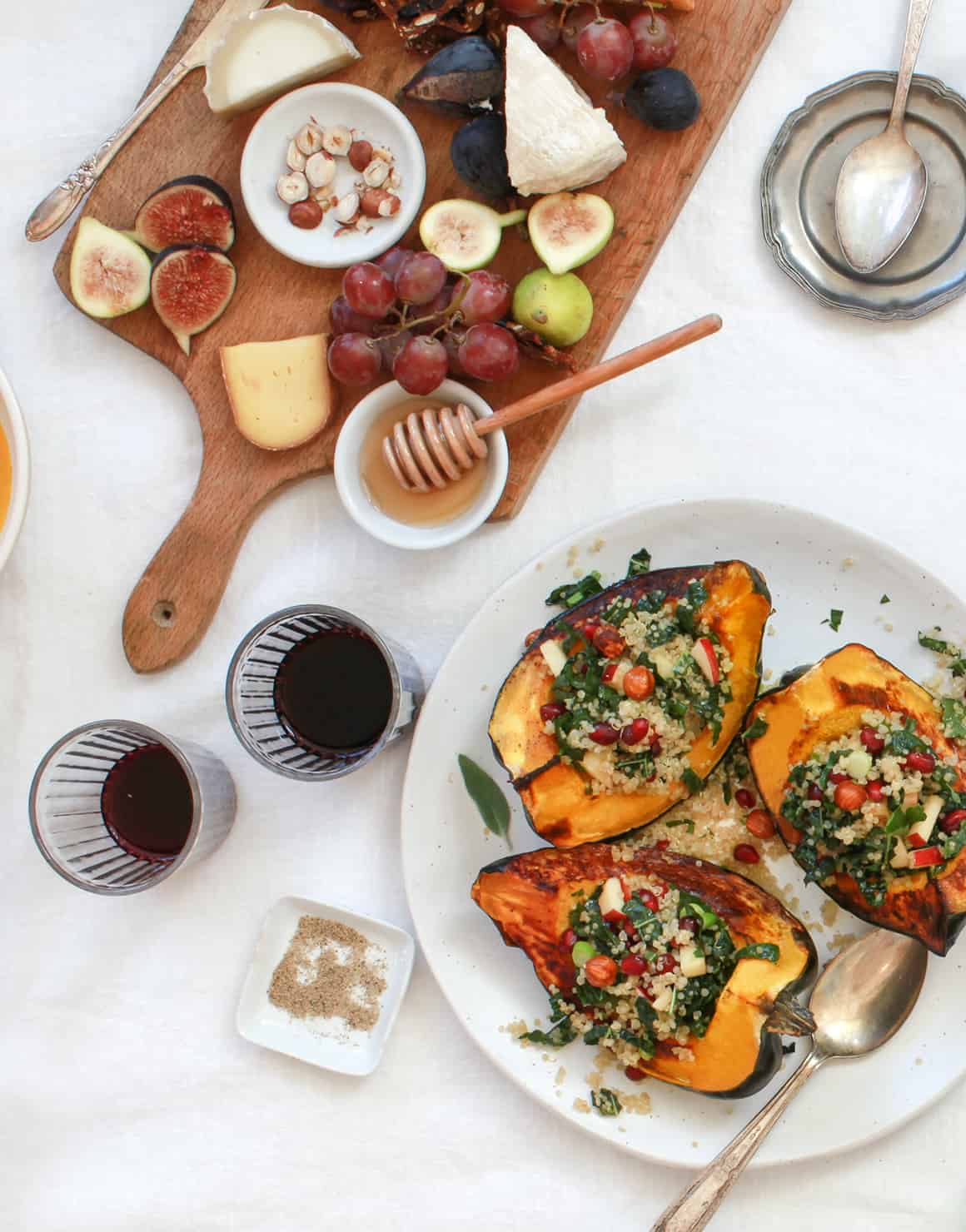 Quinoa, Apple & Sage Stuffed Acorn Squash, page 191 of Love & Lemons Every Day
This Thanksgiving-worthy stuffed squash is a cornucopia of autumn bounty! The quinoa filling boasts bursty pomegranate seeds, crisp apples, chopped kale, and an apple cider-sage dressing.
Stuffed Sweet Potatoes
Stuff a puffy baked sweet potato with a tasty filling, and it transforms into a nutritious dinner in a snap! You'll find roasted kale leaves in my Curry Spiced filling.
Quinoa & Kale Veggie Quesadillas
Quesadillas have never looked this green! Complete the look with tomatillo salsa verde and guac for dipping.
Kale Recipes for Breakfast
Kale recipes aren't just for lunch and dinner! Kickstart your day with these wholesome, energizing breakfast ideas.
Mini Frittata Muffins
These grab-and-go breakfast bites are full of protein, veggies, and healthy fats. And better yet, they taste delicious!
Miso Quinoa Bowls with Kale & Eggs, page 45 of Love & Lemons Every Day
Calling all veggie lovers! This verdant breakfast bowl is brimming with scallions, dill, radishes, avocado, and, of course, kale.
Kale Smoothie
Matcha green tea adds an invigorating pick-me-up to this ginger, peach, and kale smoothie. Even Jack, a devoted berry smoothie lover, fell for this green blend!
Baked Eggs with Kale, Sage, and Sweet Potatoes, page 215 of The Love & Lemons Cookbook
These yummy breakfast skillets are perfect for a weekend brunch. A pinch of smoked paprika gives them rich, smoky depth of flavor.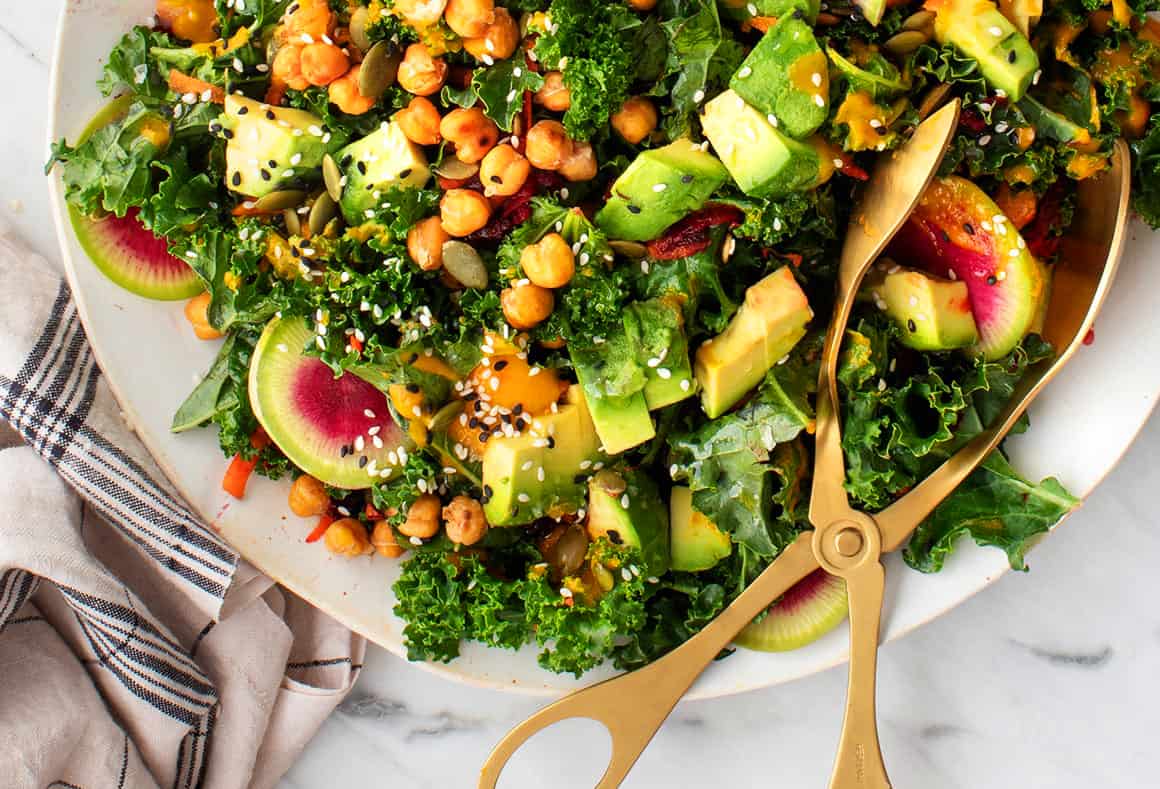 Kale Recipes: Kale Salad
This kale salad is one of our favorite kale recipes!
Ingredients
Carrot Ginger Dressing (see note)
½

cup

chopped roasted carrots

,

from 3/4 cup raw carrots

1/3 to ½

cup

water

¼

cup

extra-virgin olive oil

2

tablespoons

rice vinegar

2

teaspoons

minced ginger

¼

teaspoon

sea salt
Salad
1

bunch curly kale

,

stems removed, leaves torn

1

teaspoon

lemon juice

½

teaspoon

extra-virgin olive oil

1

small carrot

,

grated

1

small red beet

,

grated*

½

watermelon radish

,

very thinly sliced

1

avocado

,

cubed

2

tablespoons

dried cranberries

¼

cup

pepitas

,

toasted

1

teaspoon

sesame seeds

Sea salt & Freshly ground black pepper
Instructions
Make the dressing and roast the chickpeas: Preheat the oven to 400°F and line a large baking sheet with parchment paper. Toss the chickpeas with a drizzle of olive oil and sprinkle with pinches of salt and pepper. Place the carrot pieces for the dressing in their own corner on the baking sheet to roast alongside the chickpeas. Roast for 25 to minutes, or until the chickpeas are browned and crisp and the carrots are soft. Set the roasted chickpeas aside. Transfer the carrots to a blender and add the water, olive oil, rice vinegar, ginger, and salt. Blend the dressing until smooth and chill in the fridge until ready to use.

Place the kale leaves into a large bowl and drizzle with the lemon juice, ½ teaspoon of olive oil, and a few pinches of salt. Use your hands to massage the leaves until they become soft and wilted and reduce in the bowl by about half.

Add the carrot, beet, watermelon radish, half of the cubed avocado, cranberries, pepitas, a few more good pinches of salt and a few grinds of pepper, and toss. Drizzle generously with the carrot ginger dressing. Top with the remaining avocado, more dressing, the roasted chickpeas and sprinkle with the sesame seeds. Season to taste and serve.
Notes
Make the dressing ahead so it has time to chill in the fridge before adding to the salad.