This vibrant kale pesto recipe comes together in 5 minutes flat! Nutty and bright, it's delicious on pasta, pizza, sandwiches, bowls, and more.
When I have a bunch of kale in the fridge, I almost always save a few leaves to make this kale pesto recipe. I especially love making it in the winter, when basil is out of season. Of course, it doesn't taste exactly like basil pesto (basil is more aromatic, while kale is more peppery), but it's still delicious. Extra-virgin olive oil and pepitas make it rich and nutty, and lemon juice adds a lovely bright finish.
The whole recipe requires 8 ingredients and comes together in 5 minutes, so it's a great one to have in your back pocket. Whizz it together and toss it with pasta for an easy dinner one night, and save the leftover kale pesto for the next day. It's super versatile, so you'll have no trouble finding ways to use it. Spoon it over eggs, dollop it on a grain bowl, or slather it on a sandwich. The options are endless!
Kale Pesto Recipe Ingredients
Ready to make kale pesto? Here's what you'll need:
Fresh kale, of course! You'll just use the leaves and tender stems in this recipe. Save the tough stems for another use. You could blend them into a smoothie or simmer them into soup!
Garlic – For sharp depth of flavor.
Pepitas – Pepitas create an especially vibrant green pesto, but if you don't have them on hand, feel free to substitute another nut or seed. Hemp seeds, walnuts, almonds, and pine nuts all work well.
Parmesan cheese or nutritional yeast – Both options are delicious! Parmesan is traditional for pesto, but if you're vegan, nutritional yeast is a great substitute. It adds savory, cheesy flavor to this kale pesto recipe.
Lemon juice – For brightness.
Extra-virgin olive oil – A pesto essential! It adds richness and moisture to tie the sauce together.
And salt and pepper – To make all the flavors pop.
Find the complete recipe with measurements below.
How to Make Kale Pesto
You can whizz together this easy kale pesto in 5 minutes flat! Here's what you need to do:
First, pulse the solid ingredients. Add the garlic and pepitas to the bowl of a food processor, and pulse to grind them up. Then, add the nutritional yeast or cheese, salt, and pepper, and pulse again.
Next, add the raw kale leaves and lemon juice. Process until all the ingredients are well-combined.
Then, add the oil. With the blade running, pour the oil into the food processor. Process until the oil is completely incorporated.
Finally, season to taste! Try a spoonful of the sauce and add more salt, pepper, lemon juice, and/or nutritional yeast, as desired. If the kale pesto tastes bitter, add 1/4 teaspoon maple syrup or honey to balance it.
Enjoy!
How to Use Kale Pesto
You'll love having this kale pesto on hand in your kitchen! It's super versatile, so have fun experimenting with different ways to use it. Here are a few ideas to get you started:
How do you like to use kale pesto? Let me know in the comments!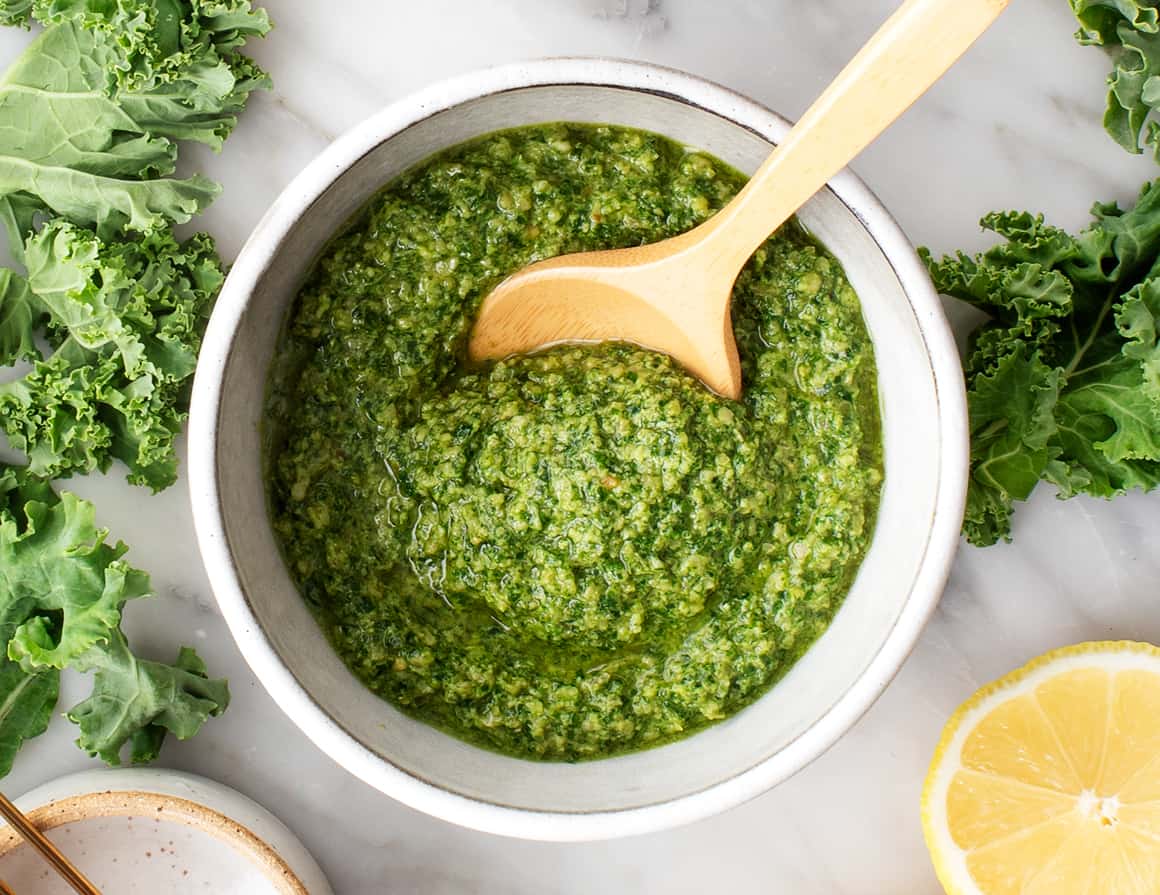 More Favorite Sauces and Dressings
If you love this recipe, try one of these sauces or dressings next:
Kale Pesto
This vibrant kale pesto is bright, nutty, and delicious! Toss it with pasta, or find more serving suggestions in the post above. Leftover pesto will keep in an airtight container in the fridge for up to 3 days. You can also freeze it for up to 2 months.
Instructions
In a food processor, pulse the pepitas and garlic until the pepitas are ground up. Add the cheese or nutritional yeast, salt, and several grinds of pepper and pulse again.

Add the kale and lemon juice. With the food processor running, drizzle in the olive oil, and process until combined. Season to taste.
Notes
Tip: If the kale pesto is too bitter, add ¼ teaspoon maple syrup or honey.
Makes 1 cup.