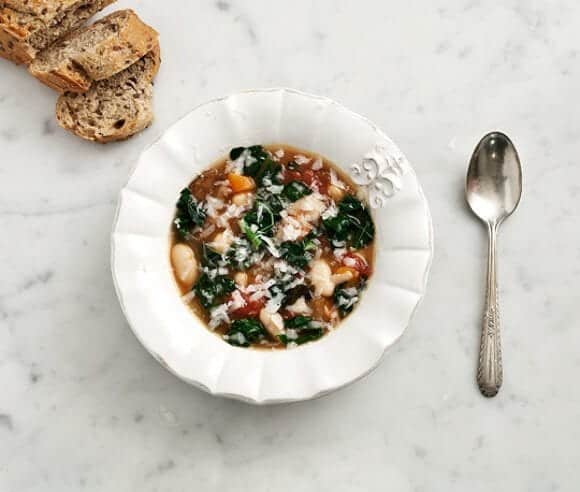 It's Food Matters Project Monday, and this one might be a stretch. This week's pick was coq au vin, and while I'm surely on board with the vin part, chicken isn't my thing and I wasn't all that inspired to try a vegetarian version of it.
Jack and I were out at dinner on Friday night and he just so happened to order coq au vin (what are the odds?). Never having tried the dish before I became vegetarian, I was surprised to see that it looked just like a rustic mushroom stew. So I took some Tuscan inspiration, and decided to make a mushroom, white bean, tomato and kale stew the next night. It turned out to be the perfect thing for a cool night and a low-key Saturday dinner at home on our patio.
Cooking the mushrooms with wine (and also a little balsamic), gave it a nice zing that balanced the hearty mushrooms and cannelli beans. Serve it with a nice bottle of red wine and some crusty bread.
serves 4-6
INGREDIENTS:
2 tablespoons olive oil
1 medium yellow onion, diced
4 cloves of garlic, minced
1 carrot, diced
1.5 cups cremini mushrooms, sliced
1 bunch of kale, chopped (about 4-5 cups)
4 cups veggie broth
1 can diced tomatoes, including the juice
1 can cannelli beans, drained and rinsed
1/4 cup wine (red or white, whatever you're drinking)
splash of balsamic vinegar
1 tablespoon rosemary, minced
salt & pepper
fresh basil, for garnish
pecorino cheese, for shaving on top (optional)
METHOD:
In a large pot heat oil over medium heat. Add onions and a few pinches of salt and saute until translucent. Add garlic, carrots, mushrooms and rosemary and cook, stirring occasionally until the mushrooms have cooked down (3-5 or more minutes).
Deglaze the pan with white wine, stir to get any bits that might be stuck to the bottom of the pan. Cook for 1 minute or so. Add a splash of balsamic vinegar, tomatoes, beans and broth. Reduce heat and simmer for 10 minutes or so.
Add kale and simmer for 5 or so more minutes.
Taste and adjust seasonings. At this point, I added a generous amount of salt, and few grinds of pepper.
Top with chopped fresh basil and shavings of pecorino cheese.
Serve with crusty bread and red wine.