This kale guacamole has classic guac's addictive zesty flavor & creamy texture, but steamed kale leaves makes it extra green (and extra healthy)!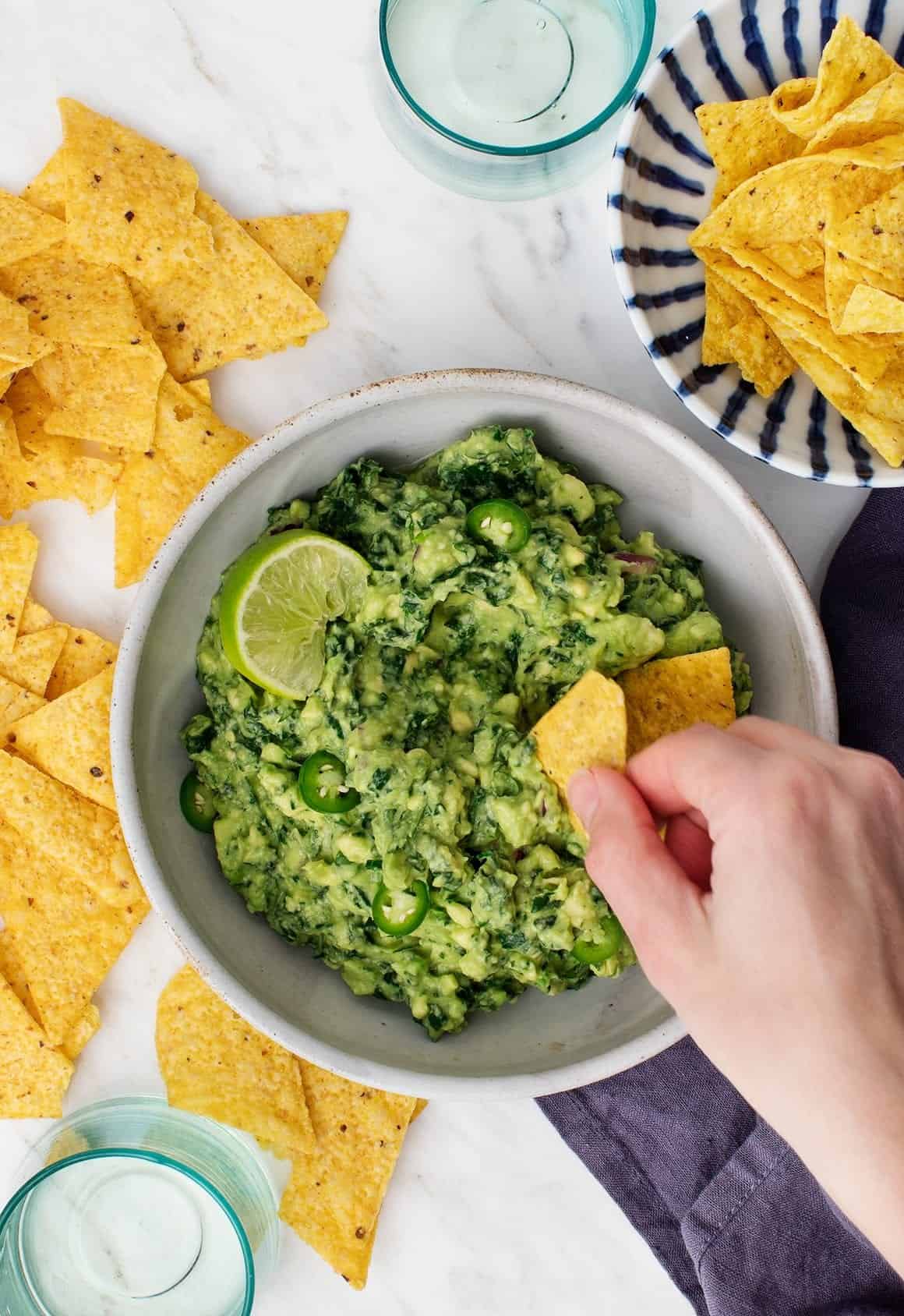 This recipe was inspired by a kale guacamole that started showing up at Whole Foods last summer :). Yes, that's right, I don't always make my own guacamole. If I'm heading to someone's house, sometimes it's just easier to pick it up on the way. That delicious kale guacamole inspired me to make my own version at home. Not only is it healthy, but also adding in the kale bulks it up a bit without taking away any of the flavor. Plus, I somehow found a way to make guacamole *more* green! Who doesn't love that?
This recipe is easy as can be. First, steam the kale, and then chill it before mixing it with the other ingredients. I like to pop it in the freezer for a few minutes, but you could blanch it if you prefer – just make sure it's dry before mixing it into the recipe. Then, mix everything together, mash, and fold until the guac is chunky yet dip-able. Finally, devour it with your favorite tortilla chips, or use it in this Vegan Seven-Layer Dip!
Looking for a more traditional guac? Find my best tips & tricks here.
Kale Guacamole
I love to slather this healthy guac on tortilla chips, but it's also at home in this
Vegan 7-Layer Dip
or topped onto burrito bowls!
Recipe type:
Appetizer, snack
Ingredients
3 leaves curly kale, stems removed
3 ripe avocados
¼ cup diced red onion, rinsed
¼ cup diced cilantro
zest of 1 lime, juice of 2 limes
½ teaspoon sea salt
½ teaspoon ground cumin, optional
diced jalapeño, optional
Instructions
Place a steamer basket into a fitted pot with 1 inch of water and bring to a boil. Add the kale, cover and steam until the kale turns very vibrantly green, 30 seconds to 1 minute. Remove the kale and place it on kitchen towels and pat it dry. Chill the kale (I pop it in the freezer for 5 minutes), then chop it very very finely.
Place all ingredients in a large bowl. Mash and fold until well combined. Season to taste.