Challenged by Food52, here are five kale recipes! Spanakopita, Sushi Bowls, Kale and Eggs, Chimichurri, and Spanish Chickpea with Kale!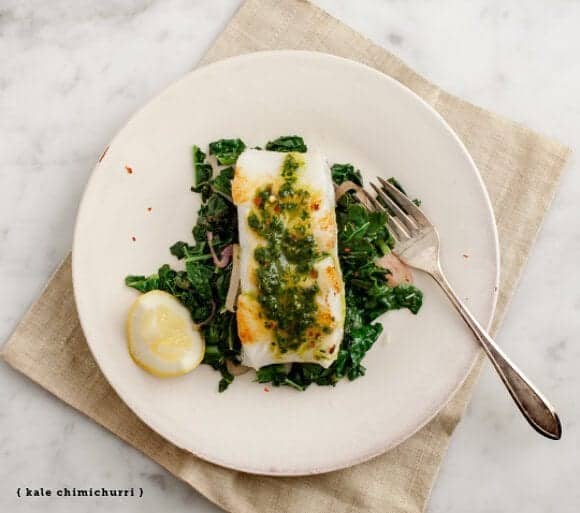 In case you weren't getting enough kale in your life…
This week, I was thrilled to contribute to Food 52's Halfway to Dinner series. The challenge was to make a few bunches of kale stretch into 5 nights of relatively simple meals. You don't have to twist my arm to cook kale so it's a challenge I gladly accepted. (Although after "week-of-greens" I'm pretty sure my husband Jack is out eating fried chicken somewhere…)
kale chimichurri
Serves:
makes about 1 cup
Ingredients
½ cup raw kale leaves
½ cup flat leaf parsley
2 tablespoons fresh oregano leaves
3 garlic cloves
2 tablespoons sherry vinegar
⅓ cup olive oil
Salt and pepper, to taste
pinches Red pepper flakes (optional)
splashes Lemon juice (optional)
serve with: grilled fish, meat or veggies, sauteéd kale on the side
Instructions
Pulse all ingredients in a food processor, then drizzle in the olive oil while continuing to run the food processor.
Taste and adjust seasonings. (Tip: this is bold in flavor on its own, so I suggest tasting it with a bit of whatever you're going to be serving it with before adjusting). Spoon on top of fish, meat, or veggies.
kale spanakopita triangles
Serves:
about 15 triangles
Ingredients
5 leaves of kale (blanched), about 1 cup of cooked kale
1 cup of feta
1 clove garlic minced
¼ cup scallions
1 teaspoon dried oregano
salt & pepper
pinch of pepper flake
¼ cup melted butter
6 sheets of filo dough
Instructions
Chop and blanch the kale in salted boiling water for about 30 seconds. Drain* (see note)
Place the kale in a medium bowl and mix in the feta cheese, garlic, scallions, dried oregano, salt, and pepper. Your filling should stick together, if it's crumbly, add some warm water a little at a time. Taste and adjust seasonings.
To assemble, place 2 sheets of filo on your work surface.** Brush it with melted butter, and slice it into 5 vertical strips. Place a teaspoon of filling at the bottom of each strip and roll it up, flag-style.
Repeat the process until you run out of filling (you'll have around 15 triangles). Brush the outside with butter and bake in a 425-degree oven for 20 minutes or until golden.
Notes
If you're using fresh feta cheese that's on the wet side, you'll want to squeeze most of the excess water out of your blanched kale. If you're using the more-dry crumbly kind, you can leave the kale a little on the wet side because you'll need the moisture to help bind everything.

*as you work, keep the extra filo dough under a damp towel so it doesn't dry out.
sushi bowl with crispy kale
Ingredients
2-3 kale leaves
olive oil
cooked brown rice (3/4 cup, or so, per bowl)
rice vinegar
pinch of sugar
salt & pepper
topping suggestions:
avocado slices
edamame
chopped nori (easiest to cut with scissors)
pickled shiso leaf or pickled ginger
toasted sesame seeds
optional: bonito flakes
serve with: soy sauce mixed with a bit of rice vinegar & sesame oil
Instructions
Toss kale with olive oil and salt and bake in a 400 degree oven until crispy but not completely charred (6-8 minutes or so, check often, you may need to rotate it halfway). Chop and set aside.
Toss rice with just a bit of rice vineger and a pinch of sugar. Place the rice in bowls and assemble your toppings.
Mix soy sauce with a bit of rice vinegar and sesame oil and serve in little bowls on the side.
spanish chickpeas with kale
Serves:
serves 2 (3-4 as a side)
Ingredients
2 tablespoons olive oil
1 large shallot, chopped
1 to 2 cloves of garlic, minced
½ teaspoon smoked paprika
1 teaspoon saffron
1½ cup chickpeas, cooked, rinsed and drained
1 tablespoon tomato paste
2 to 3 teaspoons sherry vinegar
½ bunch kale, chopped
Salt and pepper
splashes Lemon juice (optional)
¼ cup toasted pine nuts (optional)
Instructions
Heat the olive oil in a large skillet over medium-low heat. Add the shallot, a pinch of salt, and cook until transluscent, about 2 minutes.
Add the garlic, paprika, and saffron. Stir, and cook until just aromatic, about 30 seconds, being careful not to let it burn.
Add the chickpeas and a bit more salt. Stir to incorporate. Turn the heat of the burner up a bit, and let the chickpeas cook until they begin to turn golden brown, stirring occasionally.
Add the sherry vinegar and tomato paste, then the kale. Continue to cook for a few minutes until the kale is just wilted. Remove from the heat. Taste and adjust the seasonings, adding a little lemon juice if necessary.
kale & eggs
Ingredients
¼ cup crushed tomatoes (can be from a can)
pinch of smoked paprika
1 cup chopped raw kale
olive oil
balsamic vinegar
feta cheese (optional)
chopped scallions or chives
salt & pepper
1-2 eggs
Instructions
Preheat oven to 375 degrees.
In an individually sized baking dish, mix the tomatoes with paprika, salt & pepper and layer it on the bottom.
In a separate small bowl, toss kale with a little olive oil, balsamic, salt and pepper. Place the kale in the baking dish on top of the tomatoes. Top with feta cheese and chopped scallions.
Crack 1-2 eggs into the dish and bake until set. About 10-12 minutes. (Or fry the eggs separately and place on top). Finish with some freshly cracked black pepper.