"This not-too-sweet, very simple cake is perfect for that 'it's four o'clock and I need a little something with a cup of coffee' moment," says Julia Turshen about this lemon cake recipe, and I completely agree. I've had a little slice of this every day this week, and it's been delightful.
This lemon olive oil cake recipe comes from the book Small Victories. If you think you're not familiar with Julia Turshen's work, you probably actually are. To name a few instances of her work, she's co-authored books with Gweneth Paltrow and Mario Batali. During the month of November, she's teaming up with a bunch of bloggers to share recipes and help raise money for No Kid Hungry's Friendsgiving program.
She writes: "This cookbook, like most cookbooks, assumes that whoever is reading it has access to food and not only the desire, but also the time, energy, and means to cook. How great would it be if that were the case for everyone? I firmly believe that if you have the privilege of eating however much you want whenever you want, you should spend some time ensuring that others have the same opportunity." You can click here to read more about it and give a little something!

What I love about the recipes in Small Victories is that Julia has spin-off ideas for every recipe. (I know how all of you love recipe options and I do too!) Her original Afternoon Cake recipe calls for orange, but since she said any citrus would work, I made this lemon cake… for obvious reasons.
Each recipe also comes with a little tip (the titular small victory). Here's a tip she shared for cutting parchment paper to fit in a round pan, which is much easier than the way I used to do it:

Rip off a piece of parchment that's a bit bigger than your pan. Fold it into a square then fold it in half to make a triangle and fold it in half again to make an even more narrow triangle. Then, place the tip of the triangle in the center of the pan. Use scissors to cut off the excess parchment that extends beyond the pan. Finally, unfold the parchment and, voila, you have a perfect circle that fits into your pan.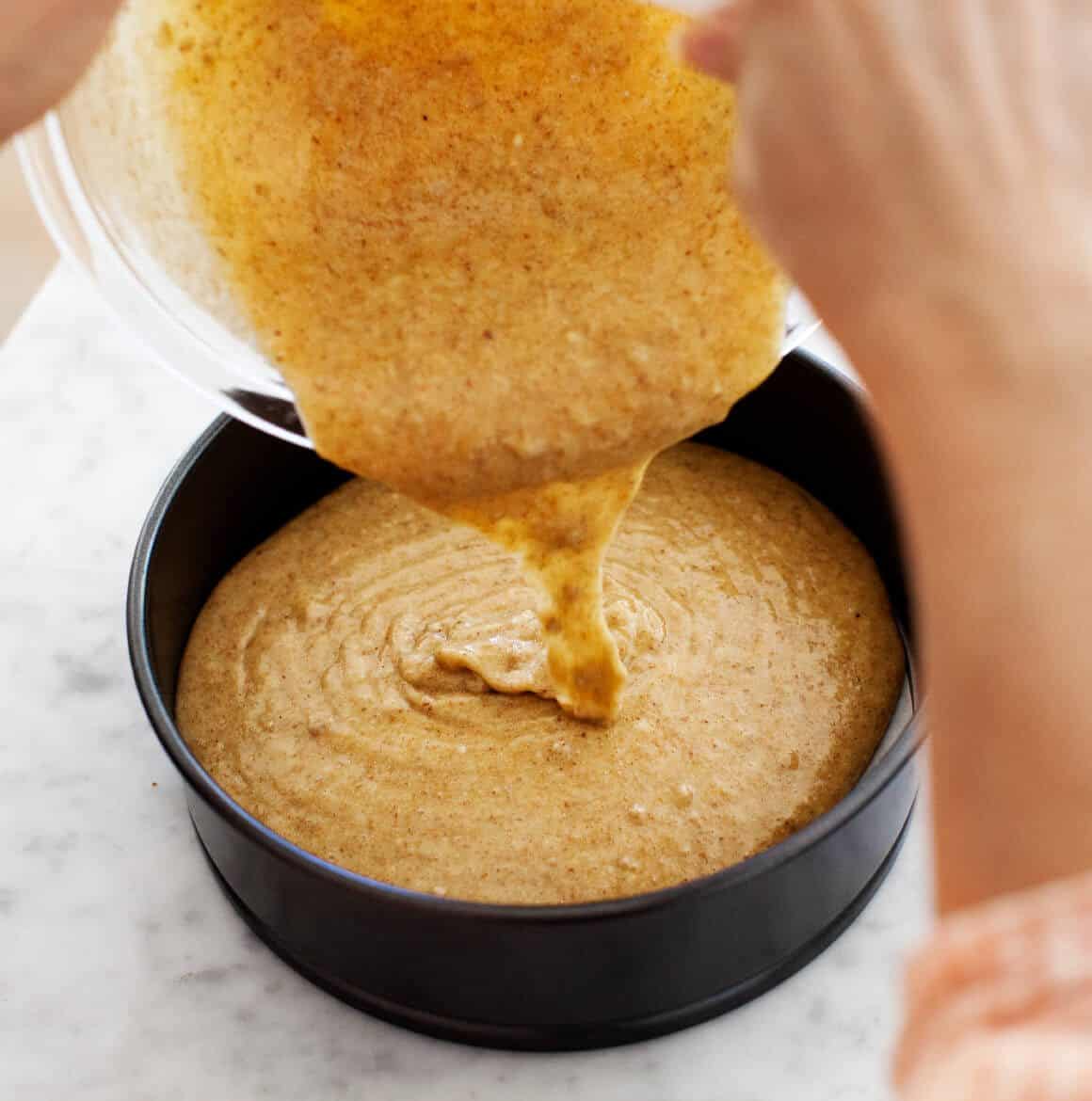 Click here to check out this sweet book 🙂

For more lemony baked goods, try these lemon muffins or these lemon cookies. And for more cake ideas, try my carrot cake, my vegan chocolate cake, or my chocolate zucchini cake!
Julia Turshen's Afternoon Lemon Cake
Ingredients
1 cup [120 g] all-purpose flour (I used spelt)
½ cup [50 g] finely ground almonds (see Note)
1 ½ tsp baking powder
½ tsp kosher salt
2 eggs
½ cup [120 ml] extra-virgin olive oil
½ cup [100 g] granulated sugar
½ tsp vanilla extract
Grated zest of 1 lemon, plus ¼ cup [60 ml] fresh lemon juice
Powdered sugar for dusting
Instructions
Preheat your oven to 350°F [180°C]. Use your hands to butter the bottom and sides of an 8-in [20-cm] cake pan, then line the bottom with a circle of parchment paper. For good measure, butter the parchment paper. Set the pan aside.
In a medium bowl, whisk together the flour, ground almonds, baking powder, and salt.
In a large bowl, whisk the eggs until the whites and yolks are fully combined. Add the olive oil and granulated sugar and whisk until the sugar is dissolved (test by rubbing some of the mixture between two fingers). Whisk in the vanilla, lemon zest, and lemon juice. Whisk in the flour mixture.
Pour the batter into the prepared pan, being sure to use a rubber spatula to get it all out of the bowl. Hold the pan just a little bit above the counter and then drop it on the counter to eliminate any air bubbles.
Bake until the cake is beautifully golden brown and a toothpick inserted in the center comes out clean, 25 to 30 minutes. Transfer the cake, still in its pan, to a wire rack and let it cool completely. Once cool, use a dinner knife to loosen the edges of the cake from the pan and invert it onto your work surface (you might need to give the pan a little whack). Peel off and discard the parchment. Invert the cake one more time onto a serving platter so the flat side is down and the domed side is up.
Just before serving, dust the cake with powdered sugar.
Notes
note: Any nut works well in this cake. To make ground nuts, just put whichever type of nut you'd like (I've made this cake successfully with walnuts, almonds, hazelnuts, and pistachios, and am sure pecans and pine nuts would also be great) in the food processor and blitz until they're as fine as cornmeal. Or use a mortar and pestle. Or purchase ground nuts, which often go by the name "meal" or "flour" as in "almond meal" or "almond flour." For a nut-free cake, simply omit the ground nuts and add an additional ½ cup [60 g] flour.

SPIN-OFFS
Feel free to SUBSTITUTE ANY CITRUS in place of the orange. Clementine, tangerine, blood orange, and grapefruit zest all work very well.

FOR A LEMON–POPPY SEED CAKE, use lemon zest and juice instead of orange and add 1 Tbsp poppy seeds to the batter.

If you're using ground almonds, add ½ tsp ALMOND EXTRACT to the batter for a more intense almond flavor.

Just before you put the cake in the oven, dot the top with ¼ cup [80 g] RASPBERRY JAM and use a fork or the tip of a paring knife to swirl in the jam.