6-ingredient Pistachio Oat Squares are a lightly sweet healthy snack, breakfast, or dessert! Easy to make, vegan, and gluten free.
I'm excited to share this recipe today – these Pistachio Oat Squares are SO delicious!
It's spring which means that the best cookbooks are coming out now. You know the ones – they're brimming with fresh healthy, veggie-ful recipes. This recipe is from Jessica Murnane's book One Part Plant. If you're not familiar with my blog pal Jessica, you should go listen to her podcast – she's hosted all of your favorite food bloggers (including yours truly!) and other inspiring folks who are part of the plant-forward food community.
Her mission is simple – to inspire people to eat one plant-based meal a day. No judgement, no strings. Simple as that. The cookbook reflects her vision with accessible, easy to prepare, yet delicious recipes like these oat squares.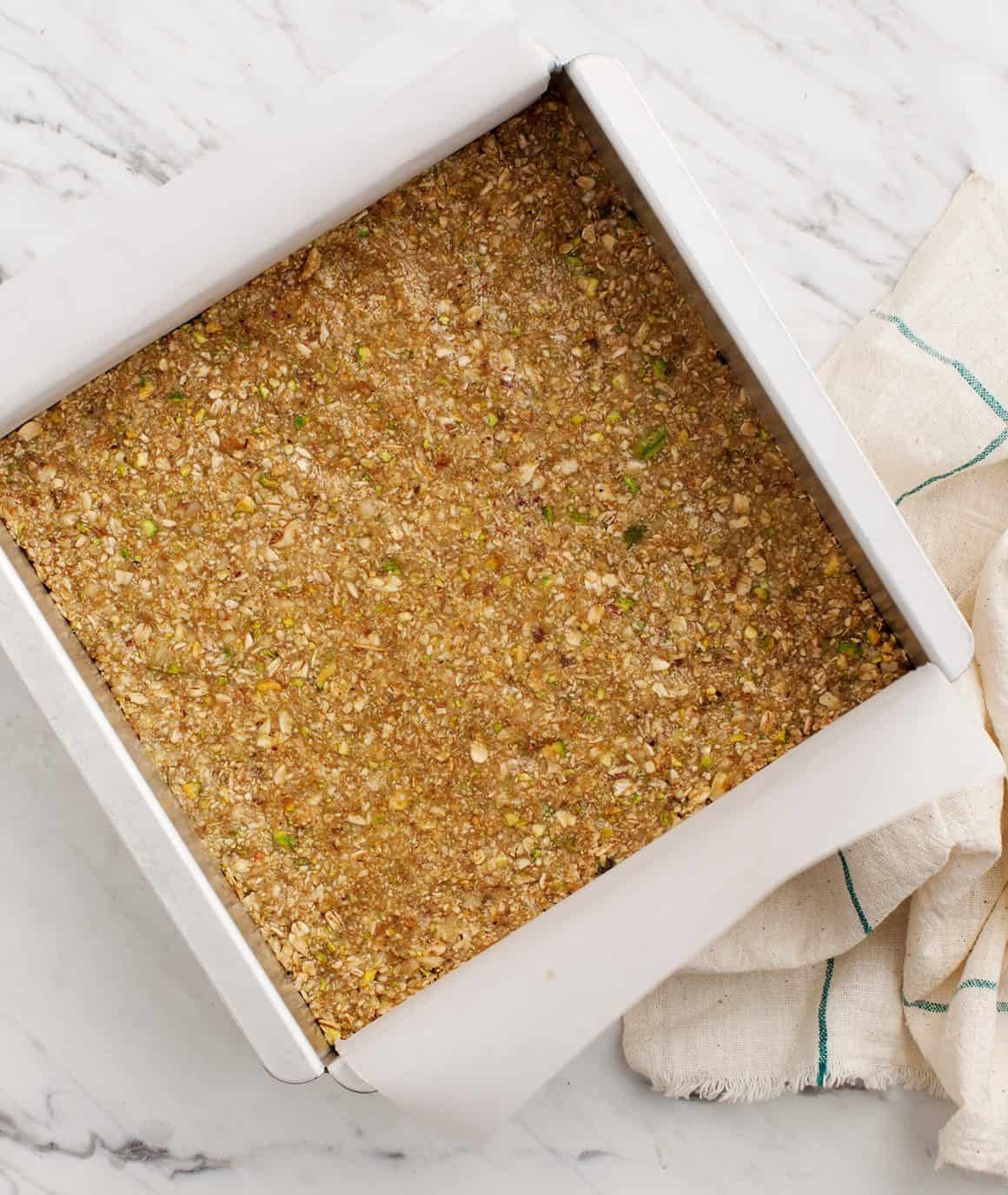 These are in the "snack" section of her book – Jessica noted that they're a little too sweet for breakfast but not quite sweet enough for dessert. Well, um… I ate these for dessert and then again the next morning for breakfast – they're addictive!
While these look so pretty with pistachios, I feel like this recipe would easily lend itself to the use of other nuts if you don't happen to have pistachios on hand. These were so easy to make – go run to your kitchen now if you're craving a lightly sweet, nutty, oaty snack!
This lasagna recipe is next on my to-make list – yum!
Oh, and go get her book!
If you're looking for more oaty, nutty snacks, check out these homemade granola bars, these energy balls, or any of these 47 Best Healthy Snacks next!
Jessica's Pistachio Oat Squares
This recipe from
One Part Plant
by Jessica Murnane and is reprinted with permission from the publisher.
Ingredients
1 cup raw shelled pistachios
1 cup rolled oats*
½ teaspoon sea salt
¼ cup maple syrup, more for drizzling on top
2 tablespoons olive oil
⅓ cup unsweetened coconut flakes
additional handful of chopped pistachios for the topping
Instructions
Preheat the oven to 350 degrees and line an 8-inch square pan with parchment paper. In a food processor with the S blade attached, process the pistachios, oats, and salt for about 30 seconds, until a meal starts to form. Drizzle in the maple syrup and olive oil while the motor is still running and the meal begins to come together into a crumbly, almost-wet dough.
Press the dough evenly into the pan and cover it with coconut flakes and remaining pistachios. Bake for 10 to 12 minutes until the coconut is nice and golden brown and the dough is cooked through. You want the squares to still be a little soft - don't overbake these.
Carefully lift the cooled dough out of the pan by holding two sides of the parchment paper. Cut it into squares. Drizzle a little maple syrup over the top for extra sweetness, if you like. Store the squares in a sealed container for up to a week.
Notes
*To make these gluten free be sure to use Certified Gluten Free Oats.