Want to start eating jackfruit at home? You're in the right place! Read on to learn how to turn this fruit into a delicious plant-based meat substitute.
Who would have thought that jackfruit – a sweet, funny-looking tropical fruit – would become a trendy meat substitute? Lately, I've been seeing it on more and more restaurant menus, and I've been using it more and more in my kitchen. It's fantastic in everything from dips to tacos to sandwiches and more, and it's good for you, too! The unripe jackfruit that I use in my recipes is high in fiber and low in calories, and its meaty texture makes it really fun to eat. If you've never to cooked with it, I heartily recommend that you try a jackfruit recipe! Read on to learn more about this funky fruit and how to transform it into delicious plant-based meals.
What is Jackfruit?
Jackfruit is a tropical fruit that grows in South and Southeast Asia. In fact, it's the largest tree fruit in the world – one fruit can reach 100 pounds! Fresh raw jackfruit has spiky green skin and sweet flesh with a flavor akin to mango.
In other parts of the world, the ripe fruit is eaten raw or added to ice cream and baked goods. But around here, fresh jackfruit isn't widely available in grocery stores. When I use it in recipes, I seek out canned green jackfruit. Look for it in Asian markets or in the canned section of your grocery store – I find mine at Trader Joe's!
While ripe jackfruit tastes super sweet, the young jackfruit that comes in cans is nearly flavorless. Consequently, it's a great blank canvas for seasoning and adding to savory dishes. What's more, when you pull apart the unripe fruit, it takes on a stringy texture similar to shredded meat. Given its mild flavor and meaty texture, it's a perfect plant-based meat substitute in stir fries, tacos, and more!
How to Use Jackfruit
When you open a can of jackfruit, you'll find wedges of the fruit in brine. First, drain the fruit, rinse it, and pat it dry. Then, shred it!
Each wedge of fruit will likely have a tough core piece at its tip. Pinch off and discard these tough pieces, and then use your hands to gently pull apart the soft fruit until it has the texture of shredded meat.
Last but not least, season it up! On its own, the canned fruit is bland, so I always cook mine with bold seasonings before I serve it. Here are a few of my favorite jackfruit recipes:
I bake jackfruit with cumin, coriander, cayenne, and green chiles before rolling it into crispy baked taquitos! The seasoned fruit adds delicious tangy/spicy flavor and moist, meaty texture to this recipe.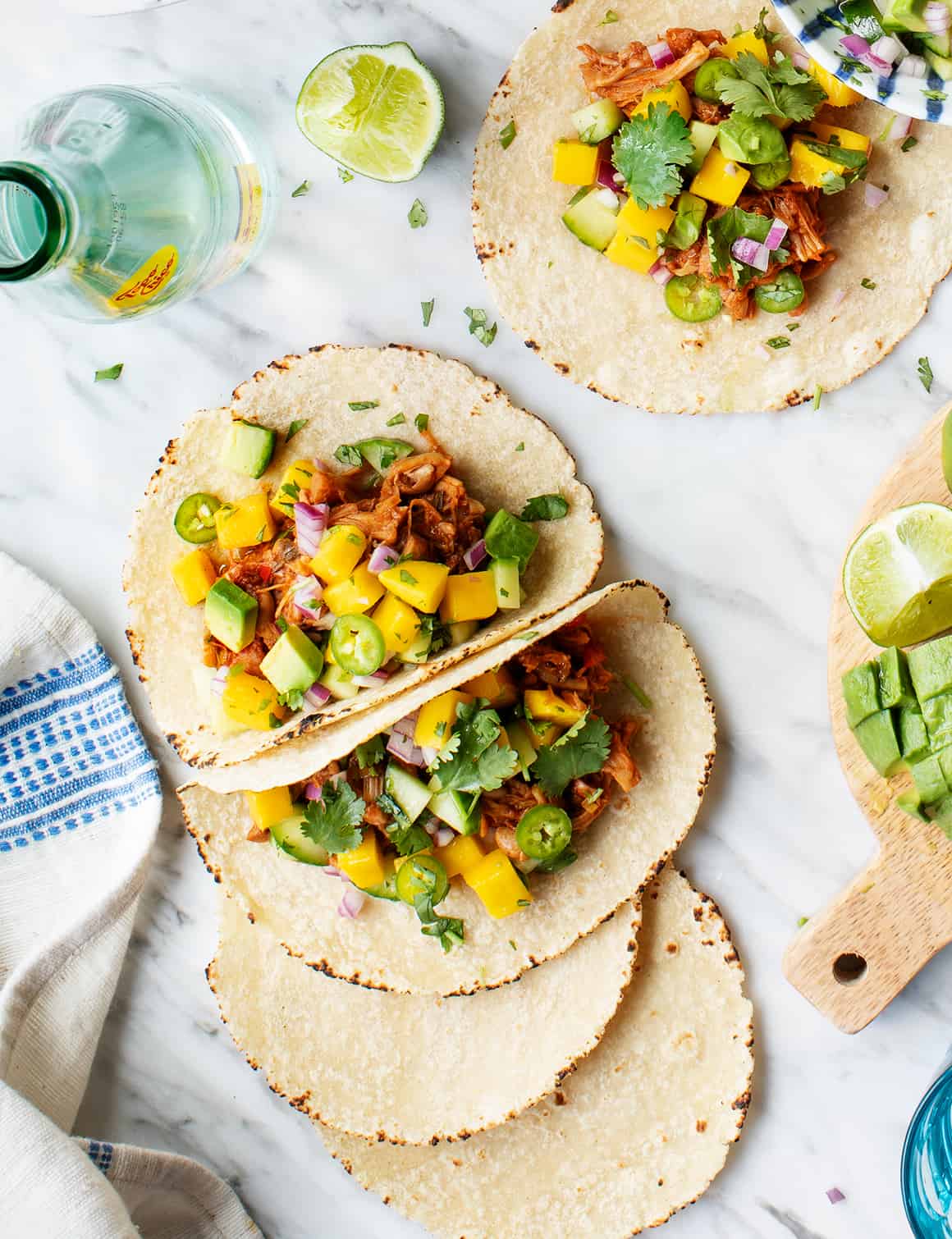 This taco recipe, from The Vegan Instant Pot Cookbook, is one of my favorites for entertaining! The richly spiced vegan taco "meat" keeps well in the fridge for up to three days, so feel free to prep it ahead of time. When you're ready to eat, just reheat it! Then, load it into tortillas with a scoop of fresh mango salsa.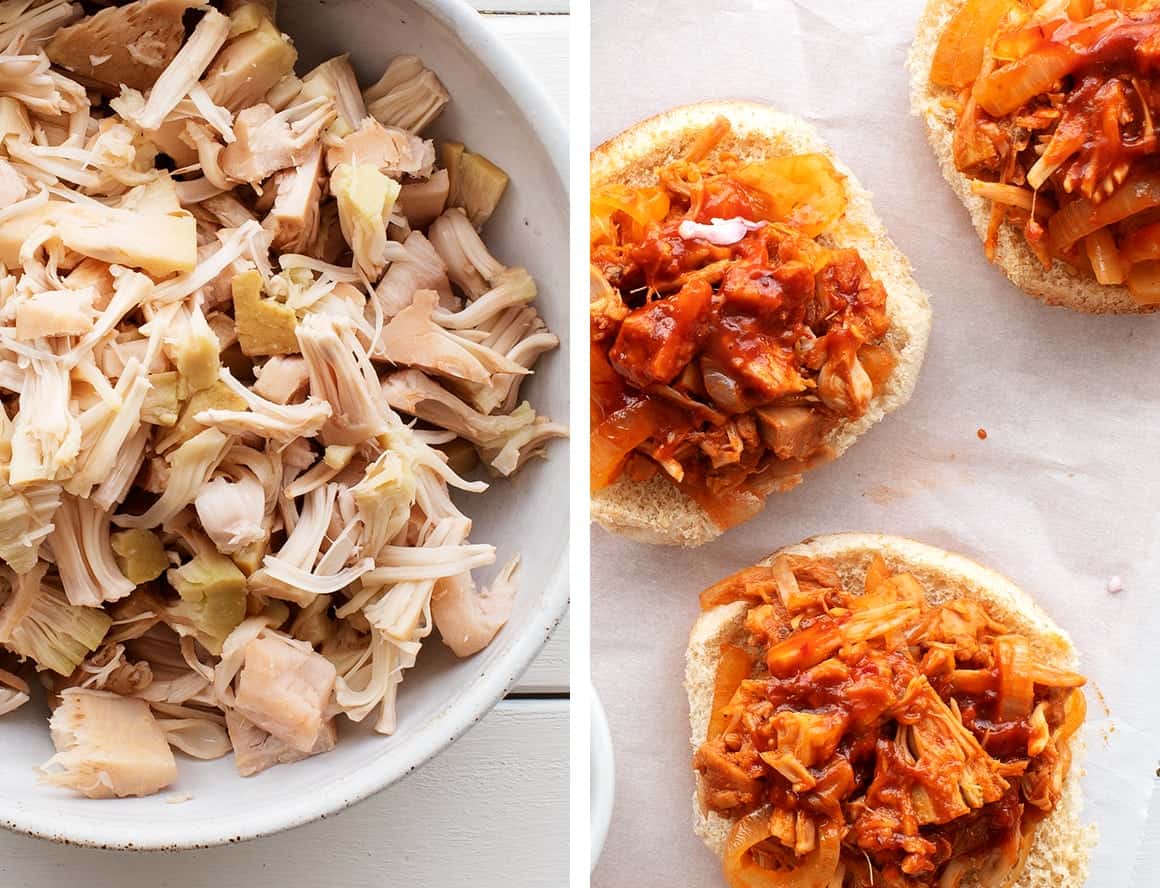 My plant-based riff on a pulled pork sandwich! Caramelized onions and a smoky chipotle BBQ sauce infuse the hearty fruit with flavor. Finish the sandwiches with crunchy pickle chips and slaw to take them over the top! Like the vegan tacos above, this recipe is perfect for parties.
Enjoy!
More Plant-Based Meat Substitutes
If you love jackfruit, try one of these plant-based meat alternatives next:
Then, find more of my favorite vegan recipes here.
Jackfruit BBQ Sandwiches
Ingredients
Jackfruit Sandwiches
1

tablespoon

extra-virgin olive oil

1

small yellow onion

,

thinly sliced

¼

teaspoon

sea salt

1

20-ounce can jackfruit, drained

½

cup

water

8

slider buns or 6 hamburger buns

Desired fixings: pickles

,

mustard, serrano peppers, etc.
Slaw
2

cups

shredded cabbage

¼

cup

chopped cilantro

½

tablespoon

lime juice

½

teaspoon

olive oil

Sea salt and freshly ground black pepper
Instructions
Prepare the jackfruit by pulling shredding the pieces with your hands, discarding any harder pieces of the core.

In a large skillet, heat 1 tablespoon of olive oil to medium heat. Add the sliced onion and salt and cook, stirring occasionally, until soft, 8 to 10 minutes, turning down the heat as necessary. Next, add the shredded jackfruit and cook 5 minutes, stirring occasionally. If necessary, add a splash of water to keep it from sticking to the pan. Stir in the ½ cup water and half of the BBQ sauce. Turn the heat to low, cover, and let simmer for 20 minutes. Remove the cover and stir in half of the remaining BBQ sauce, reserving the rest for serving.

Make the slaw: In a medium-large bowl, combine the cabbage, cilantro, lime juice, olive oil, and pinches of salt and pepper.

Serve the sliders with the jackfruit, the remaining BBQ sauce, the slaw, and desired fixings.