Learn how to cook perfect Instant Pot quinoa! With my quick, hands-off method, this nutritious grain comes out fluffy and flavorful every time.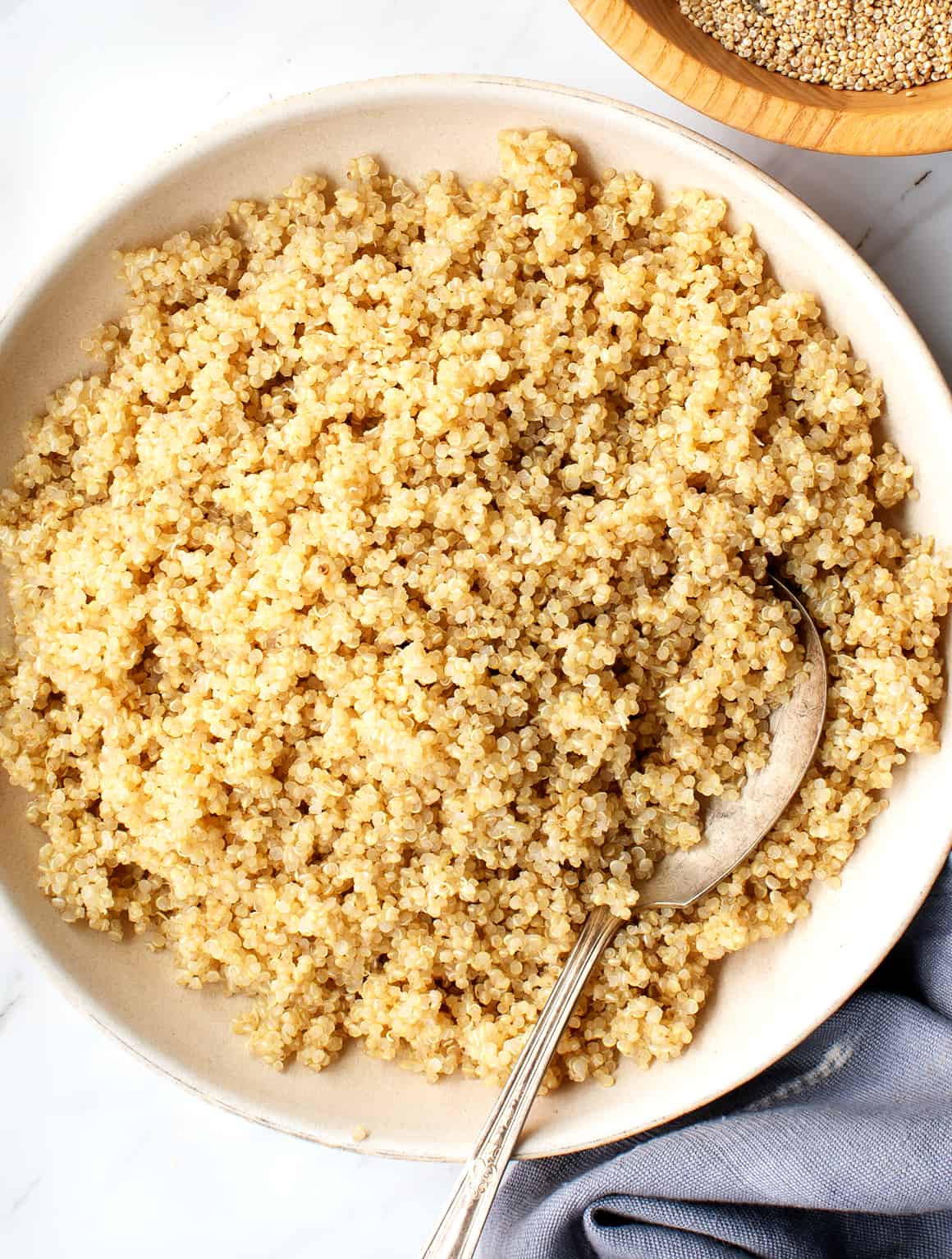 I'm a convert: this Instant Pot quinoa recipe is my new favorite method for cooking quinoa. It's quick, it's reliable, and – most importantly – it's hands-off. I love that I can add the quinoa to the Instant Pot, get it cooking, and move on to something else. Whether I check on it in 20 minutes or in an hour, I'll end up with a pot of fluffy, perfectly cooked grains.
Instant Pot Quinoa Recipe Ingredients
To be clear, if you love cooking quinoa on the stove, there's no reason you shouldn't keep doing it. My stovetop quinoa recipe and this Instant Pot recipe yield pretty much the same results. The quinoa is fluffy, flavorful, and tender. Like I said above, the big advantage of the Instant Pot method is that it's so hands-off. You don't even have to turn off the stove! If this sort of set-it-and-forget-it flexibility appeals to you, then this recipe is worth a try.
Here's what you'll need to make it:
Quinoa, of course! Any color will work here. Use white quinoa, black quinoa, red, or a mix.
Water – You'll need slightly less water to cook 1 cup of quinoa in the Instant Pot than you would on the stove, as less evaporation occurs in a pressure cooker. I use 1 1/2 cups instead of 1 3/4.
Find the complete recipe with measurements below.
How to Cook Quinoa in the Instant Pot
Start by rinsing the grains. Place the quinoa in a fine mesh strainer, and rinse it under cool running water. Quinoa is coated in saponins, or naturally occurring insecticides, which can make it taste bitter. Rinsing it before cooking improves its flavor and makes it easier to digest.
Then, add the rinsed quinoa to the Instant Pot. Pour in the water, and stir to combine.
Next, cook. Secure the lid on the Instant Pot, and Pressure Cook on High for 1 minute. (No, that's not a mistake!) The time that it takes the Instant Pot to build and release pressure will allow the quinoa to cook completely.
Allow the pressure to release naturally. When the float valve drops, about 10 to 15 minutes after the cooking cycle is completed, remove the lid and fluff the quinoa with a fork. You can also leave the Instant Pot on the Keep Warm setting and wait to fluff the grains until you're ready to serve.
That's it!
How to Use Instant Pot Quinoa
The simplest way to serve this Instant Pot quinoa is as a side dish. Toss it with a drizzle of olive oil, pinches of salt and pepper, and a squeeze of lemon juice, and pair it with any cooked protein you like. It's a great base for a grain bowl, too. Try using it in this veggie power bowl, this vegan burrito bowl, or this roasted veggie grain bowl. Or sub it in for the rice in any of these 15 rice bowl recipes!
You can also use it in any recipe that calls for cooked quinoa. Here are a few of my favorites:
What are your favorite quinoa recipes? Let me know in the comments!
More Favorite Pressure Cooker Recipes
If you love this recipe, try making one of these dishes in the Instant Pot next:
Instant Pot Quinoa
Learn how to cook quinoa in the Instant Pot! With this easy, hands-off method, it comes out perfectly every time. Gluten-free.
Ingredients
1

cup

quinoa,

rinsed

1½

cups

water
Instructions
Combine the rinsed quinoa and water in a 6-quart Instant Pot. Secure the lid and Pressure cook on High for 1 minute. (Yep, just 1 minute! The time it takes the Instant Pot to build and release pressure will allow the quinoa to cook completely.)

Allow the Instant Pot to release pressure naturally. This will take 10-15 minutes. When the float valve drops, remove the lid.

Fluff with a fork and enjoy. See the blog post above for quinoa recipe ideas.