Want to learn how to make oatmeal? You're in the right place. Read on to learn about cooking different types of oats & find fun oatmeal topping ideas!
If you've been reading the blog for a while, you know that oatmeal has never been my thing. But this fall, after I tried Amy Chaplin's whole oat porridge recipe, I started to come around to it. See, in the past, I always had plain instant oats, which I thought were bland and mushy. But as I started experimenting with other types of oats, I discovered that, cooked the right way, oatmeal becomes a rich, creamy porridge that's a fantastic canvas for seasonal toppings.
Lately, I've been hooked on two topping combinations, and you'll find them in the recipe below. One is a mix of tart cherries and apples, with a sprinkle of chopped almonds for crunch. The other is a combination of blueberries, orange zest, yogurt, coconut, and chia seeds, with a pinch of cardamom and a drizzle of honey. Topped onto a hot bowl of oatmeal, each makes a hearty, warming, and nutritious breakfast. On cold mornings, they make me excited to get out of bed, and I hope they do the same for you. 🙂
How to Make Oatmeal
Oatmeal is never hard to make, but how you cook it will depend on what kind of oats you buy. So, first and foremost, you have to know your oats. In the store, you will typically see these varieties:
Whole oat groats – Whole oat groats leave the grain intact. Consequently, they take the longest to cook and require the most liquid – 4 cups water for every 1 cup oats.
Steel cut oats – My favorite! These are oat groats that have been roughly chopped. They cook more quickly than whole oat groats and result in a hearty, creamy porridge. Find instructions for cooking steel cut oats in the recipe below.
Old-fashioned oats – Old-fashioned oats, or rolled oats, are made by steaming oat groats and rolling them into flakes. They have a short cooking time, 5 minutes, and they only require 2 cups water for every cup oats. In my kitchen, I most often use them for making baked oatmeal, overnight oats, oatmeal cookies, and no-bakes.
Quick oats – Quick oats are similar to old-fashioned oats, but they are steamed longer and rolled more thinly. Like old-fashioned oats, they require 2 cups water for 1 cup oats, but they only take 1 minute to cook. Quick oats are great for days when you're in a hurry, but for the creamiest porridge, I recommend choosing whole oat groats or steel cut oats.
To cook your oatmeal, bring an appropriate amount of water or milk for your oat variety to a boil, and stir in the oats and a pinch of salt. You could also add a spice like cinnamon, cardamom, or turmeric at this stage. Reduce the heat to a simmer and cook, stirring occasionally, until the porridge has thickened to your desired consistency. Then, load it up with your favorite toppings, and enjoy!
Oatmeal Recipe Tips
If you're gluten-free, make sure to buy certified gluten-free oats. Oats are a naturally gluten-free food, but many are processed in facilities that also handle wheat products. If you're gluten-free, be sure to seek out certified gluten-free oats, which are processed in wheat-free facilities and tested to make sure that they don't contain gluten.
Save the leftovers! Overnight oats are famous for being a great grab-and-go breakfast, but did you know that you can make regular oatmeal ahead of time too? Cook a big batch in advance and portion it into individual containers. In the morning, reheat it on the stove or in the microwave, and gradually add water or milk, as needed, to thin it to your desired consistency. Then, load it up with toppings, and dig in!
Add a dash of salt. Made with just water and oats, oatmeal can be bland. Adding a dash of salt won't make your cereal salty, but it will bring out the nutty flavor of the oats. To take it over the top, add a drop of maple syrup or honey for a delectable sweet/salty contrast.
Load it up. Oatmeal is a great canvas for all sorts of hearty toppings, and loading up your morning bowl of oats will help keep you full till lunchtime! I dollop mine with almond or peanut butter or yogurt and sprinkle it with chopped nuts. Fresh or dried fruits, seeds, chocolate chips, and coconut flakes are great too. Alternatively, head to this post to find ideas for making savory oatmeal!
If you love this oatmeal recipe…
Try making a frittata, gluten-free pancakes, a breakfast burrito, shakshuka, or any of these healthy breakfast ideas next!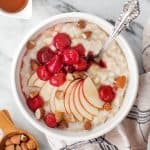 How to Make Oatmeal
This is my go-to healthy oatmeal recipe. It's creamy, nourishing, and delicious with all sorts of seasonal toppings! Find a few of my favorite combinations below.
Ingredients
1

cup

steel cut oats

3

cups

water

¼

teaspoon

sea salt

Pinches

of cinnamon

,

nutmeg, and/or cardamom, optional
Variation 1: Apple & Tart Cherry
Thinly sliced apple

Frozen

,

and thawed tart cherries

Chopped almonds
Variation 2: Blueberries & Coconut
Frozen

,

and thawed blueberries

Orange zest

Scoop of Greek yogurt

Chia seeds

Coconut flakes
Instructions
Bring the water to a boil in a medium pot. Add the oats and salt and reduce heat to medium-low. Cook, stirring occasionally, for 15 to 20 minutes, or until thickened. Stir in cinnamon, nutmeg, or cardamom, if desired. Remove from heat and let stand for two minutes. Serve hot with desired toppings and honey or maple syrup, if desired.