Learn how to cook wheat berries perfectly every time! This chewy, nutty whole grain is a delicious addition to soups, salads, bowls, and more.
When I lived in Austin, I bought wheat berries all the time from the bulk bins at our grocery store. But when we moved to Chicago, I couldn't find them anywhere – not in bulk, not pre-bagged, nothing. Finally, this fall, I noticed a local wheat grower selling organic wheat berries at our farmers market. I love pairing this earthy whole grain with autumn ingredients like squash, kale, and dried cranberries, so I knew I had to get some.
Since then, I've been tossing wheat berries into salads and side dishes like crazy! For how delicious they are, I don't think they get nearly enough attention. They have a delightful chewy texture and sweet, nutty flavor. Plus, they're chock-full of nutrients. They're the least processed, whole grain form of the wheat that we often eat in wheat flour and wheat bread. (You could even use them to mill your own flour if you wanted!) In any case, because the whole wheat kernel is left intact, wheat berries have a high protein content, and they're rich in iron, dietary fiber, and vitamins. If you've never cooked with them, I highly recommend you try it!
How to Cook Wheat Berries
Wheat berries are easy to cook, but cooking times can vary widely based on the type you buy. The two varieties I see available most often are Soft and Hard Red Spring Wheat Berries. I cook them both according to this method:
Bring at least 3 cups water to a boil in a medium saucepan.
Add 1 cup rinsed wheat berries, and reduce the heat.
Simmer until tender, checking periodically for doneness. I start checking at the 25 minute mark and continue checking every 15-20 minutes. Soft wheat berries can cook in as little as 30 minutes, whereas hard ones sometimes need as much as 90. Have patience, and keep simmering until the grains are tender.
When the wheat berries are soft, drain any excess water. Enjoy them right away, or store them in an airtight container in the fridge for up to 4 days.
Note: Pearled wheat berries are sometimes sold in stores and online. The pearling process removes the outer layer of bran from the wheat kernel. While it strips away many of the grain's nutrients, it also shortens the cooking time considerably. If you have pearled wheat berries, start checking them earlier, after just 15 minutes on the stove.
Wheat Berries Serving Suggestions
If you're new to cooking wheat berries, the number of ways you can use them will delight you. As a general rule, they work well in any recipe where you might use farro, as they're both types of wheat. Substitute them for the farro in my Farmhouse Farro Salad, my Pomegranate Salad, or in these Balsamic Roasted Brussels Sprouts. Otherwise, these are my favorite ways to use them:
In soups and stews. Stir cooked grains into any brothy veggie soup, or simmer dry ones in soups and stews until they're tender.
In salads. They're fantastic in this autumn Wheat Berry Salad, as well as the Strawberry Salad with Toasted Hazelnuts and the Delicata Squash Salad in my first cookbook. They'd also be a lovely addition to this Pear Salad, Butternut Squash Salad, or Strawberry Salad.
In grain bowls. I love using them as a base for hearty grain bowls! Lately, I've been enjoying them with sautéed beet greens, hard boiled eggs, and lemon vinaigrette, but feel free to experiment with different combinations. They pair nicely with proteins like roasted chickpeas and French greens lentils, and as far as vegetables go, your options are endless. I especially like them with roasted butternut squash, roasted beets, shaved fennel, asparagus, sautéed mushrooms, and kale. Drizzle your bowl with a punchy sauce like tahini sauce, green goddess dressing, Italian dressing, or apple cider vinegar dressing to take it over the top.
What are your favorite wheat berry recipes? Let me know in the comments!
More Favorite Grain Recipes
Love this post? Try cooking one of these grains or pastas next: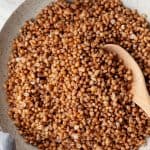 How to Cook Wheat Berries
We love wheat berries! This chewy, nutty whole grain is a delicious addition to soups, salads, bowls, and more.
Ingredients
1

cup

dry wheat berries

3

cups

water

,

more as needed
Instructions
Bring a pot of water to a boil.

Rinse the wheat berries and add to the pot. Reduce the heat and simmer, uncovered, 25 to 40 for soft wheat berries, 45 to 90 minutes for hard wheat berries, or until tender. The timing will depend on your wheat berries. Add more water if necessary. Drain.
Notes
Yield: 3 cups cooked wheat berries