Say goodbye to scorched pans and gummy grains, and learn how to cook rice like a pro! These easy stovetop methods yield tender, fluffy rice every time.
Rumor has it that you need a rice cooker or an Instant pot to cook fluffy, tender rice at home. Well, I'm here to tell you that the rumors aren't true. Cooking rice on the stove is quick and easy, and if you do it the right way, it works every time. Below, I'm sharing 2 foolproof stovetop methods for how to cook rice in under 30 minutes. Without fail, the rice comes out light, fluffy, and not at all gummy. So skip the fancy gadgets, and grab a saucepan with a lid! A steaming pot of perfect rice is just half an hour away.
How to Cook Rice on the Stove
These methods for how to cook rice will work with short, medium, or long grain white rice, such as jasmine or basmati. Note: they will NOT work for brown rice! If brown rice is what you have on hand, head over to this post to learn how to cook it. 
Option 1: Steaming
First, rinse the rice. Do not skip this step! It washes away starches that will cause the rice to clump together, so it's key for cooking soft, fluffy rice. Add the rice to a fine mesh strainer set over a large bowl, and rinse until the water in the bowl runs clear.
Then, measure the proper water to rice ratio. Measure 1 1/2 cups of water and 1 teaspoon olive oil for every cup of uncooked rice. (1 cup dry rice yields about 3 cups cooked.) Combine the rice, oil, and water in a medium saucepan, and stir to combine. Bring to a boil over high heat.
Next, simmer. When the water starts boiling, cover the pot with a tight-fitting lid, and reduce the heat to low. Simmer for 15 minutes.
Finally, let it steam. Turn off the heat and let the pot stand, covered, for 10 minutes. Remove the lid and fluff the rice with a fork. That's it!
Option 2: The Pasta Method
First, rinse the rice. For this method, add the rice to a fine mesh strainer and rinse it under cool running water. Unlike with the steaming method, a quick rinse is fine here.
Next, boil it. Add the rice to a pot filled halfway with cool water, and set a timer for 15 minutes. Bring the water to a boil, and test the rice for done-ness when the timer goes off.
Finally, rinse it again. When the rice is tender, drain the pot, and rinse the drained rice under cold water. In this method, this second rinse is the one you don't want to skip. It will wash away starches that will cause the rice to clump together. Set the rinsed rice aside to dry for a few minutes in the strainer. Then, enjoy!
Rice Serving Suggestions
Rice is at home in Asian dishes, Mexican recipes, and more, so it's impossible to run out of new ways to use it. Serve it on its own as a side dish, or dress it with lime and cilantro to make cilantro lime rice. Toss it into a stir fry, or use it as the base for a healthy grain bowl. Try it in any of these recipes:
For a lighter variation on any of these recipes, use a 50/50 mix of regular rice and cauliflower rice.
Store leftover rice in the fridge for up to 2 days. It will dry out with time, so reheat it with a splash of water on the stove or in the microwave. I also like to cook rice in advance and freeze it for longer storage. Check out this post for my best tips on how to freeze grains.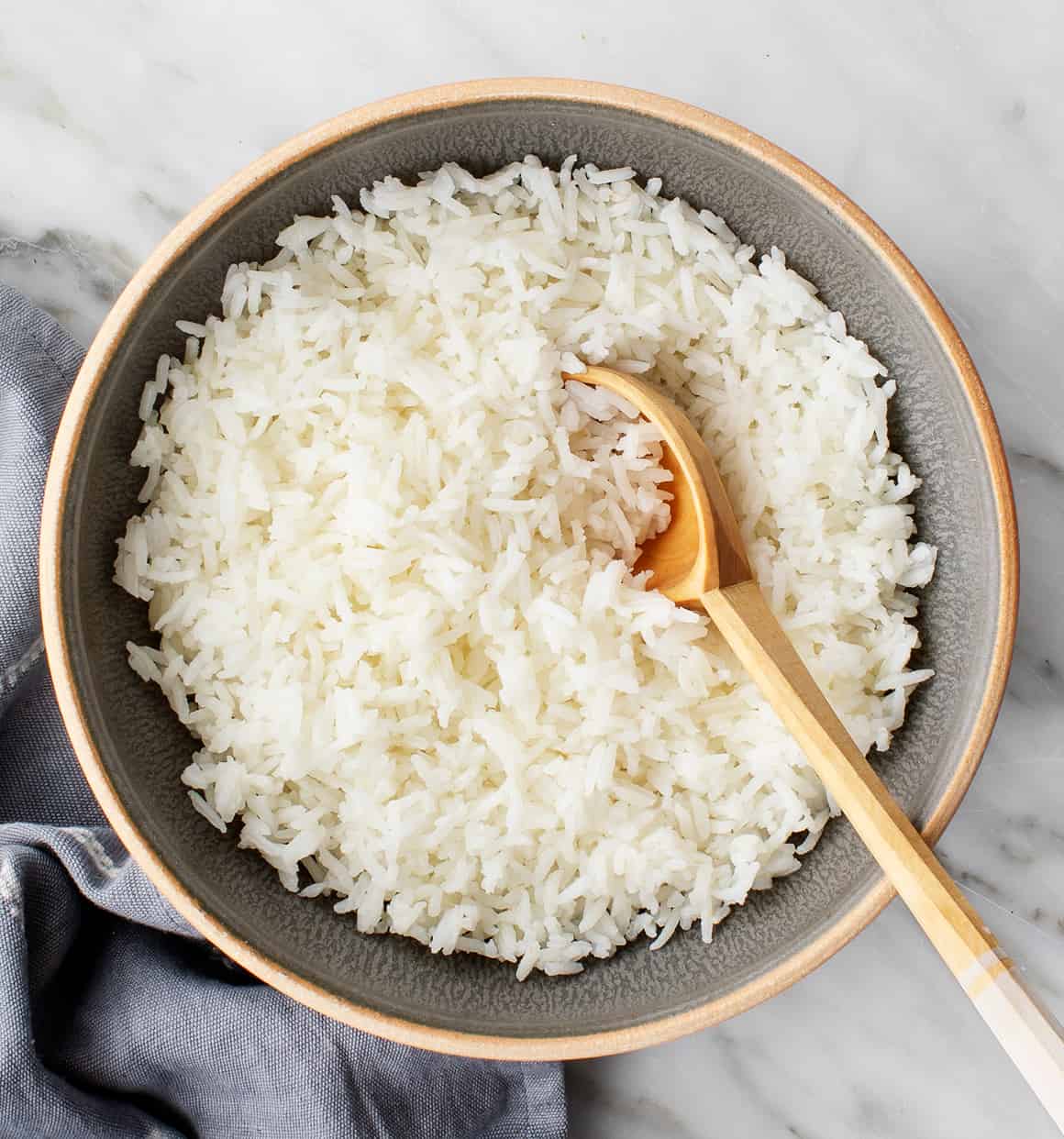 More Cooking Basics
If you loved learning how to cook white rice, learn how to cook one of these plant-based basics next:
How to Cook Rice
Learn how to cook rice on the stove! This easy 30-minute method yields soft, fluffy white rice every time - no rice cooker or Instant pot required.
Instructions
Combine the rinsed rice, water, and olive oil in a pot and bring to a boil. Cover, reduce the heat, and simmer for 15 minutes.

Remove from the heat and let it sit, covered for 10 more minutes. Fluff with a fork.
Notes
This rice-to-water ratio also works in a rice cooker using the white rice setting. If you're using a rice cooker to cook your rice, skip the olive oil.