Once you know how to cook dried beans, you'll always have them on hand. They're cheap, nutritious, easy to make, and - most importantly - delicious!
Canned beans are convenient, but in terms of affordability, taste, and texture, dried beans have them beat. If you've never cooked dried beans before, don't let it intimidate you! My method for how to cook beans is an easy, hands-off process with a huge payoff. They come out soft and creamy, with a rich, aromatic broth surrounding them. Hot from the stove with a ladle of cooking liquid, they're good enough to enjoy as a meal on their own!
Of course, you can also use dried beans anytime you'd use canned – in bowls, soups, tacos, and more. Cook a big batch and freeze them to have on hand. Trust me, you'll thank yourself later!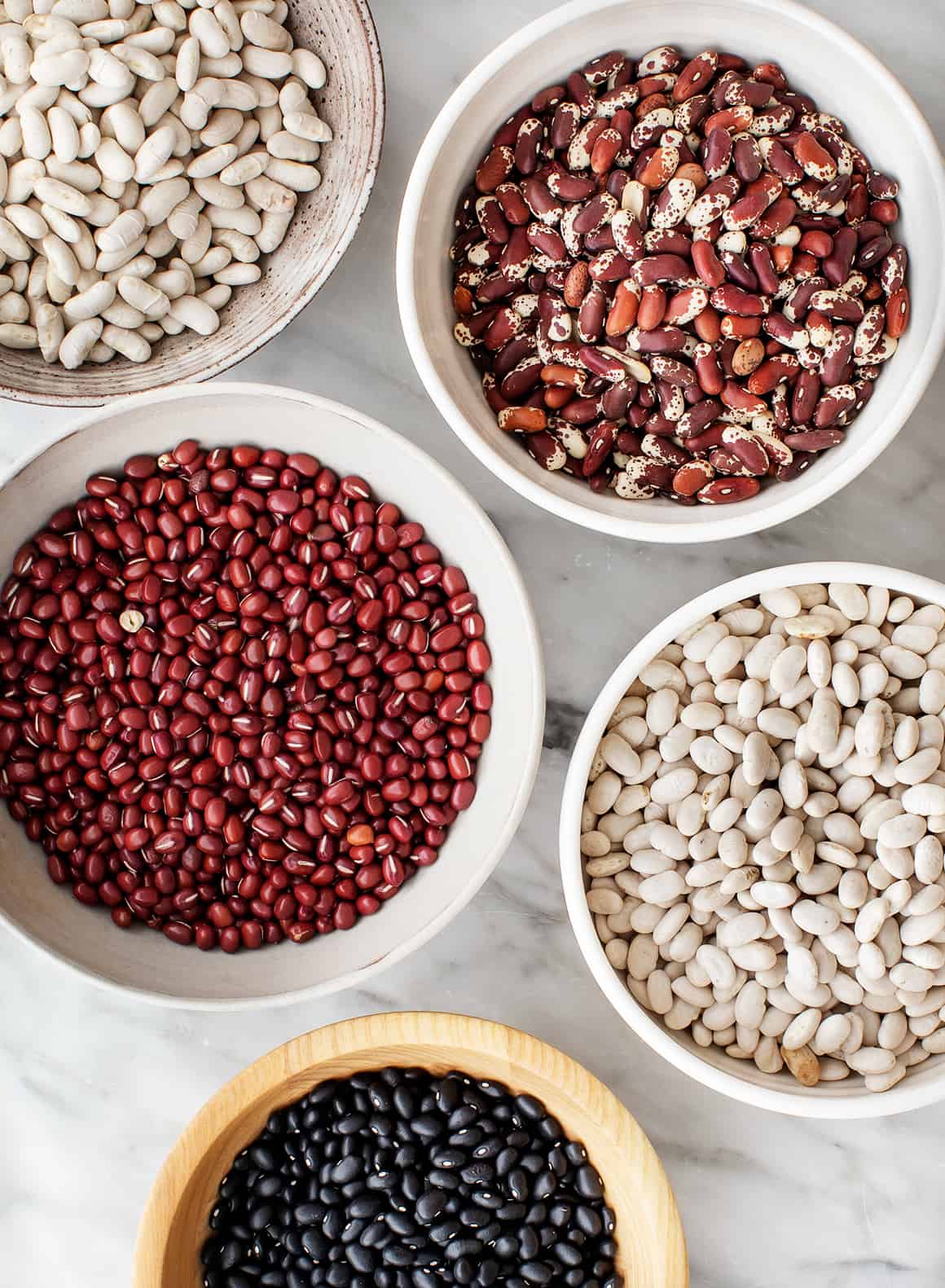 How to Cook Beans
Cooking dried beans is easy! Here's what you need to do:
When the beans are tender, season to taste and remove them from the heat. Store the beans in an airtight container in the fridge for up to 5 days, or freeze them for several months! And for the full recipe, see below.
Cooking Dried Beans – Exceptions
I use this method for cooking dried beans for almost every bean variety: black beans, pinto beans, cannellini, kidney, cranberry, and more. However, there are a few exceptions to the rule:
Seasoning Dried Beans
Dried beans cooked with sea salt and water are delicious, but adding an onion, garlic, or other aromatics to the pot will make them even more flavorful! These simple additions turn the starchy bean cooking liquid into a fragrant broth that's just as tasty as the beans themselves. Here are a few of my favorite aromatics:
Add one or more aromatics when you add the salt, 30 minutes into the bean cooking process. When the beans are tender, remove and discard any add-ins before you eat. Let me know what variations you try!
More Pantry Basics
Loved learning how to cook beans? Try cooking one of these pantry staples next:
Then, find 30+ pantry-friendly recipes here!
How to Cook Beans
Serves
8
to 12 (makes 6 cups)
Learn how to cook dried beans on the stove! Simmer them with water and salt, or add aromatics to the pot for extra flavor.
Ingredients
optional aromatics:
Onion quarters

,

halved shallots

Smashed or sliced garlic cloves

Scrap veggies

,

scallion tops, fennel fronds, herb stems

Desired spices

,

bay leaves, peppercorns
Instructions
For black beans, white beans, red beans, garbanzo beans:
Place the beans in a large bowl. Discard any stones or debris. Cover with 2 to 3 inches of water and discard any beans that float. Soak at room temperature for 8 hours or over overnight. Drain and rinse well.

Place the beans in a large pot and cover with 2 inches of water. Bring to a gentle boil. Reduce the heat and simmer, uncovered, for 30 minutes. Skim any foam off the top, then add 2 teaspoon sea salt and desired aromatics. Continue simmering until tender but not mushy, up to 2 more hours, stirring occasionally. The timing will depend on the type and freshness of your beans. I typically check them every 30 minutes. If they start to look dry, add a bit more water to the pot.

When the beans are tender, discard the aromatics. Season to taste with more salt and pepper. Store cooked beans in the fridge for up to 5 days or freeze for several months.
For adzuki beans:
Skip the soaking process. Rinse, then place the adzuki beans in a large pot. Cover with 2 to 3 inches of water and simmer for 30 to 45 minutes with desired aromatics and sea salt. Season to taste.
For split peas:
Skip the soaking process. Rinse, then place 2 cups split peas in a large pot with 4 cups of water and 1/2 teaspoon sea salt. Bring to a boil, then reduce to a simmer, cover and cook until soft, 25 to 40 minutes. Season to taste. Split peas will become mushy in texture, similar to red lentils. They're great for thickening soups and stews.