This homemade pizza recipe is perfect for parties! Everyone loves pizza, and your guests can customize their toppings to suit their personal tastes.
Over the years, I've shared a number of homemade pizza recipes on the blog (see here, here, and here), but never one from start to finish – crust & sauce included. In reality, though, we make pizza from scratch fairly often around here. Why? It's one of the few meals we eat where we get to spend time in the kitchen together. I do most of the cooking in our house, but when pizza night rolls around, both of us pitch in.
I also love to make pizza when I entertain because, well, everyone loves pizza, and it's customizable! It's easy to make different toppings to suit different tastes. You can even get your guests involved in topping their own personal pizzas, so everyone has a hand in the final meal. When Sub-Zero, Wolf, and Cove asked us to create a recipe that celebrates their philosophy of living deliciously, I thought immediately of homemade pizza and my shared time in the kitchen with Jack, friends, and family.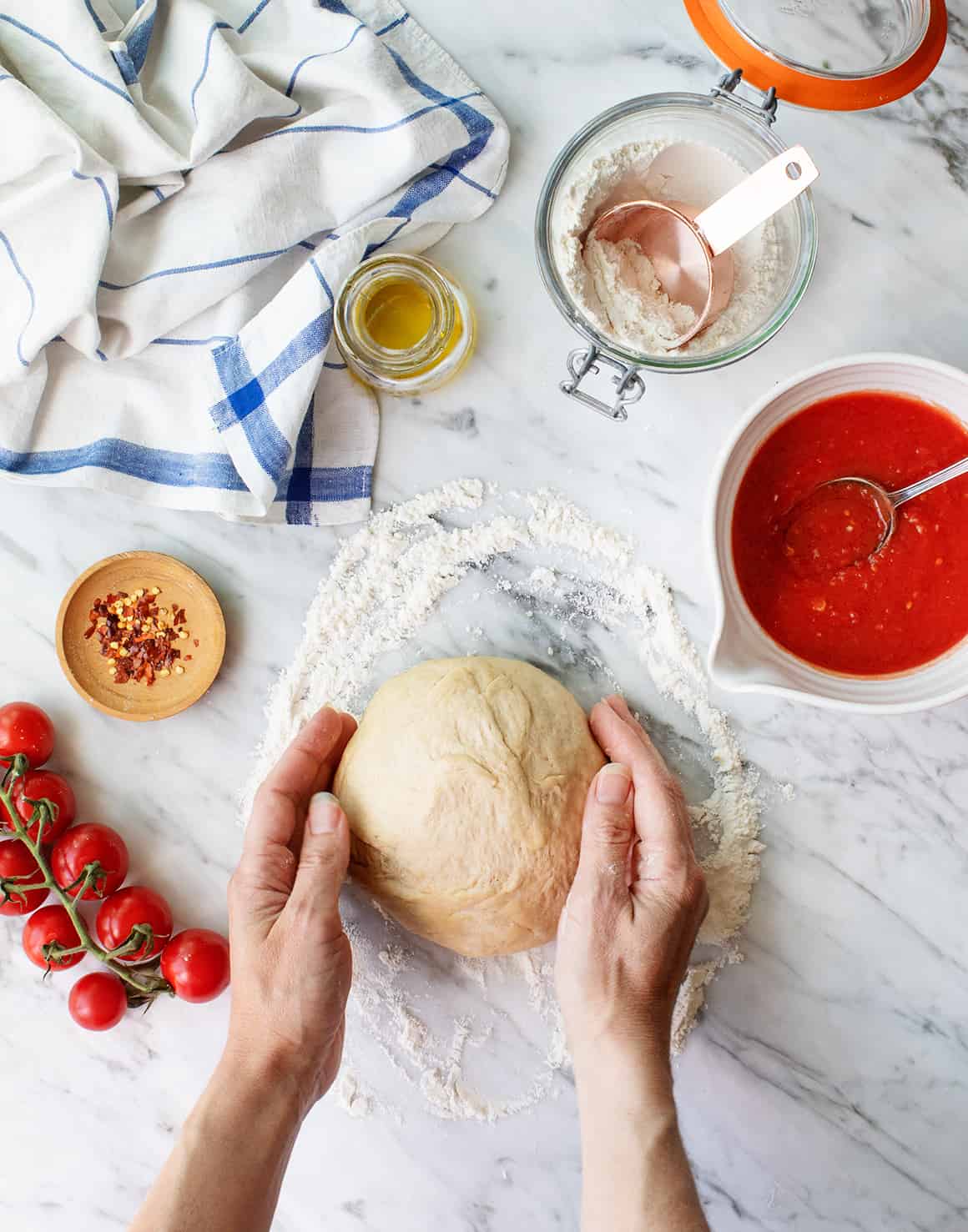 Taking time out of our busy days to put down our phones and celebrate every glorious flavor, guest, and memory makes me feel like we are truly living deliciously. For me, this also means eating seasonally. I visit local farmers markets to get inspiration for what to cook and what to eat, and in warm weather, Jack and I grow our own herbs on our back deck. How does eating seasonally relate to homemade pizza? Well, while cheese and sausage are the most popular pizza toppings where we live, I embrace summer's plethora of beautiful vegetables (and even fruits!) to create out-of-the-box fresh combinations. And because we have so many gorgeous herbs right outside our door, I generously top my pizzas with fresh basil, mint, and homemade pesto to add a ton of fresh, delicious flavor.
And speaking of Sub-Zero, Wolf, and Cove, their appliances couldn't be more useful for pizza-making. My Sub-Zero refrigerator keeps delicate produce wonderfully fresh. Our Wolf rangetop is perfect for preparing one of my favorite summer pizza toppings: roasted red peppers! I like to char them right over the burner flame. And on the pizza stone setting of my Wolf oven, pizza crust becomes golden and crisp around the edges. Best of all, our Cove dishwasher is roomy enough to wash all the dishes left from preparing and enjoying a meal with guests, so cleanup is a breeze!

Our Homemade Pizza Dough
Of course, there are nights when we pick up pizza dough from the store. But the best pizza nights are the ones when we make the dough ourselves – especially because it means that we work together in the kitchen. Jack (our resident dough man) will mix up the homemade pizza dough while I prep the toppings and the sauce. When we sit down to eat, it's so fun to enjoy a meal we made together!
Our homemade pizza dough recipe uses a mix of white whole wheat flour and all-purpose flour. I like this combination because it adds some whole grain power to the crust without giving it the dense texture and dark flavor of an all-whole wheat dough. Along with the two flours, we use yeast, a little maple syrup, warm water, salt, and olive oil to make a crust that's crisp on the outside, soft in the middle, and perfectly golden brown.

Homemade Pizza Toppings
As I said above, I live deliciously by eating with the seasons. Homemade pizza is something we enjoy together all year round, but right now, we have an abundance of herbs growing outside our back door. Greenhouse cherry tomatoes are popping up at the farmers markets, too. With these fresh, seasonal ingredients as a starting point, I created three topping combinations:
Margherita Pizza – With local cherry tomatoes, fresh mozzarella, and basil from the backyard, this classic pizza is juicy, slightly sweet & totally delicious.
Roasted Red Pepper Pesto Pizza – Using mint & basil from outside, I blended up a super green pesto that paired perfectly with Wisconsin smoked mozzarella & homemade roasted red peppers. I couldn't resist adding some extra mint leaves for garnish!
Peach & Basil Pizza – I'm head over heels for peaches, so with all the basil outside, I had to make this super simple peach & basil pie. Dollops of the pesto from the red pepper pizza added just the right finishing touch here too!

Our Homemade Pizza Sauce
To support our seasonal toppings, we needed a flavorful sauce. In this homemade pizza recipe, I use pesto as the base of the red pepper pizza, while I simply brush the crust of the peach pizza with olive oil. For a good margherita pizza, though, red sauce is a must.
Our homemade pizza sauce recipe uses simple ingredients: San Marzano tomatoes, garlic, olive oil, salt, red pepper flakes, and a pinch of dried oregano. Pulse them together in the food processor, and you're ready to spread your sauce on your dough! I opt not to cook the sauce before baking so that the freshness of the sweet tomatoes and garlic can really shine. The flavors mellow and meld just the right amount while the pizza is in the oven, so no stovetop time is necessary!

Foolproof Homemade Pizza Recipe Tips
Ready to make pizza? Check out these simple tips first:
Get a good pizza pan. The key to a good crust is a good pizza pan. You want one that will cook the crust evenly on all sides, including the bottom. Lots of cooks swear by a pizza stone. To use a pizza stone, preheat it in the oven (on the "stone" setting if you have a Wolf oven) while you stretch and top your dough. Then, quickly slide the assembled pizza onto the stone and transfer both to the oven to bake. The hot stone will help your crust get nice & crisp on the bottom.
Keep your dough covered. As your homemade pizza dough rises, make sure to keep it covered. You want to lock moisture in with the dough to keep it soft & pliable. Otherwise, a crusty film will develop around the dough ball, and it will dry out and lose its flexibility.
Bake, then garnish! Fresh, delicate toppings like herbs will wilt and lose their flavor in the hot oven, so top them onto your pie right before serving. Along with the fresh basil & mint, I like to add dollops of pesto and a drizzle of olive oil before sitting down to eat.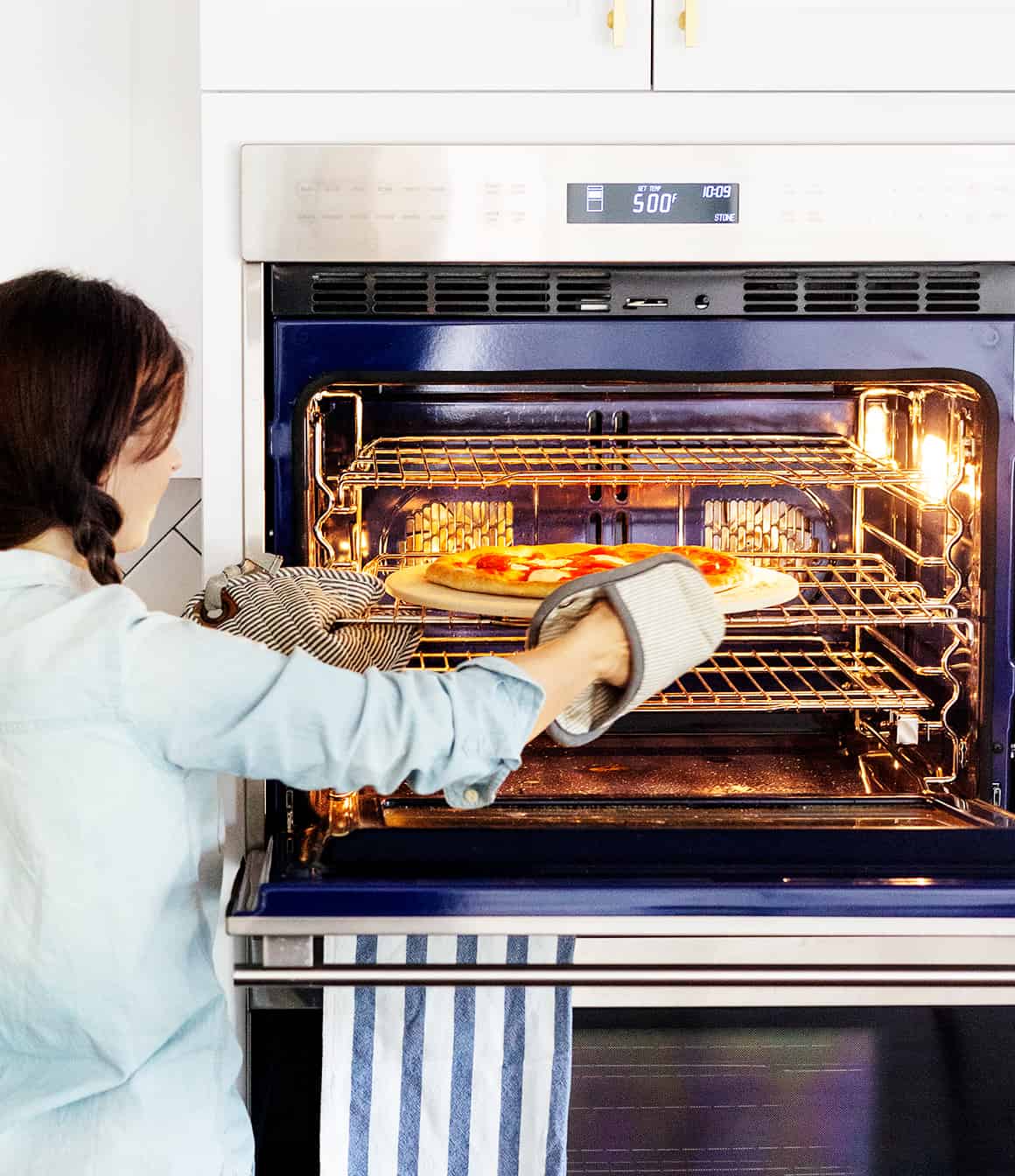 What to Serve with Homemade Pizza
With a good whole grain crust and lots of veggie toppings, homemade pizza is a filling meal on its own. If we want something on the side, though, my first choice is always a seasonal salad. A simple green salad or arugula salad is an easy, fresh option, but if I'm not tossing greens together, I'll often use leftover pizza toppings to make a fun, flavorful side salad. Here are some of my favorite salads that make use of toppings that you may have leftover from this homemade pizza recipe:
Happy pizza-making!
Homemade Pizza
We love to make this homemade pizza recipe together - one person makes the dough while the other preps the toppings. It's also great for entertaining because guests can customize their final meals.
Ingredients
Instructions
Preheat the oven to 500°F.

Margherita Pizza: Spread the pizza sauce onto the dough. Top with the fresh mozzarella and tomatoes and bake 10 to 12 minutes, or until the crust is browned. Remove from the oven and top with fresh basil leaves and a pinch of red pepper flakes. Drizzle with olive oil and serve.

Peach & Basil Pizza: Combine the olive oil and garlic in a small bowl. Brush the garlic oil onto the dough, then top with the fresh mozzarella and peaches. Bake 10 to 12 minutes, or until the crust is browned. Remove from the oven and top with dollops of pesto, fresh basil, and pinches of red pepper flakes. Drizzle with olive oil and serve.

Roasted Red Pepper Pesto Pizza: Spread a thin layer of pesto onto the dough. Top with the cheese and roasted red peppers. Bake 10 to 12 minutes, or until the crust is browned. Remove from the oven and top with dollops of pesto, the mint leaves, and pinches of red pepper flakes.