The first time I tried this chili powder recipe, I knew I'd never get the store-bought kind again. It's flavorful, complex, and surprisingly easy to make.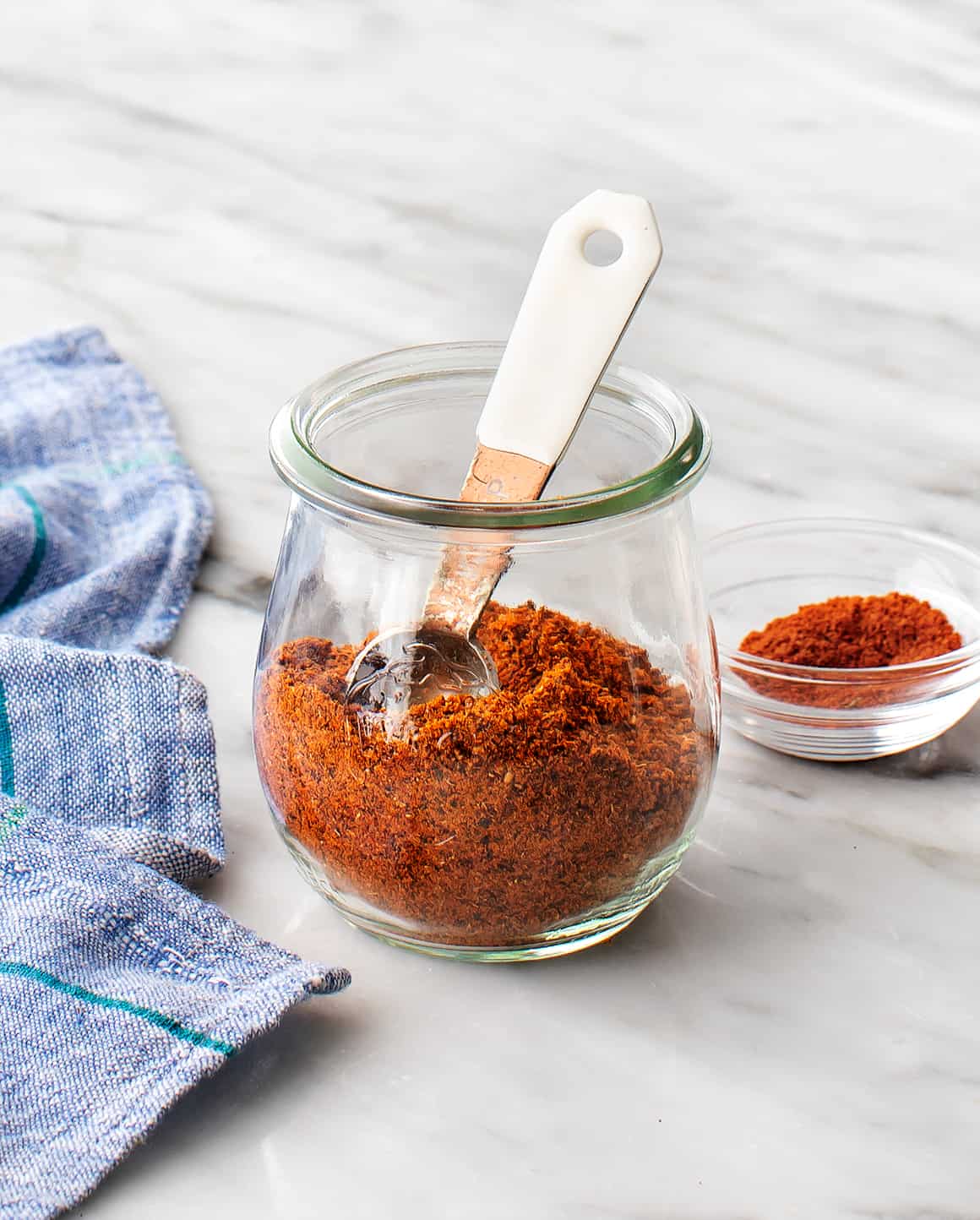 It's official: I'm never buying chili powder at the store again. This homemade chili powder is so much more flavorful, nuanced, and complex, and it's not at all tricky to make, either. Toast some spices and dried chiles on the stove, whizz them up in a spice grinder, and voila! You'll have made delicious homemade chili powder in under 10 minutes.
I know I've mentioned Kite String Cantina a few times before, but I have to give them another shoutout here. They're a bar in our neighborhood that serves amazing sauces and taquitos, and their signature chili seasoning (aka "Kite Spice") inspired me to make this chili powder recipe. I've known for years that ground spices lose their potency over time, but it wasn't until I started cooking with Kite Spice that I realized just how punchy and unique a freshly ground spice blend could be. Trust me, once you try this chili powder recipe, the store-bought kind will never taste the same.
Chili Powder Recipe Ingredients
The main ingredient in this recipe is, of course, chiles! I've made it with two different types of dried chiles, guajillo (pictured above) and ancho. The ancho chili powder is just slightly spicier than the guajillo one; both types of chiles are fairly mild.
If you've never used guajillo or ancho chiles before, look for them in a Mexican grocery store or spice store, or the Mexican or spice section of your regular grocery store. They are also easy to find online.
I round out the recipe with 7 other spices:
Cumin seed, coriander seed, oregano, and allspice – For earthiness.
Fennel seed and granulated garlic – For rich, savory flavor.
And smoked paprika – To amp up the chiles' smoky taste.
I also mix in a little salt and sugar to balance the chili powder's flavor.
Find the complete recipe with measurements below.
How to Make Chili Powder
The first step to making this recipe is preparing the chiles. 
Use sharp kitchen scissors to remove the stems from the chiles. Then, cut a slit down one of the sides.
Peel open each pepper along the slit and remove the seeds.
Then, toast the chiles and whole spices. Heat a dry skillet over low heat, and toast the chiles, cumin seeds, coriander, and fennel for about 30 seconds, or until fragrant. Allow them to cool slightly…
…and tear the chiles into small pieces. This step helps them blend up evenly in the spice grinder.
Finally, blend! Add the torn chili peppers, cumin, coriander, fennel, paprika, oregano, garlic, allspice, salt, and sugar to a spice grinder, and blend to form a fine powder. Depending on the size of your spice grinder, you may need to work in batches.
That's it! Store the chili powder in an airtight container for up to 12 months.
How to Use Homemade Chili Powder
Not to state the obvious, but this homemade chili powder is great for making…chili! If you have a favorite chili recipe that calls for chili powder, you could definitely use this homemade chili seasoning in it. It's also fantastic in this black bean chili recipe.
But your options for using this spice blend don't end there. Here are some more ways you can cook with it:
How do you like to use chili powder? Let me know in the comments!
More Homemade Spice Blends
If you love this recipe, try one of these homemade spice blends next:
Chili Powder
This homemade chili powder is earthy, smoky, and complex. It will add bold flavor to chili, of course, but it's also great for seasoning roasted veggies, beans, soups, and more. See the post above for specific suggestions.
Ingredients
6

dried guajillo chiles or 3 dried ancho chiles

3

teaspoons

cumin seeds

1½

teaspoons

coriander seeds

¾

teaspoon

fennel seeds

1½

teaspoons

dried garlic granules

1½

teaspoons

smoked paprika

¾

teaspoon

oregano

Heaping ¼ teaspoon allspice

Heaping ¼ teaspoon sea salt

⅛

teaspoon

sugar
Instructions
Use scissors to cut the stems off the guajillo or ancho chiles, then cut each chile in half and remove the seeds. Toast the chiles in a dry skillet over low heat with the cumin, coriander, and fennel seeds until fragrant, about 30 seconds.

Tear the chiles into small pieces and transfer them to a spice grinder. Add the cumin seeds, coriander seeds, fennel seeds, garlic, paprika, oregano, allspice, salt, and sugar. Grind into a powder, working in batches if necessary.