A peek at our new home plus a delicious recipe for spiced mulled wine!
I've mentioned this before on the blog, but this past year we made a huge move from Austin to Chicago, where I'm originally from. Years and years ago (when I first met Jack who lived in Austin) I was SO excited to leave and to live somewhere warm… forever! I didn't miss fall, I didn't miss the seasons, I basked in the sun in December and I loved every minute of it. As far as I knew, I would never be back but, well, life has a way of changing in unexpected ways and here we are!
On a warm summer day in July we saw this condo and decided that we could do this winter thing. So here we are doing winter, which I can't say I LOVE, but I'm excited to be back home near my family.
You all saw the kitchen a few months ago, but the rest of the house had been almost entirely empty until very recently. Little by little, our living space is starting to come together. We've been doing a lot of staying in (its cold out there!), creating new traditions like actually putting up a Christmas tree and making warming recipes like this mulled wine below.
Speaking of staying in…here's a little peek at our new living room. The layout of this space was challenging because we didn't bring anything from Austin and the space was entirely empty when we moved in. So I designed these built-ins, we ordered (and waited and waited) for a couch to arrive, I picked out (and changed my mind about) chairs, coffee tables, etc… It finally started to feel like a room we can get cozy in.
And then there was the TV. In our other homes, Jack always had a giant bachelor-pad style super ugly TV. Since this room is so integrated with the rest of the house and opposite the kitchen, I didn't want that to be my view while I cook. So enter – the prettiest TV I've ever seen – The Frame by Samsung. I'm not one to get excited about electronics, but when we saw this TV in a store a few months ago, I knew it would be just the thing to keep the room looking nice while Jack could still be the tech nerd he is.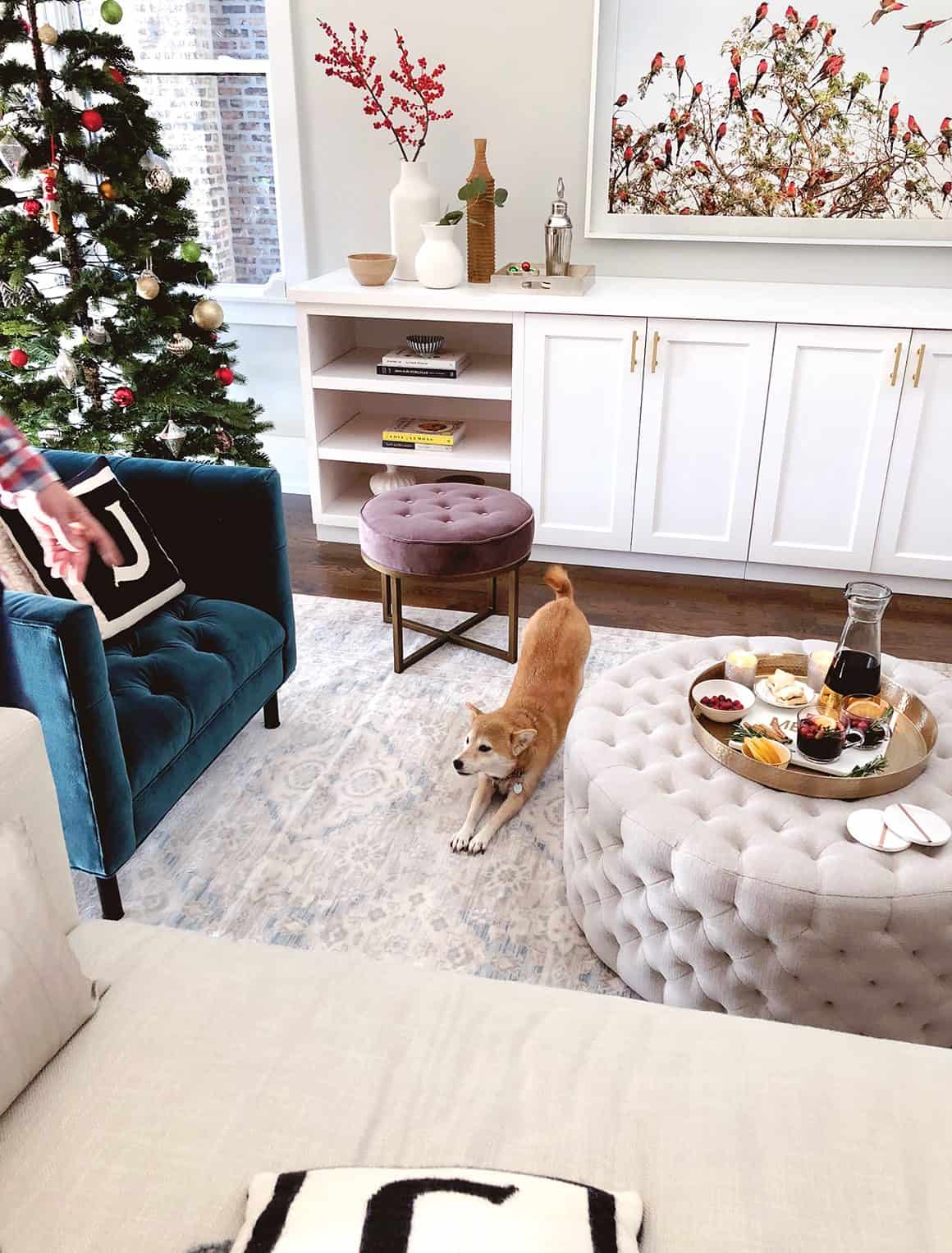 This TV also solved a problem I didn't really know I had. See, I love art but I can never decide what to hang on the walls. This usually ends up meaning… nothing. Now I can change the artwork that's displayed on it all day long if I want to! There's a really great selection of artwork to choose from and it's nice to be able to change the look of a room on a whim. I love how this bird piece works with/as my holiday decor because now I have less holiday tchotchke to collect (and store). When Christmas is over, bye bye birdies!
Ok, this is Jack, the "tech nerd" chiming in for a minute. I could talk for WAY too long about my love for this TV, but I'll try to keep it short. To start, its design is nearly perfect. It sits flush with the wall, comes with the wall mount included(!), and all the connections and stuff go through a box on the other end of a tiny cable (they call it the Invisible Connection) so you don't have wires sticking out the side of your TV. There are also three trim colors you can get that attach magnetically to the side of the TV – we chose white.
Picture-wise, it's state-of-the-art 4K with HDR, so the colors and resolution are top notch. While it's great for my video games and movies, it's also stunning for the "art mode," which is so cool. You hit the power button, and the TV adjusts the brightness and color tone to the surrounding room, so the TV just looks like a picture frame on the wall (see above) when it's not in use, instead of the giant "black mirror" that Jeanine always hated.
Ultimately, of course, this is a site about food and drink, and I also love this drink. While I put up the Christmas tree, Jeanine decided to try her hand at some mulled wine. Neither of us have had mulled wine before, but with the cold Chicago winters and our cozy new house, I can see this becoming a thing for the next few months. Wait… it's cold here for months?!
Mulled Wine
Ingredients
1 bottle dry red wine, such as merlot
2 cups apple cider, more as desired
1 navel orange, divided (half for the recipe, half for garnish)
10 whole cloves
6 whole cinnamon sticks, plus more for garnish
2 to 4 tablespoons ginger juice, to taste (optional)
cranberries, for garnish, optional
rosemary sprigs, for garnish
Instructions
Slice half of the orange into thin rounds and set aside for the garnish.
In a medium saucepan over medium heat, combine the red wine, apple cider, and the juice from the remaining ½ orange. After you squeeze the orange half, slice it into wedges and put those into the pot along with the cloves and cinnamon sticks. Bring to a simmer, then reduce the heat and simmer on low for 20 to 30 minutes. Be careful not to let it come to a boil.
Stir in the ginger juice. Taste, and if you like your mulled wine sweeter, add more apple cider. If you would like it more spiced, add more whole spices and simmer for 15 more minutes.
Remove from the heat, strain, and pour into a pitcher or mugs. Serve with the reserved orange rounds, cinnamon sticks, cranberries, and rosemary sprigs for garnish.
Thanks so much to Samsung for providing the Frame TV featured in the post!