This zucchini bread recipe is healthier than most, but that doesn't mean it isn't delicious. It's moist, warmly spiced, and lightly sweet. You'll love it!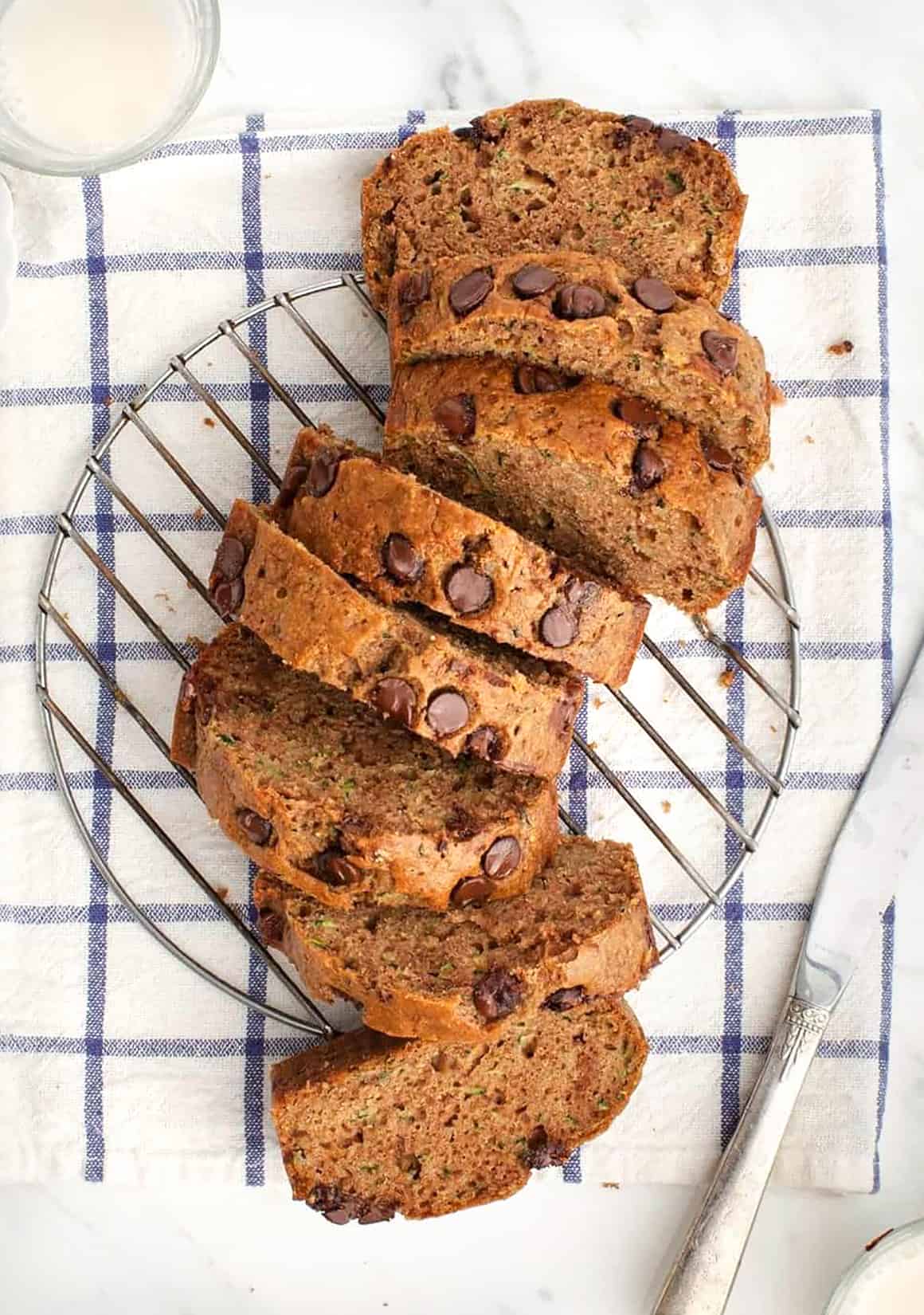 This healthy zucchini bread is a delicious breakfast or summer snack. I should know, because I've just finished my [redacted] slice of the season, and I don't see my healthy zucchini bread consumption slowing down anytime soon. 🙂
Like a traditional recipe, this healthy zucchini bread is moist, tender, and warmly spiced. It's PACKED with zucchini, of course, but it also features a few other good-for-you ingredients that you wouldn't find in a regular loaf. Almond flour adds protein and healthy fats, and it gives this loaf an especially moist texture. And instead of melted butter, olive oil brings richness. When it comes to a sweetener, I do use regular cane sugar, but just enough to make this recipe lightly sweet—not more.
This healthy zucchini bread recipe is a staple in my summer rotation. I hope it will be in yours too. Happy baking!
Healthy Zucchini Bread Recipe Ingredients
Here's what you'll need to make this healthy zucchini bread recipe:
Zucchini, of course! You'll need 2 packed cups of shredded zucchini, about 2 medium, to make this recipe.
All-purpose flour and almond flour – I love using this combination of flours in baking recipes, especially muffins and quick breads. They yield baked goods that are super moist and tender—exactly what I want in a zucchini bread recipe. Plus, I love that the almond flour adds extra protein, fiber, and healthy fats!
Baking powder, baking soda, and eggs – They help the loaves puff up in the oven.
Cinnamon and vanilla extract – They give the bread warm, spiced depth of flavor. A pinch of nutmeg would be a nice addition as well.
Cane sugar – It makes the bread lightly sweet. This healthy zucchini bread recipe calls for about half the sugar in traditional zucchini bread recipes, just 1/2 cup per loaf.
Almond milk – For extra moisture. If you don't keep almond milk on hand, feel free to swap in another milk of your choice. My homemade oat milk would be great here too.
Olive oil – It adds richness. I know not everyone loves to use olive oil in baking recipes as much as I do. If you prefer, use vegetable oil or melted coconut oil instead.
Sea salt – To make all the flavors pop!
And chocolate chips – I scatter them on top of the loaves for a rich, decadent finishing touch. Yum!
Find the complete recipe with measurements below.
How to Make Healthy Zucchini Bread
This healthy zucchini bread recipe is super simple to make! Here's how it goes:
First, grate the zucchini. No need to peel the zucchini first! Just go ahead and shred it on the large holes of a box grater. Measure 2 packed cups of the grated zucchini, and set it aside on a kitchen towel to drain.
Then, combine the dry ingredients in one bowl and the wet ingredients in another. Gently squeeze any excess moisture from the grated zucchini, and whisk it into the bowl of wet ingredients. Pour the dry ingredients into the zucchini mixture and fold until just combined.
Next, pour the batter into 2 greased loaf pans. Do your best to put an equal amount in both so that the loaves bake at the same rate.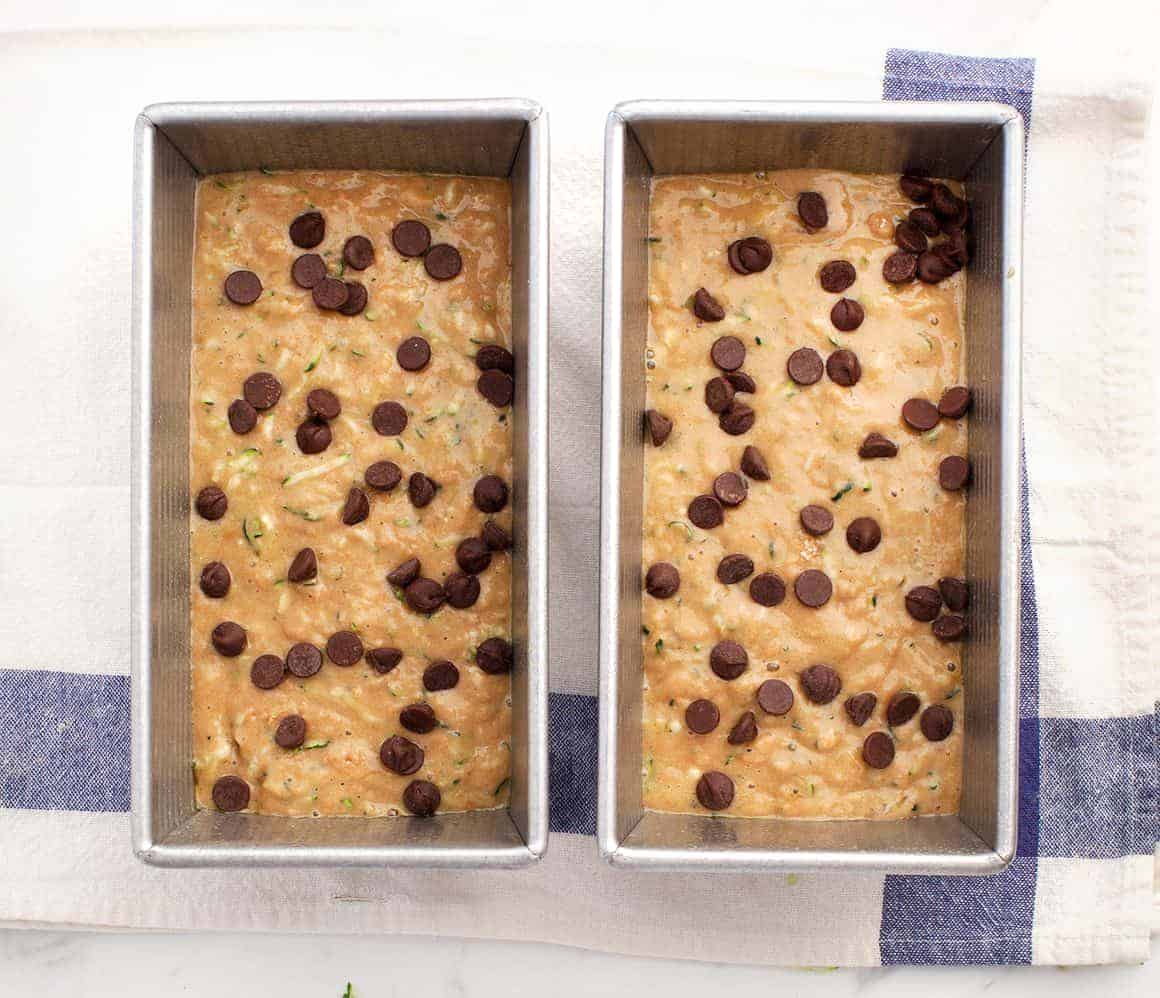 Scatter the chocolate chips on top…
And bake! Transfer the pans to a 350°F oven and bake for 45 to 50 minutes, or until the loaves are golden brown and a toothpick inserted in the center comes out clean.
Allow the loaves to cool for a few minutes in the pan before transferring them to wire racks to cool completely. Finally, slice and enjoy!
Tips and Variations
Don't overmix. In this recipe, and whenever you're making baked goods that you want to be light and tender, mix the batter until the wet and dry ingredients are just combined. Stirring the batter more will start to develop the gluten in the flour. If that happens, the zucchini bread will be dense instead of light and cake-y. No, thank you!
Make it vegan. Check out the recipe card below to find a vegan version of this recipe made with flax eggs. The vegan loaves aren't quite as puffy as the regular ones are, but they're still moist and delicious.
Make it dairy-free. This recipe is naturally dairy-free as long as you use dairy-free chocolate chips!
Have fun with mix-ins. I scatter chocolate chips on top of my healthy zucchini bread, but if you're in the mood for a more indulgent treat, you could mix them into the batter, too. Not crazy for chocolate? Fold 1 cup chopped nuts into the batter instead. Walnuts and pecans are both delicious!
Freeze the extras. This zucchini bread freezes perfectly, which is super handy, because the recipe makes 2 loaves. I like to slice and eat one right away and stash the other in the freezer for another day. If you like, you can slice it before you freeze it. That way, you can thaw one slice at a time for an easy breakfast or snack! Transfer frozen slices to the fridge to thaw overnight, or pop them in the microwave for about 30 seconds.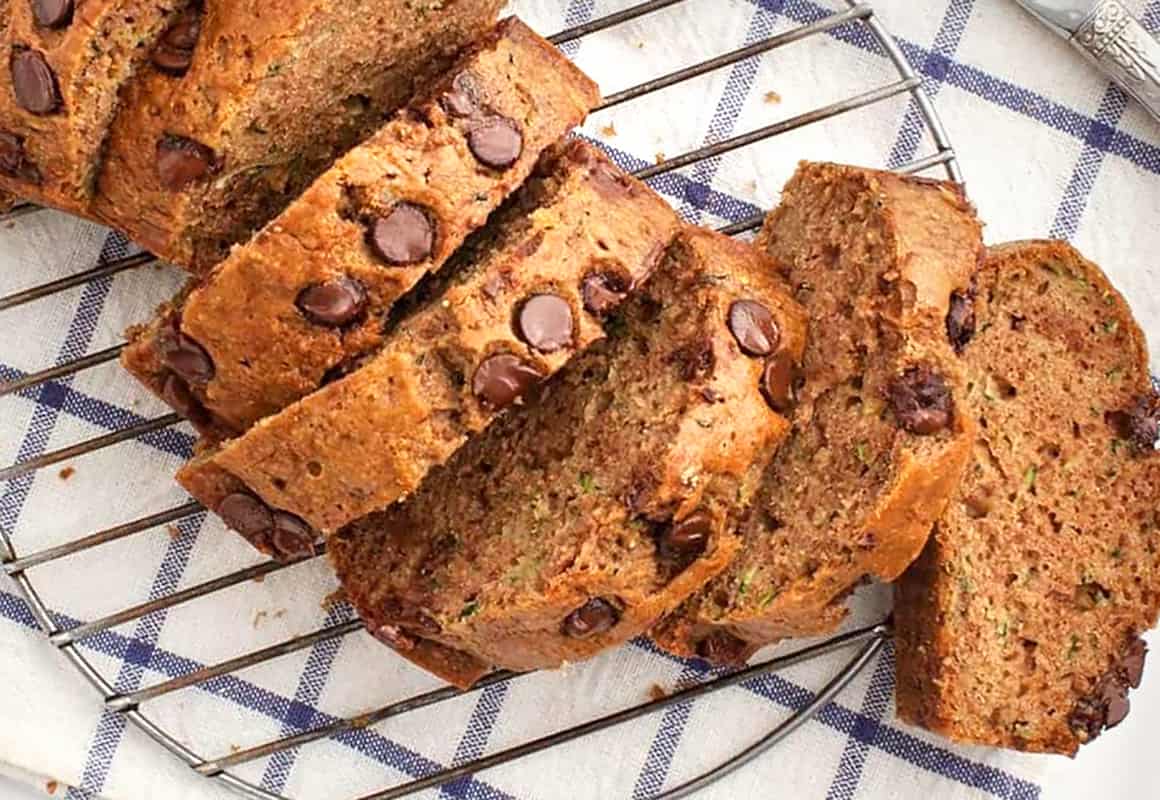 More Healthy Zucchini Recipes
If you love this healthy zucchini bread, try one of these healthy zucchini recipes next:
Want more quick bread recipes? Try my healthy banana bread, gluten-free banana bread, or pumpkin bread next.
Healthy Zucchini Bread
This healthy zucchini bread recipe is easy and delicious! The loaves will keep in an airtight container at room temperature for 3 days. They also freeze perfectly.
Ingredients
2

cups

packed shredded zucchini

,

about 2 medium zucchini

2

cups

all-purpose flour

1

cup

almond flour

2

teaspoons

cinnamon

2

teaspoons

baking powder

1

teaspoon

baking soda

1

teaspoon

sea salt

4

large eggs

,

see note below for vegan option

1

cup

cane sugar

½

cup

extra-virgin olive oil

½

cup

almond milk

2

teaspoons

vanilla extract

½

cup

chocolate chips

,

optional
Instructions
Preheat the oven to 350°F and grease or lightly spray two 8x4" loaf pans.

Place the shredded zucchini on paper towels to drain. Set aside.

In a medium bowl, combine the flours, cinnamon, baking powder, baking soda, and salt.

In a large bowl, whisk together the eggs, sugar, olive oil, almond milk, and vanilla. Gently squeeze any excess moisture from the zucchini then stir into the egg mixture. Add the dry ingredients to the bowl and stir until just combined. Do not overmix.

Pour the batter into the prepared pans and sprinkle the chocolate chips on top, if using. Bake for 45 to 50 minutes or until a toothpick comes out clean. Let cool.
Notes
To make this recipe vegan, follow these 2 steps:
1. In a small bowl whisk together 1/4 cup ground flaxseeds with 1/2 cup water. Set aside for 10 minutes to thicken. Add it to the wet ingredients in place of the eggs.
2. Add 2 teaspoons of apple cider vinegar to the wet ingredients and 1 additional teaspoon of baking powder to the dry ingredients. This will help the vegan loaves rise a bit. This version is very moist, do not under-bake.