These healthy salad dressing recipes are fresh, flavorful, and easy to make. Try just one, and you'll never reach for the store-bought stuff again!
My simplest tip for anyone who wants to eat more vegetables – and enjoy them! – is to start making a healthy salad dressing at home. Made with a base of extra-virgin olive oil, avocado oil, or Greek yogurt, it'll be more nutritious than any bottled dressing you can find at the store. But that's not all – it'll taste better, too.
Unlike most store-bought dressings, a homemade healthy salad dressing isn't designed to keep for months on end. That means that it can be made with fresh ingredients like herbs, garlic, and avocado. They may not last for weeks on a supermarket shelf, but they will add bold flavor (and nutrients!) to a homemade dressing. Try making one – I think you'll find that salad has never tasted so good!
Essential Vinaigrettes
Break out the oil and vinegar! These easy vinaigrettes come together in minutes.
Lemon Vinaigrette
My go-to healthy salad dressing recipe! Toss it with a simple green salad or drizzle it over cooked veggies like grilled asparagus or roasted beets.
Greek Salad Dressing
I almost always have this zingy vinaigrette on hand in the summertime. I love tossing it with summer picnic fare like my classic Greek salad, Italian chopped salad, and grilled vegetables.
Balsamic Vinaigrette
If you keep a bottle of balsamic vinegar in your pantry, there's no reason you can't make your own balsamic vinaigrette at home. It comes together in under 5 minutes and keeps for a week in the fridge.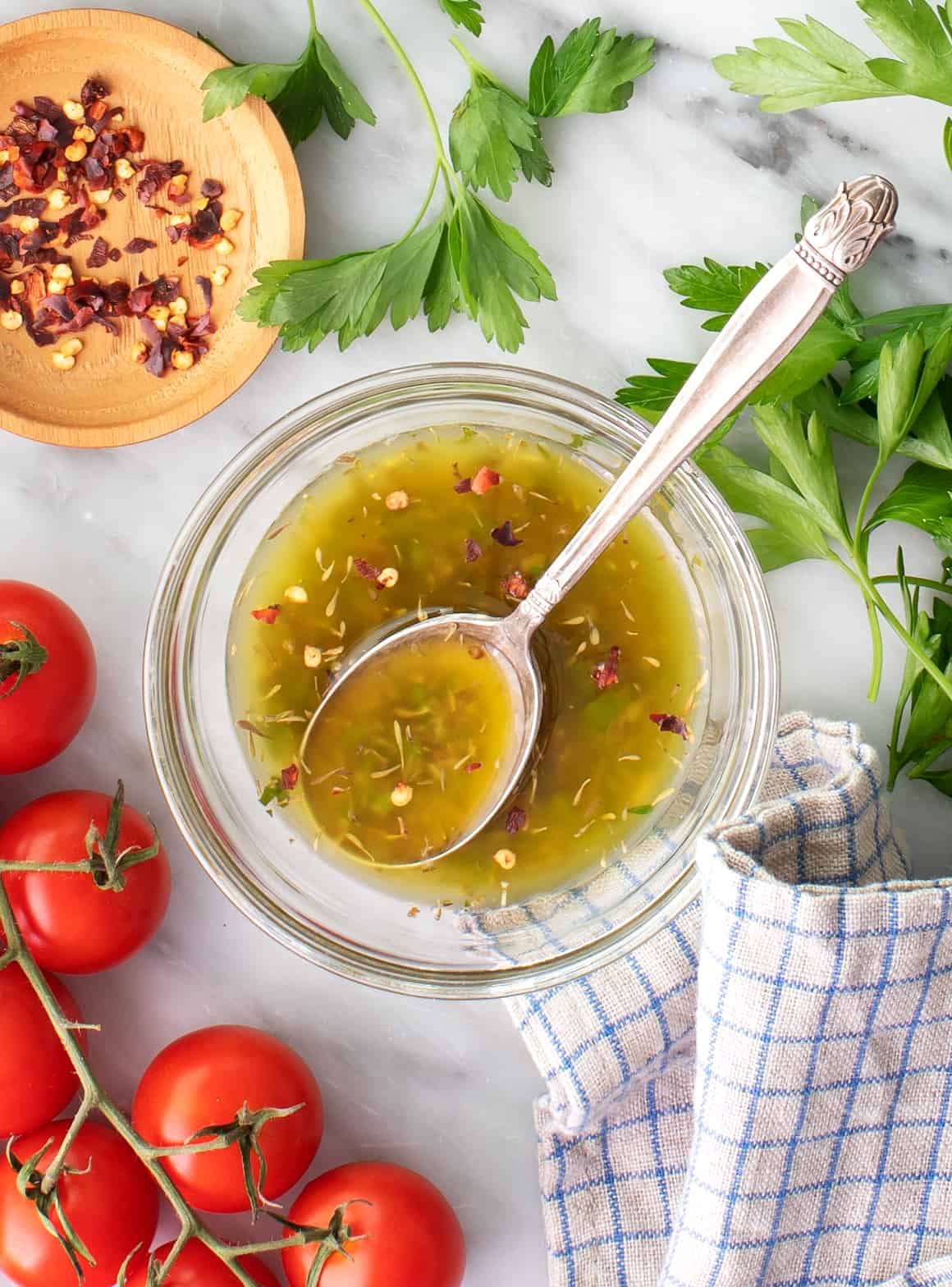 Homemade Italian Dressing
Parsley, oregano, and thyme add fresh flavor to this tangy vinaigrette.
Apple Cider Vinegar Dressing
I especially love this healthy salad dressing with fall and winter produce. Toss it with colorful roasted vegetables, caramelized winter squash, Brussels sprouts, or this Wheat Berry Salad.
Creamy, Tangy Healthy Salad Dressing Recipes
Love a classic Caesar salad or a tray of veggies and ranch? These healthy salad dressing recipes are the ones for you.
Homemade Caesar Dressing
This homemade Caesar dressing is healthier than the traditional kind, and it's less fussy, too. Thanks to its creamy Greek yogurt base, it's quick and easy to stir together.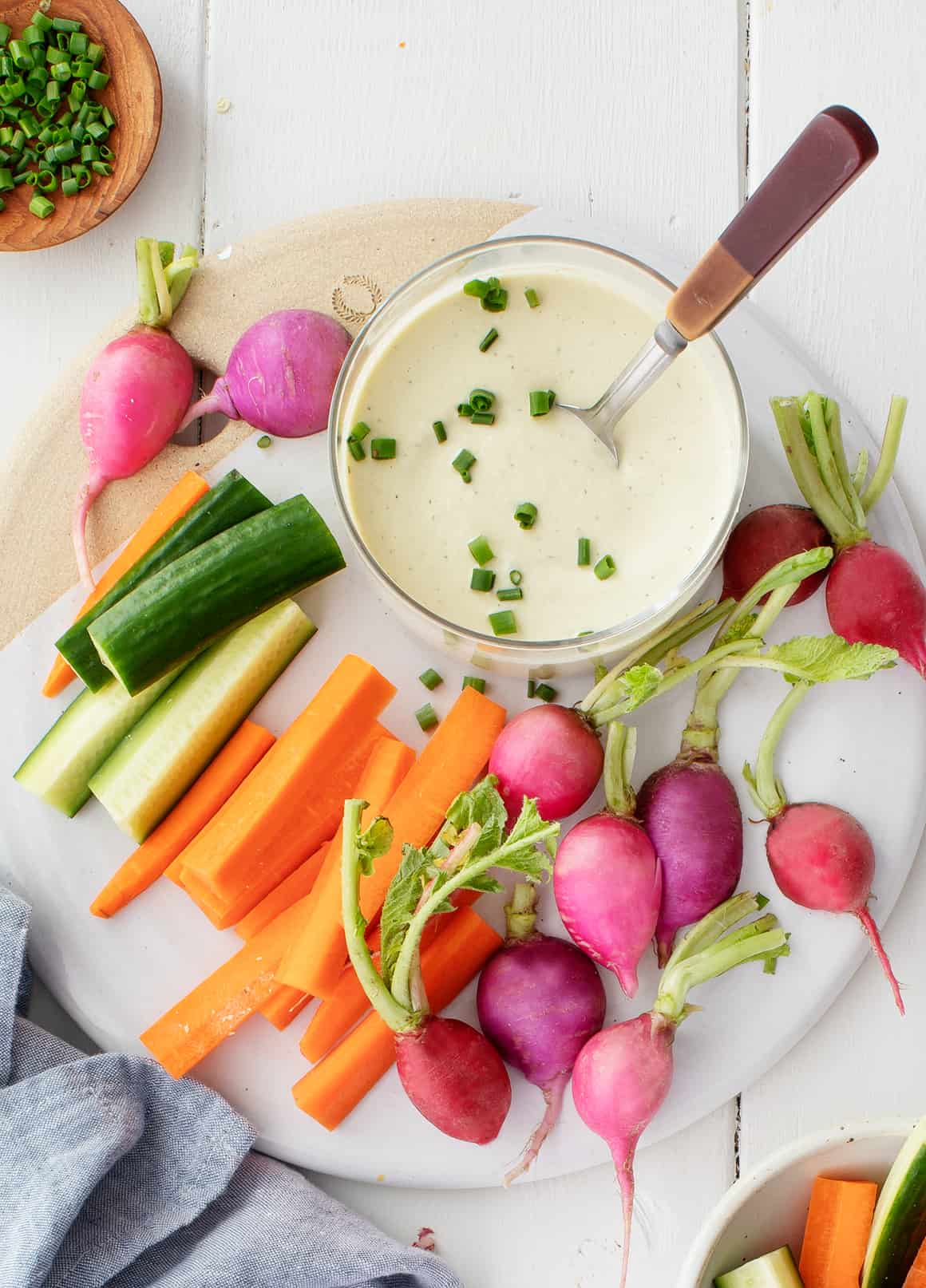 Vegan Ranch Dressing
Blended cashews create this dressing's creamy base. If you didn't know it was dairy-free, you'd never guess it from the taste. It's just as smooth and tangy as the real thing!
Chipotle Ranch Dressing
A mash-up of my favorite chipotle sauce and classic ranch. Drizzle it on a taco salad, or serve it as a dipping sauce with sweet potato fries.
Healthy Salad Dressings for Herb Lovers
The next time you have leftover herbs hanging out in the fridge, don't let them go to waste! Instead, blend them into one of these fresh, healthy salad dressings.
Green Goddess Dressing
This flexible salad dressing works well with a variety of fresh herbs. Toss in whatever you have on hand!
Cilantro Lime Dressing
You can make this bright, zesty salad dressing three ways. Blend it into a vibrant vinaigrette, or make it creamy by adding avocado or Greek yogurt. All three versions are fantastic on taco salads (and tacos!) and as a dipping sauce for burritos and quesadillas.
Avocado Dressing
Thanks to the avocado, this dressing is smooth, creamy, and packed with healthy fats. I like to make it with dill for fresh, savory flavor, but basil or mint would work nicely here too.
Healthy Salad Dressings with Tahini
Tahini is one of my favorite ingredients to use in healthy salad dressing recipes. It gives them a lightly creamy texture and a rich, nutty flavor. Plus, it's easy to stir together with other ingredients. No blender required!
Tahini Dressing
This lemony dressing is a great one keep on hand in the fridge. It's fantastic on all sorts of salads and roasted veggies. I also love to drizzle it into homemade falafel wraps!
Sesame Ginger Dressing
I could eat this dressing by the spoonful! Nutty and refreshing, it's an irresistible topping for salads and bowls.
Sweet & Savory Dressing Recipes
Unlike their store-bought counterparts, these sweet & savory dressings aren't laden with excessive added sugar. Instead, I sweeten them naturally with a little bit of honey.
Honey Mustard Dressing
Readers love this healthy salad dressing recipe, and it's not hard to see why. It's sweet, tangy, lightly creamy, and made with 7 basic ingredients. Try it on this Green Bean Salad or as a dipping sauce for French fries.
Chipotle Honey Vinaigrette
This sweet and smoky vinaigrette works great as a dressing for a taco salad. I also love it on grilled and roasted sweet potatoes.
15 Healthy Salad Dressing Recipes
This Cilantro Lime Dressing is one of our favorite healthy salad dressing recipes!
Ingredients
Make it creamy (optional):
1

avocado or ½ cup plain whole milk Greek yogurt
Instructions
In a food processor, place the cilantro, garlic, lime juice, maple syrup, coriander, and salt and pulse to combine. With the blade running, pour in the olive oil and process until smooth.

Make it creamy (optional) - Blend with 1 avocado or ½ cup plain whole milk Greek yogurt.