These healthy muffin recipes include blueberry muffins, banana muffins & more! Made with wholesome ingredients, they're moist, fluffy, and delicious.
The next time you're in the mood for an easy baking project, roll up your sleeves and try one of these healthy muffin recipes! They include a recipe for every classic muffin you can think of – blueberry, banana, zucchini, chocolate chip, and more – but they're all made with wholesome ingredients like whole wheat flour, almond flour, Greek yogurt, and maple syrup. Still, they deliver everything you want in a muffin, healthy or otherwise. They're moist, tender, puffy, and lightly sweet. Two (or three) for me, please!
Before you get to baking, here's a tip: all these healthy muffin recipes freeze perfectly. I like to make a double batch and enjoy one or two right away. Then, I freeze the extras. They'll keep for up to 3 months in the freezer, and I love to have them on hand for a quick, comforting breakfast or snack. To thaw one, just pop it in the microwave for about 30 seconds. Now…to the recipes!
Very Berry Healthy Muffin Recipes
Swap in frozen berries when fresh ones are out of season.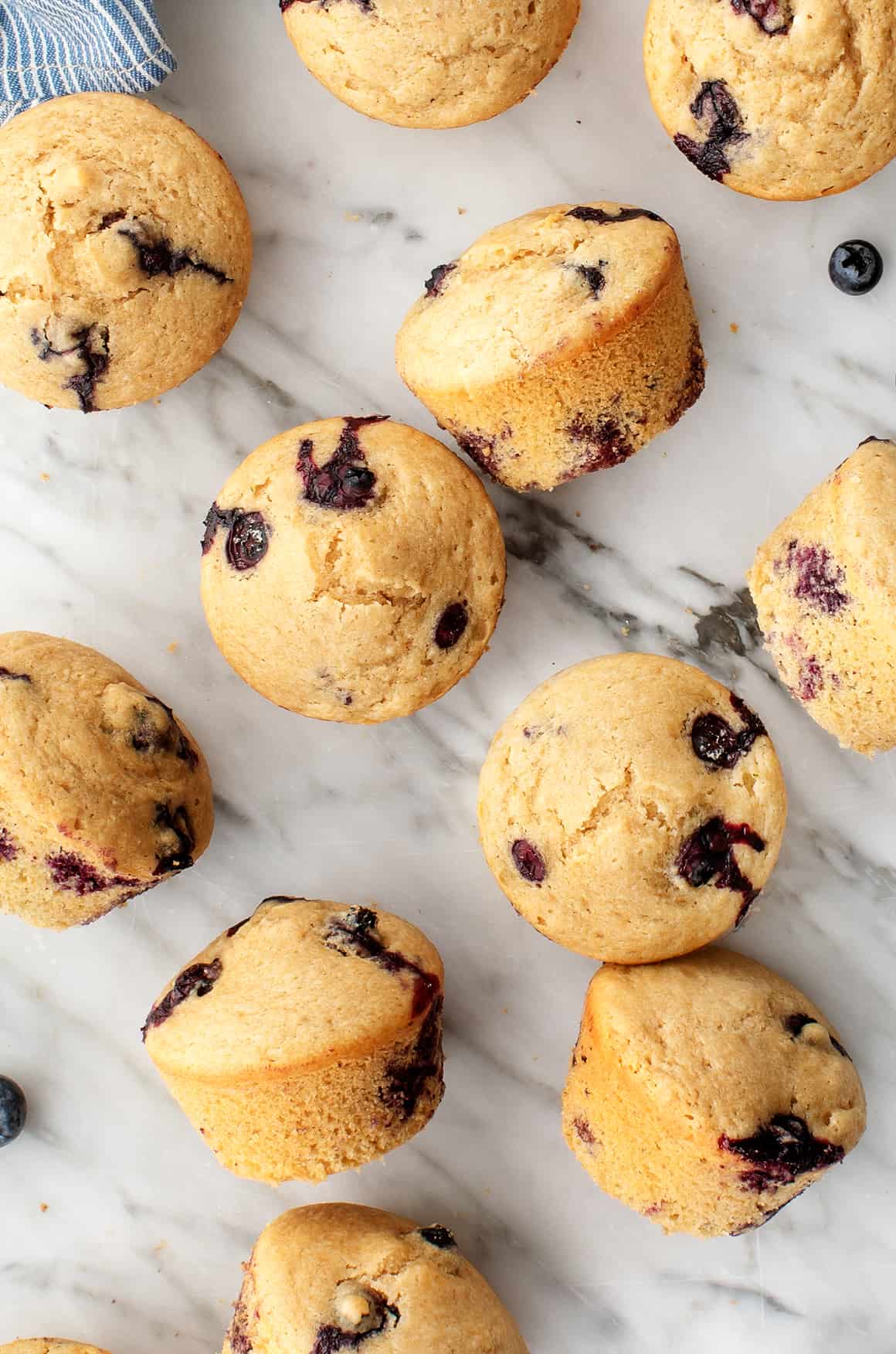 Blueberry Muffins
These healthy muffins aren't the jumbo, super-sweet treats you might imagine when you think of blueberry muffins. Instead, they're small, soft, and puffy, perfect for breakfast or a snack.
Strawberry Muffins
These muffins are some of my favorites on this list! Sweet, juicy strawberries fill every bite.
Extra-Moist and Tender Muffins
Ok, to be clear, all of these muffins are tender and moist. But these two healthy muffin recipes are especially so, thanks to the help of two key ingredients: banana and zucchini.
Healthy Banana Muffins
Love banana bread? Then you'll flip for these healthy muffins! They're amazingly moist, sweet, and packed with spiced banana flavor. Use a flax egg to make them vegan.
Zucchini Muffins
The best way to eat your veggies! These healthy muffins are a hit with both kids and adults.
Healthy Muffin Recipes for Chocolate Lovers
Chocolate for breakfast? Yes, please!
Chocolate Chip Muffins
Many bakery-style chocolate chip muffin recipes call for sour cream. Here, I replace it with a healthier swap: Greek yogurt! It gives the muffins a delicious moist texture and helps them puff up as they bake.
Double Chocolate Zucchini Muffins, page 269 of The Love & Lemons Cookbook
To make these ultra-chocolatey muffins, you'll mix cocoa powder into the batter and fold in chocolate chips. So what makes them healthy (ok, healthy-ish)? Whole wheat flour, pure maple syrup, and, of course, zucchini!
Warm and Cozy Muffins
These healthy muffin recipes are my go-tos throughout the fall and winter. I love to make them on chilly mornings, when nothing sounds better than warming up with a freshly baked muffin and a hot cup of coffee or tea.
Apple Cinnamon Oat Muffins, page 57 of Love & Lemons Every Day
I make these muffins with a mix of oat flour, almond flour, and arrowroot starch, which makes them super soft and tender…and totally gluten-free!
Pumpkin Muffins
Pumpkin spice lovers, this one's for you! The pumpkin puree gives these muffins a perfect moist and fluffy texture.
Bright and Zesty Healthy Muffin Recipes
Break out the lemons and limes! These healthy muffin recipes are bright and fresh.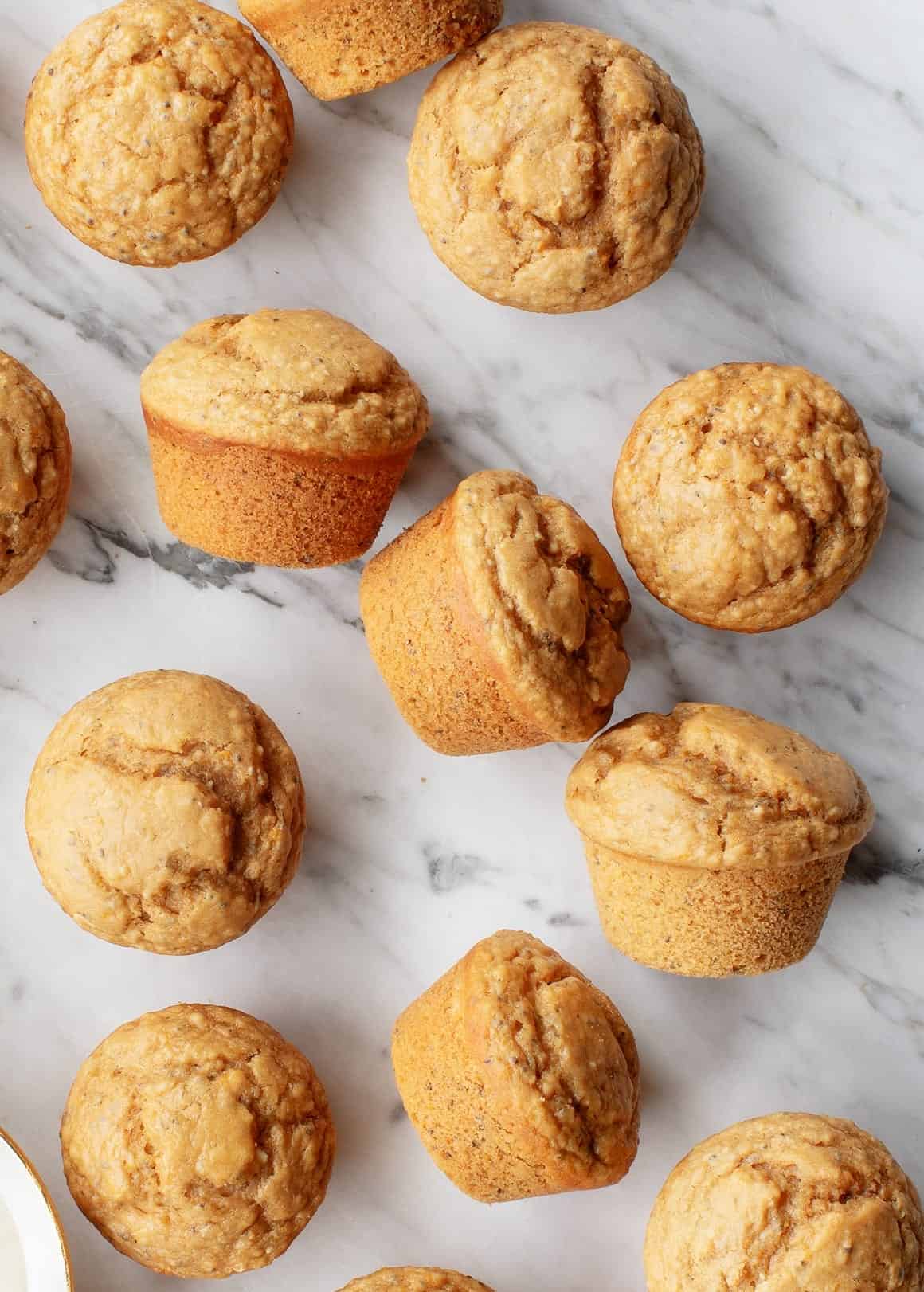 Vegan Lemon Muffins
We all love lemon poppyseed muffins, but I'd like to make the case for these lemon chia seed muffins, too. They're bright and flavorful, thanks to Meyer lemon juice and zest, and the chia seeds add a delicious, delicate crunch. Serve them with a cold glass of almond milk for crave-worthy breakfast or snack!
Mango Coconut Muffins
These vegan muffins are bursting with the flavors of mango, coconut, and lime. We love to make them for a fun, fresh breakfast treat.
Healthy Muffin Recipes: Blueberry Muffins
These blueberry muffins are one of our favorite healthy muffin recipes!
Ingredients
1½

cups + 2 tablespoons

whole wheat pastry flour*

an additional 1/2 teaspoon flour to dust the blueberries

½

cup + 2 tablespoons

almond flour

1

tablespoon

aluminum free baking powder

½

teaspoon

cinnamon

½

teaspoon

salt

1

cup

unsweetened almond milk

¼

cup

extra-virgin olive oil,

or any neutral oil

½

cup

cane sugar

1

teaspoon

vanilla extract

1

teaspoon

lemon oil

,

optional

1¼

cups

blueberries

,

(fresh or frozen)
Instructions
Preheat the oven to 400°F and grease a 12-cup muffin tin.

In a medium bowl, combine the flours, baking powder, cinnamon, and salt.

In a large bowl, vigorously whisk together the almond milk, olive oil, eggs, sugar, vanilla, and lemon oil, if using.

Dust the blueberries with ½ teaspoon flour and toss to lightly coat them. This will prevent them from sinking to the bottom of the muffin cups.

Pour the dry ingredients into the bowl of wet ingredients and stir to combine. Gently fold in the blueberries. Use a 1/3-cup measuring cup to scoop the batter into the muffin cups. Bake for 17 minutes or until the muffin tops spring back to the touch.
Notes
*Or a 50/50 mix of all-purpose and whole wheat flour.