Make lunch count! Read on to find healthy meal prep ideas and easy meal prep recipes that will make you look forward to lunch each day.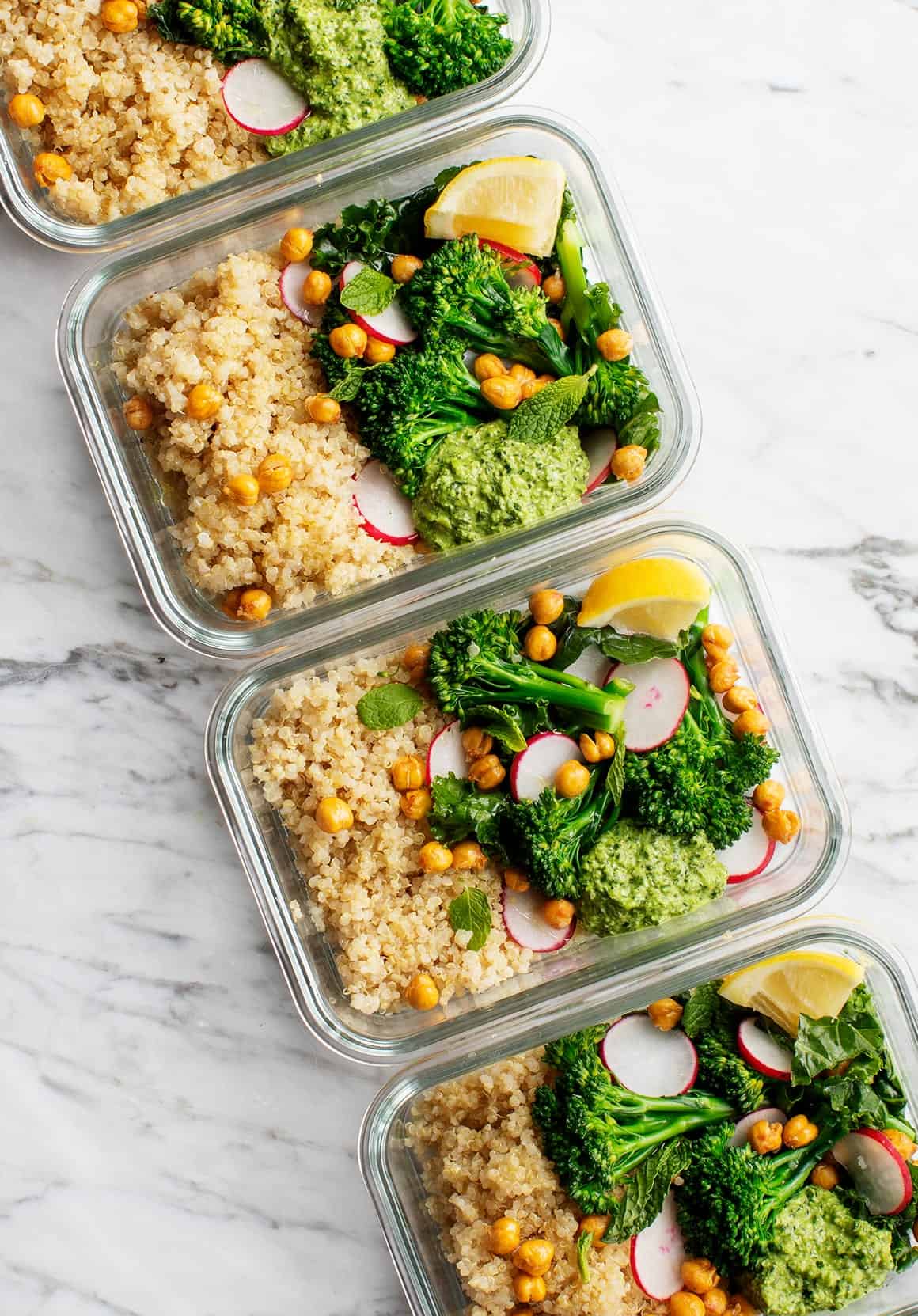 Meal prep is all the rage these days, and for good reason! When I worked in an office, the lunches I packed were some of the healthiest meals I'd eat in a week. They were full of fresh veggies, they kept me from eating out, and they were satisfying enough to prevent me from getting too snack-y in the middle of the afternoon. In short, they helped me save money and kept me eating healthy. What's not to love?
Today, I'm sharing the meal prep ideas, tricks, and tips I picked up from my years of packing lunches, plus a whole slew of healthy meal prep recipes. Whether you're new to healthy meal prep or are a seasoned pro looking for new meal prep ideas, I hope you find some lunchtime inspiration!
Sturdy Salad Meal Prep Ideas
My favorite category of weekday lunch. We're talking pasta salads, noodle salads, slaws, leafless salads, and, of course, kale salads. Vegetables and noodles that hold up well (or even improve) when dressed ahead of time are ideal here.
Bowl Meal Prep Ideas
Essentially salad's heartier cousin. My favorite bowls consist of a grain, a protein (chickpeas, lentils, baked tofu, etc.), plenty of raw + cooked veggies, and a yummy sauce. Top with nuts, seeds, herbs, or something pickled for extra texture and pops of flavor.
Sandwich and Wrap Meal Prep Recipes
Sandwiches and wraps can get a bad rap as a less-than-healthy lunch, but if you fill them with plenty of fresh veggies and plant-based protein, they can be a great take-to-work choice. Veggies with a hearty spread, chickpea salad, or planks of baked tofu or tempeh are all great vegan filling options. If you're not vegan, a little cheese can go a long way in adding flavor and staying power to a sandwich.
Meal Prep Ideas for Leftovers
Last but not least, leftovers(!) are a great lunch to take to work. Many soups, stews, and curries taste better on the second day, so you'll do yourself a favor by making a meal plan ahead of time and setting aside a serving for lunch. Loaded veggie pizzas and veggie patties also keep well.
Let me know what your favorite meal prep ideas are!
Looking for more meal prep recipes?
Try packing overnight oats in a Mason jar for breakfast, or check out these healthy recipes for  breakfast, lunch, and dinner!
Healthy Meal Prep Ideas - Broccoli Quinoa Bowls
These broccoli quinoa bowls are a great packable meal!
Ingredients
1

bunch broccolini

,

cut into pieces

3

large kale leaves

,

chopped (about 3 loose packed cups)

Juice of ½ lemon

,

more to taste

2

cups

cooked quinoa

1

3 red radishes

,

thinly sliced

½

cup

fresh leafy herbs

,

ie, mint, basil, and/or dill

1

batch Roasted Chickpeas

1

batch Lemony Pea Pesto

Sea salt and freshly ground black pepper
Instructions
Prepare a large pot of salted boiling water and a large bowl of ice water. Drop the broccolini into the boiling water and blanch for about 1 minute, or until tender but still vibrant green. Transfer the broccolini to the ice water and let it cool for 1 minute. Drain and set aside to dry as you make the other components. Alternatively, you can

roast the broccoli.

Place the kale into a large bowl and drizzle with olive oil, salt, pepper and a squeeze of fresh lemon juice. Massage the leaves until they soften and wilt down.

Divide the quinoa among 4 glass storage containers. Add the kale, radish, herbs and broccolini. Season with drizzles of olive oil, squeezes of lemon juice, and sprinkles of salt and pepper. Add the roasted chickpeas and top with dollops of pesto.