11 healthy lunch ideas that pack well for work! You'll look forward to lunch with these yummy veggie bowls, salads, sandwiches, soups, and more!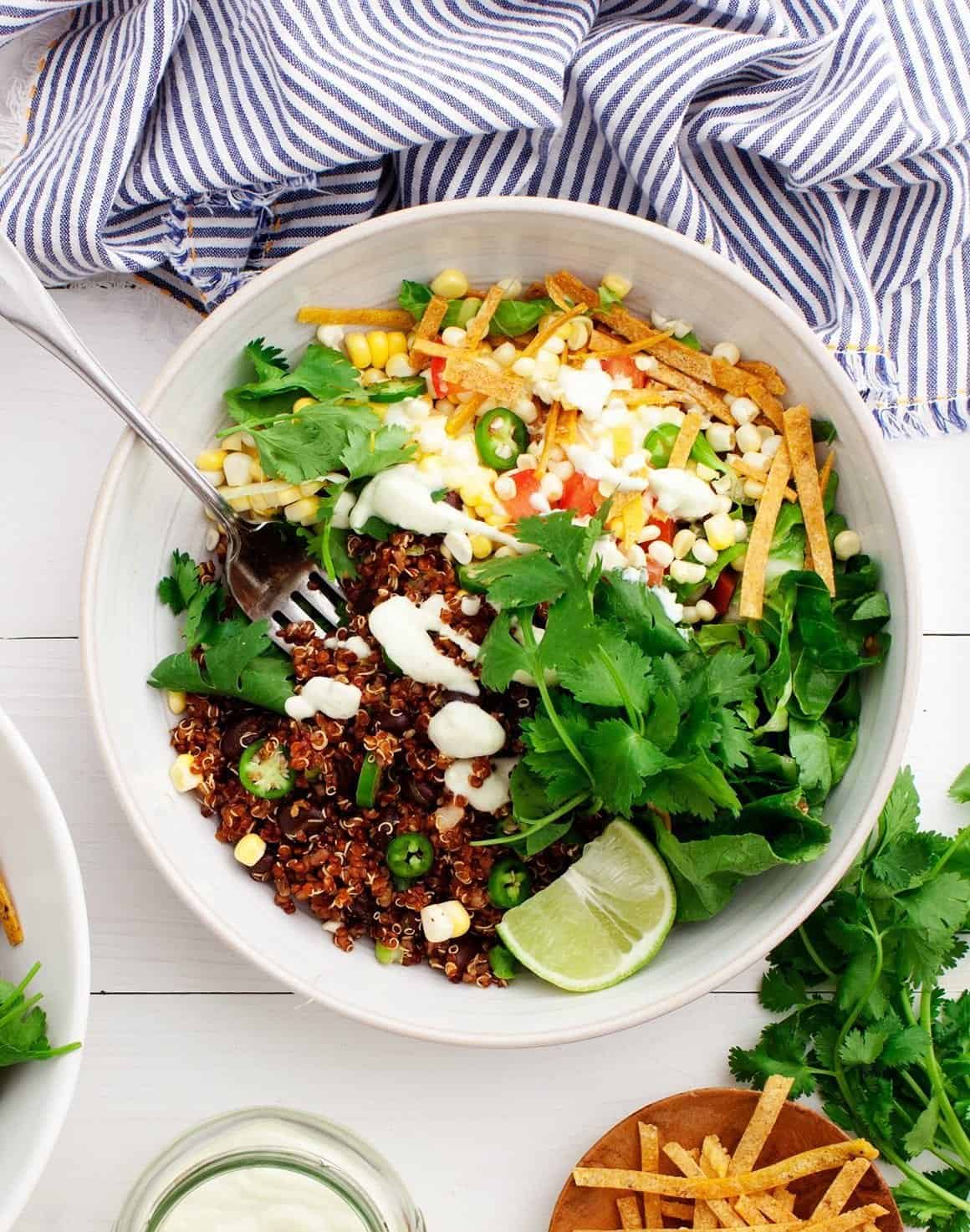 I think lunch is the most important meal of the day. Ok, that's not true, I think ALL meals are the most important meal of the day, and it's a rare day that I would skip breakfast, lunch, or dinner because when one is over, all I can think about is the next!
When I worked in an office, the lunches that I packed were the best lunches I'd eat that week. They were the meals that kept me on a healthy track because when 12pm rolls around and you're starving, it's easy to go out and grab the closest unhealthy thing. So here are a few of my favorite healthy lunch ideas! And because I get so many questions about food storage, these snapware glass containers are my go-to for keeping food fresh.
To go to each recipe, click directly on the photos. And if you have any favorite healthy lunch ideas, let me know in the comments!
Bowl Lunch Recipes
With a little meal prep, bowls can be excellent make-ahead lunch ideas. Make and assemble the components ahead of time, and then dig in at lunchtime!
Pictured above:
Taco Salad with Jalapeño Ranch
This recipe has a base of spiced quinoa and black beans. The taco toppings are customizable – if you're packing lunch for multiple days, use finely chopped kale instead of romaine lettuce. The creamy cashew sauce will last about 4 to 5 days in the fridge.
Pictured below:
Spring Broccoli Pesto Quinoa Salad
I realize it's not spring, but quinoa, chickpeas, and broccoli are all available year round, and the pesto in here is made with frozen peas. Plus, eating this in the winter will make it feel like spring?
Broccoli Tahini Pasta Salad
With broccoli, green beans, zucchini noodles, and sun dried tomatoes in a creamy mayo-less tahini sauce, this pasta salad is mostly veggies. It's really healthy if you use brown rice pasta!

Rainbow Bowls with Almond Ginger Dressing
All of the vegetables here (and there are a lot of them) are good packable ones. Because the creamy, tangy almond ginger dressing soaks in nicely, this recipe is even better on the second day.

Roasted Delicata Squash Kale Salad
While there's nothing better than squash roasted just out of the oven, I was pleasantly surprised by how much I loved having these leftovers for lunch. You may want to pack the sauce separately.

Easy Power Lunch Bowls
More bowls (last one, I promise) and more kale! I love this bowl because the combination of sweet potatoes, chickpeas, and kale is a hearty enough to get you through the day. Those little meatball-looking things are veggie balls – I love them, but you can toss in whatever protein you want here.

Soup Healthy Lunch Ideas
Soups are my favorite healthy lunch recipes because they pack up well and always always taste better on the second or third day. Just reheat when you're ready to eat!

Pictured above:
Zucchini & Sweet Potato Noodle Minestrone
It's fun to eat the vegetable "noodles" in this recipe, but if you don't have a spiralizer, just chop the sweet potato and zucchini. It's delicious either way.
Pictured below:
Vegan "Cheesy" Broccoli Soup.
Full of cheesy, tangy goodness, this soup is great on a cold day. You can keep the croutons in a separate baggie so they don't get soggy, or just skip them if you're low on time or space.

Sandwich and Wrap Healthy Lunch Recipes
Obviously, sandwiches and wraps make excellent lunches. Find three of my favorites below, along with tips for packing them up and taking them on the go!
Spinach Hummus Lunch Wraps
I made these for our flight to France earlier this year (which we missed…), but we enjoyed these wraps nonetheless. I purposely didn't put tomatoes or avocado in them so that they wouldn't get soggy or messy while traveling. Wrap these in foil, and they can withstand being tossed in your bag (or in our case, an Uber ride to the airport and then directly home… sigh).

Tempeh Vegan Club Sandwiches
Here's one of my favorite healthy lunch ideas for when I'm in a sandwich mood. This one can be a little messy, so I wouldn't pile it quite so high as what I have in the photo. I would also wrap it well with foil. If you haven't tried tempeh, you'll love this meaty, smoky sandwich filling. It's sure to keep you full till dinnertime!

Chickpea Salad Wraps with Avocado Dill Sauce
Pack the chickpea filling separately from the lettuce leaves and assemble these at your desk. Because the chickpea filling is so good on its own, you can even skip the pickled onions and the sauce if you want to!

If you love these healthy lunch ideas…
Check out our Healthy Breakfast Ideas, Easy Dinner Ideas, Dinner Meal Prep for Two, or Healthy Lunch Meal Prep Ideas next!
Healthy Lunch Ideas
These taco bowls are one of my favorite easy, healthy lunch ideas.
Ingredients
Spiced Quinoa
2 cups cooked red quinoa
1 cup cooked black beans, drained and rinsed
2 teaspoons extra-virgin olive oil
1 tablespoon lime juice + ½ teaspoon zest
1 teaspoon chili powder, more to taste
¼ teaspoon smoked paprika, more to taste
¼ teaspoon maple syrup
½ teaspoon sea salt
Freshly ground black pepper
3 scallions, chopped
Topping Choices
6 cups shredded romaine lettuce
Kernels from 3 medium ears of corn
2 tomatoes, diced, lightly salted
1 avocado, pitted and diced
1 cup chopped cilantro
Baked tortilla strips
Lime slices, for serving
1 jalapeño, stem and ribs removed, sliced (optional)
Instructions
Make the Spiced quinoa: In a medium pot, combine the quinoa, black beans, olive oil, lime juice, lime zest, chili powder, smoked paprika, maple syrup, salt, and several grinds of black pepper. If desired, heat until warmed through, then stir in the scallions. This can also be served cold.
Assemble the bowls with the romaine, Spiced quinoa, corn, tomatoes, avocado, cilantro, tortilla strips, and jalapeños, if desired. Drizzle with the Cucumber Jalapeño Ranch dressing. Serve with the lime slices and extra sauce.