I've never loved baked potatoes. I know… that's hardly the way to begin a baked potato post. In my world (growing up), they came 2 ways: On our dinner table – plain with just a bit of margarine (sorry mom!)… and at the Yorktown Mall food court – those giant sour-cream-piled ones that seemed like a heart attack on a plate. (Which, by the way, were considered the "healthy" option because they were baked not fried! Gotta love the midwest in the 90's).
The kind that wasn't an option? This kind… baked sweet potatoes stuffed with black beans, a little bit of cheese (which is optional), toasted pumpkins seeds for crunch, and a big dollop of creamy chile-spiced greek yogurt. Healthy comfort food at it's finest (and easiest).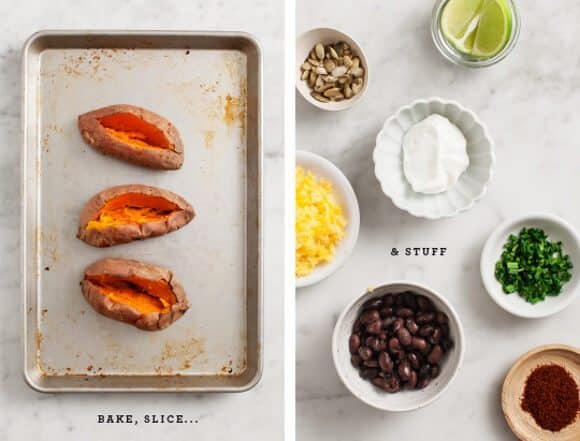 There are no ingredient measurements here – use this as inspiration and stuff to your own heart's desire! I had these cute mini potatoes which were the perfect serving size for a simple dinner (well, 1 for me, 2 for Jack)… if your potatoes are larger you may want to cut them in half. I'm currently using J.R. Watkins chili powder, and it's awesome.
healthy loaded sweet potatoes
Ingredients
sweet potatoes
cheddar cheese (optional)
black beans
toasted pumpkin seeds
greek yogurt + lime + salt + chile powder
(vegan sub: chipotle cashew cream or avocado cream)
chives
Instructions
Preheat oven to 400 degrees.
Poke holes into your sweet potatoes and bake them on a baking sheet (don't wrap them in foil), for about 40-45 minutes or until they're fork tender.
Remove from the oven. Slice them open, and scoop out a little bit to make room for your stuffing. (I also gently mash a little bit of the inside with the back of my fork).
Optional step: Sprinkle cheese on top and pop them back in the oven (I switch to broil) for a few minutes for the cheese to melt.
While you wait for your cheese to melt, mix together greek yogurt with a squeeze of lime, salt and a bit of chile powder. Taste and adjust, making it as spicy/tangy as you like.
Stuff with black beans, spicy pumpkin seeds, and top with chile-spiced greek yogurt.
Sprinkle some chives on top, dust with extra chile powder, and dig in.