This easy 7-ingredient granola recipe is a delicious healthy snack or quick breakfast. It not only tastes delicious, but it smells amazing while it cooks!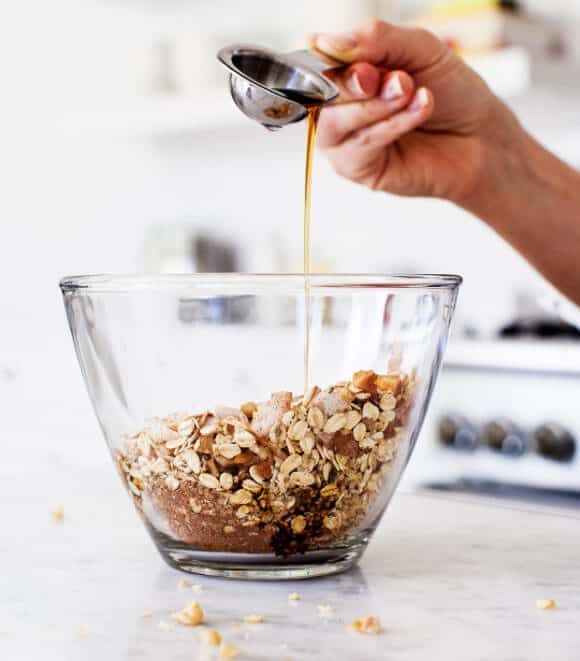 This is my go-to healthy granola recipe. Packed with oats and nuts and naturally sweetened with maple syrup, it's a great way to get fiber and healthy fats into your first meal of the day. Even better, it clumps well! I add a tablespoon of almond butter to bind the components together, so you get plenty of delicious nutty clusters. I like to make it on Sunday and have it on hand for yogurt parfaits throughout the week!
While we don't have kids that are going back to school this week, I'm starting to think more and more about healthy make-ahead breakfast ideas. You know – to send to work with my big kid (Jack) in hopes that one day he might start skipping the greasy breakfast tacos & processed Costco bagels that are usually waiting for him at the office. With a warm-spiced, coconut-y flavor and an addictive crunchy texture, this homemade granola recipe may have won him over.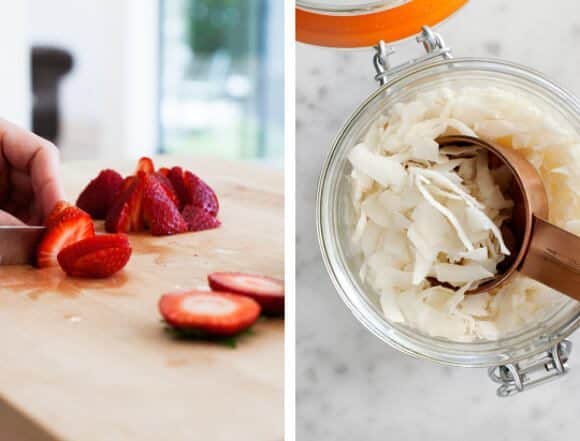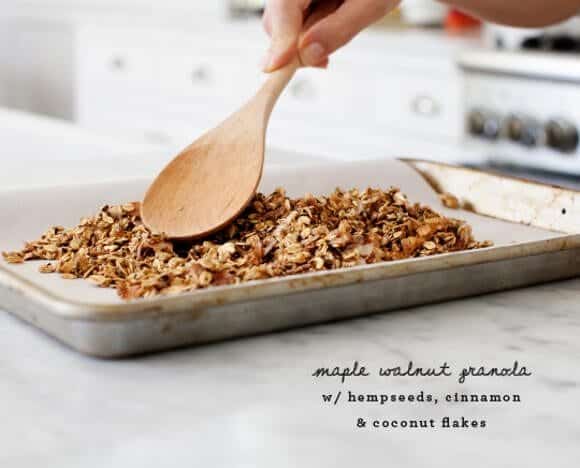 Healthy Granola Ingredients
My basic granola recipe calls for 7 simple ingredients:
Oats. Be sure to use whole rolled oats (not instant oats), and if you're gluten-free, look for Certified Gluten-Free Oats that haven't been processed in a factory containing wheat.
Walnuts. Feel free to use any nut you have on hand. Walnuts are my favorite, but almonds or pecans are delicious too.
Cinnamon. Once this granola is in the oven, the cinnamon in this recipe will make your kitchen smell amazing!
Sea Salt. I add a pinch to highlight the sweet, nutty flavors.
Maple Syrup. Unlike white or brown sugar, maple syrup gives the oats and nuts a deep, caramelized sweetness.
Coconut Oil. This helps toast the nuts & oats as they bake. I like to use unrefined coconut oil for a coconut-y taste. If you don't like the flavor of coconut, use refined coconut oil instead.
Almond Butter. We all love granola clumps, right? The almond butter in this recipe makes it wonderfully clumpy!
Healthy Granola Recipe Variations
Homemade granola is flexible, so feel free to play with this recipe. Here are a few ideas for changing it up:
Swap the walnuts for your favorite nuts and seeds. Almonds, pecans, pistachios, sunflower seeds, pepitas, hemp seeds, or a mix would all be excellent.
After your granola cools, add mix-ins! Stir in chia seeds, chocolate chips, dried cherries, or your favorite dried fruit.
Spice it up! I love the cinnamon here, but other warm spices, such as cardamom, ginger, nutmeg, or allspice, would be good additions too.
Let me know what variations you try!
This granola is great on its own as a healthy snack, but it's also delicious with fruit & milk. Alternatively, layer it into parfaits with berries and yogurt for a quick, nutritious breakfast.
If you love this homemade granola recipe…
Try my overnight oats, baked oatmeal, quinoa breakfast bowl, or oatmeal breakfast cookies next!
Healthy Granola
This is my go-to healthy granola recipe! Enjoy it on its own as a healthy snack, or eat it for breakfast with fruit, milk, or yogurt!
Ingredients
1 cup whole rolled oats*
¼ cup chopped walnuts
¼ cup coconut flakes, optional
1 teaspoon cinnamon
¼ teaspoon sea salt
1 tablespoon melted coconut oil
2 tablespoons maple syrup
1 tablespoon creamy almond butter
fruit and yogurt, for serving
Instructions
Preheat the oven to 300°F and line a baking sheet with parchment paper.
In a medium bowl, combine the oats, walnuts, coconut flakes, if using, cinnamon, and salt. Drizzle in the coconut oil and maple syrup and add the almond butter. Stir until combined. Scoop the granola onto the baking sheet and press the mixture into a 1-inch-thick circle. This will encourage clumping.
Bake for 15 minutes, rotate the pan halfway, and use a fork to gently break the granola apart just a bit. Bake for 15 minutes more, or until golden brown. Let cool for 15 minutes before serving.
Notes
*If you're gluten-free make sure you get oats that are labeled as Certified Gluten-Free. Oats are often processed in factories with gluten, so it's important to look for that label.