These are our favorite healthy dinner recipes! Creamy White Bean Shells, Butternut Enchiladas, Sweet Potato Noodles, Lentil Bolognese & more!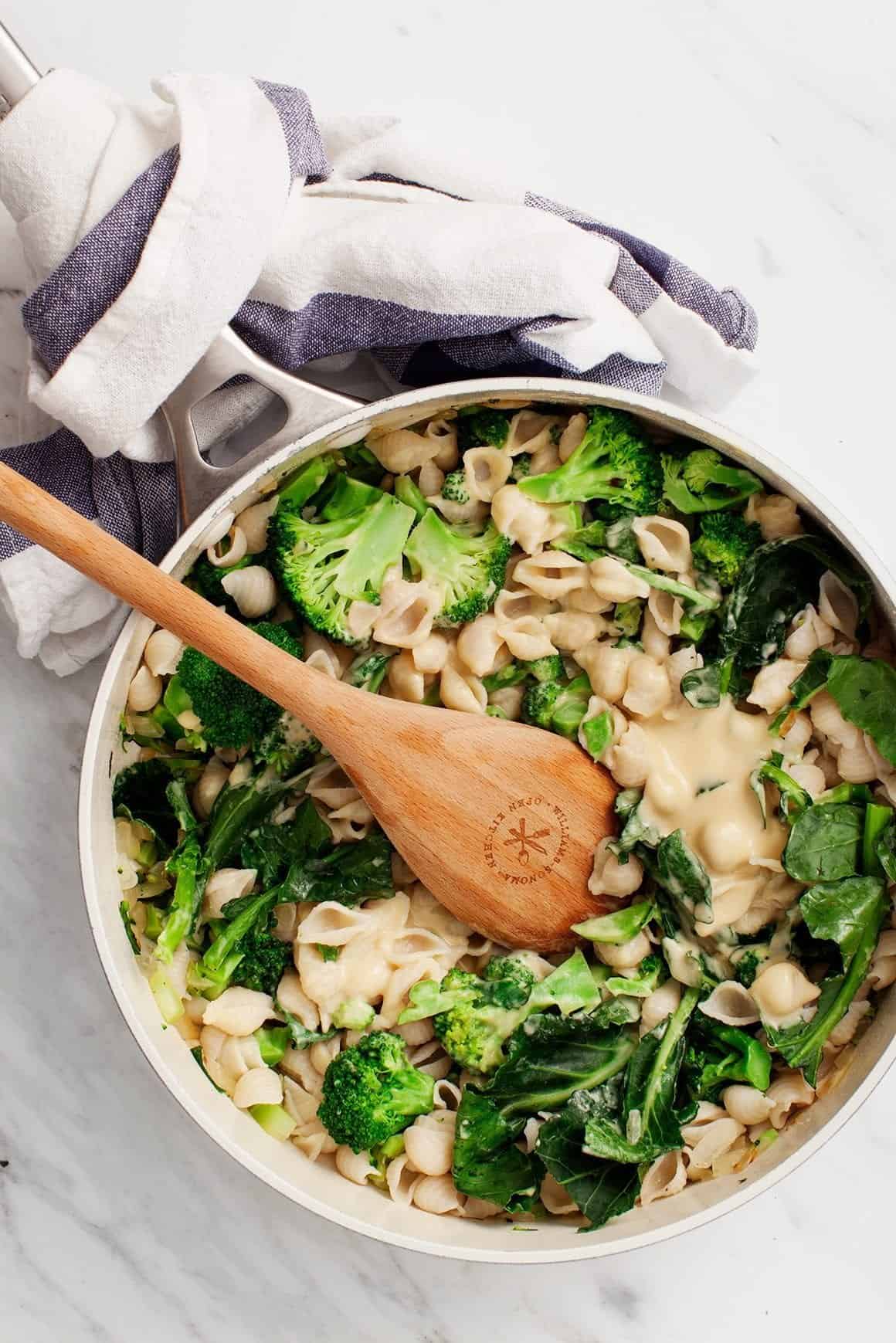 Of all of the recipes on this blog, these are the healthy dinner ideas that we come back to over and over again! These dinner ideas are all easy to pull off, making them perfect for easy weeknight cooking. They all happen to be vegetarian, but they're SO filling and delicious.
Our Favorite Dinner Recipes:
Creamy White Bean Shells with Broccoli (pictured above)
The title kind of says it all – this recipe includes an easy lemony white bean puree that's made with ingredients that you probably have in your pantry right now. Pour it over brown rice pasta shells and tons of sauteed broccoli.
Sweet Potato Noodles with Garlic & Kale
If you got a spiralizer for Christmas, now's the time to break it out! Noodle some sweet potatoes and toss them in a pan with tons of kale and garlic for a quick veggie-packed dinner. If you don't have a spiralizer, this recipe would be great with spaghetti squash in place of the sweet potato noodles.
Butternut Squash & Black Bean Enchiladas
One of my favorite vegetarian dinner recipes from our cookbook, these enchiladas are perfect to eat for dinner when it's cold outside. They're stuffed with roasted butternut squash and black beans and they're topped with a smoky chipotle tomato sauce that will take you only a few minutes to stir together. Make these quicker by roasting the butternut squash in advance!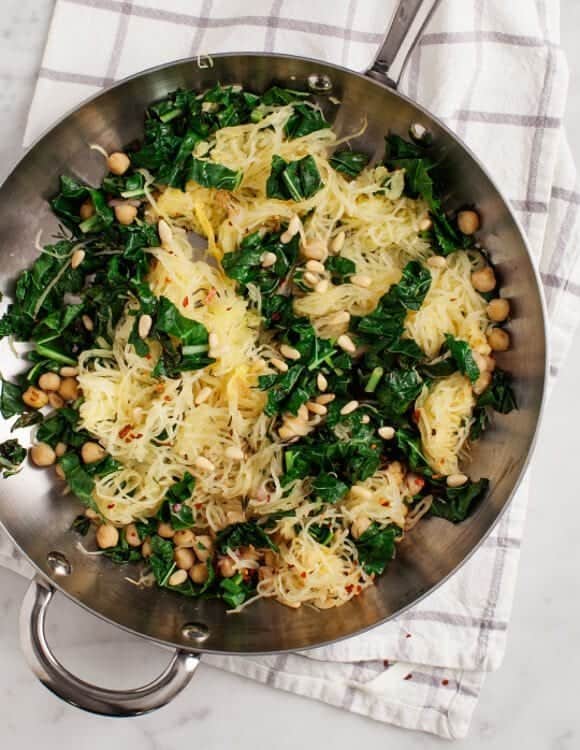 Spaghetti Squash with Chickpeas & Kale
Sun-dried tomatoes give this vegan spaghetti squash recipe a savory pop. Hearty from chickpeas & kale, it's a great fall or winter weeknight dinner recipe.
Herb & Garlic Mushroom Pasta
This is one of my favorite recipes of all time. It's such an easy vegetarian dinner recipe, whether you're vegetarian or not. If you love mushrooms, you HAVE to make this pasta dish. Even though it seems very simple, it's big on flavor because mushrooms and tarragon are a match made in heaven. A touch of cashew cream with Dijon mustard makes it just a little creamy and oh so luscious.
Crispy Butternut Squash & Poblano Tacos
Ok, if I had to pick TWO favorite recipes from 2017 this may be my second favorite. That butternut squash looks fried, but looks can be deceiving – it's coated with crispy hemp seeds and panko and baked. The creamy poblano sauce takes these tacos over the top.
Vegan "Cheesy" Broccoli Soup
Based on how many times I've seen this one tagged on Instagram, I'm assuming that this creamy broccoli soup is a fan favorite. Traditional cheesy broccoli soup is so very unhealthy, but my version packs a ton of vegetables and is husband-approved.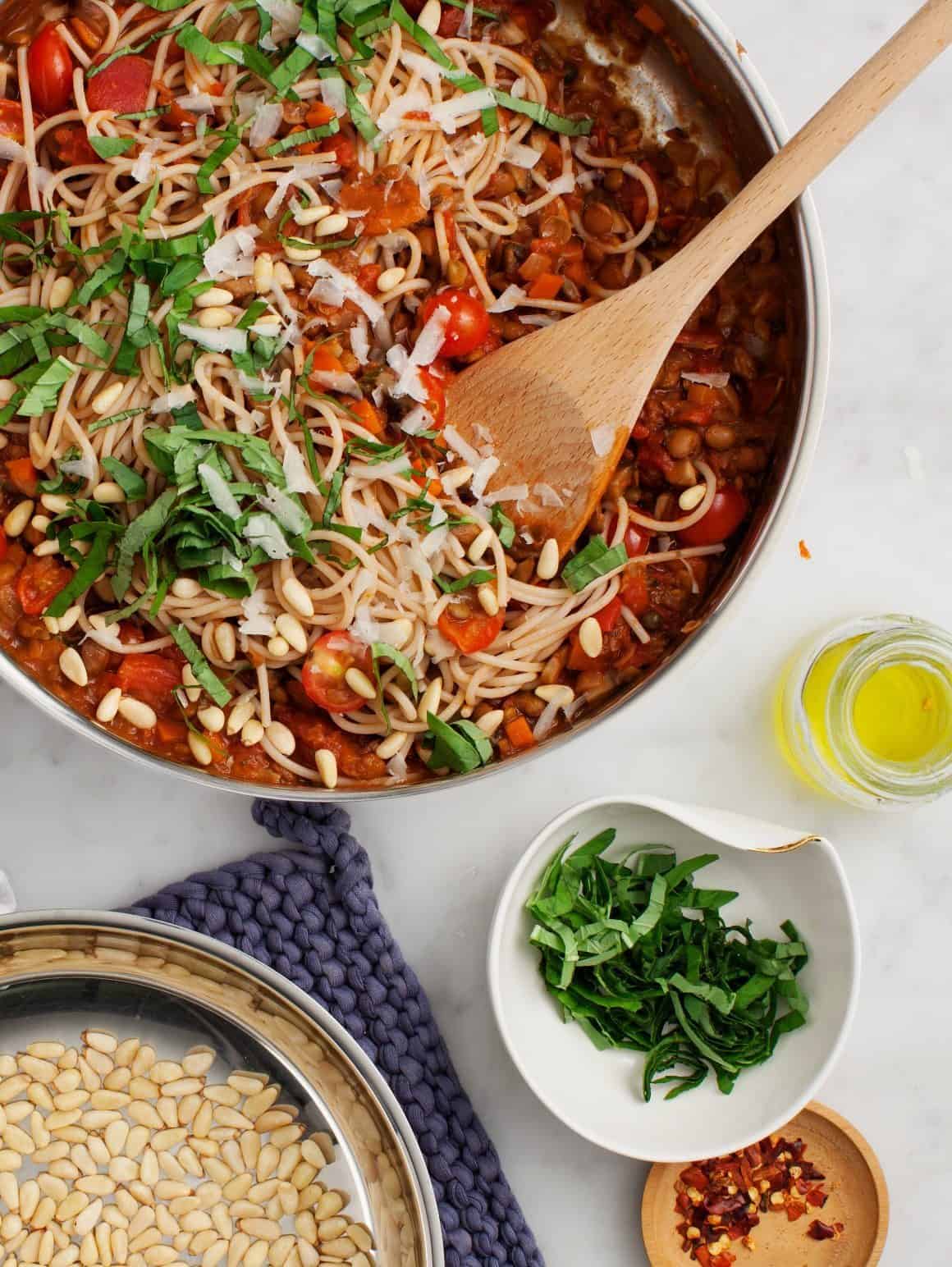 Mushroom Lentil Spaghetti "Bolognese"
A super hearty pasta made with lentils and mushrooms instead of meat! This one is a crowd favorite when it comes to vegetarian dinner recipes.
Sustenance Sweet Potato Stew
If you're trying to eat more vegetables in 2018, here's a great place to start. This stew packs 4 cups of sweet potatoes, 3 cups of broccoli, 4 cups of swiss chard, among other things. What's amazing about this recipe is that it all fits in one pot 🙂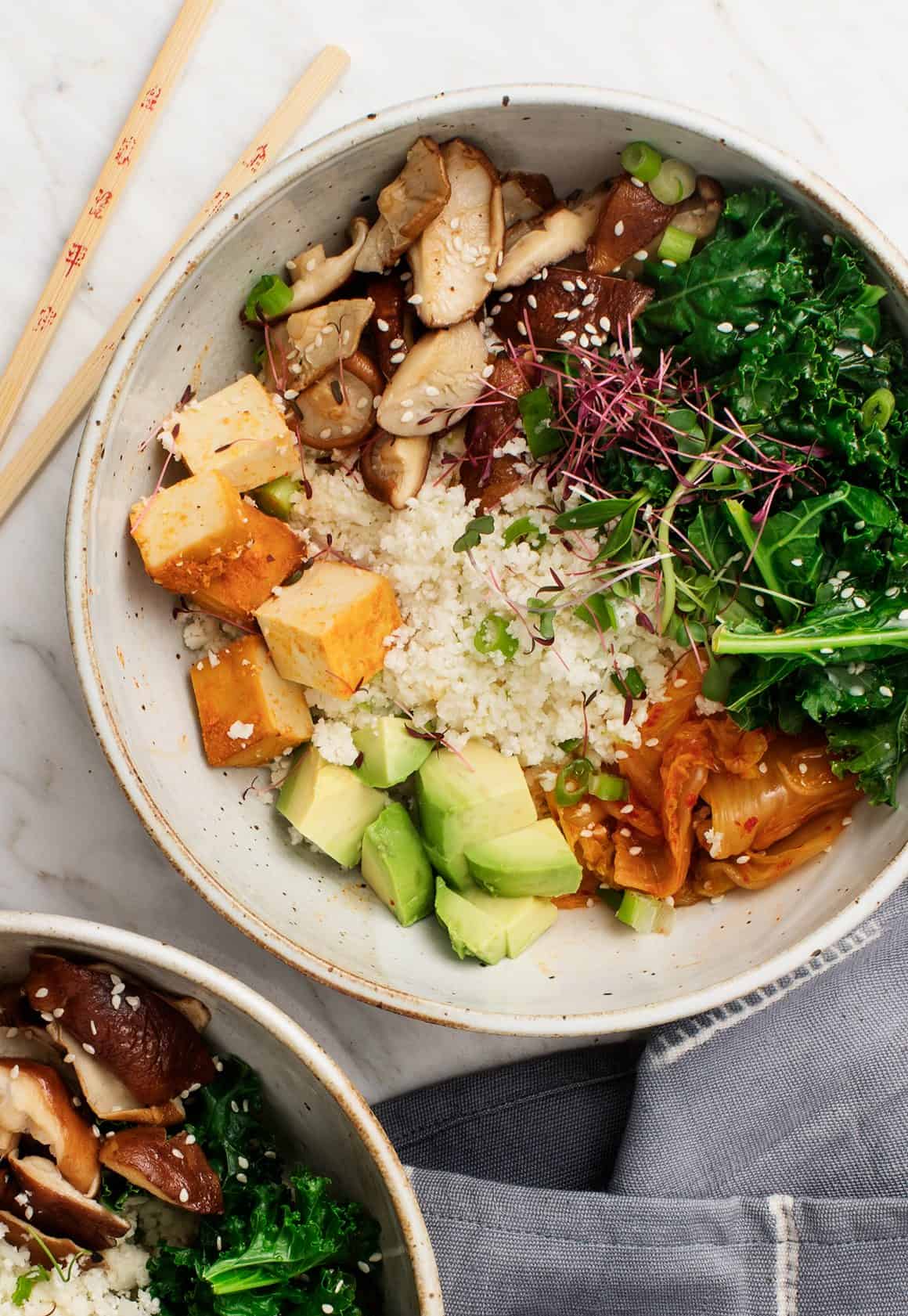 Cauliflower Rice Kimchi Bowls
Bowls of fluffy cauliflower rice are topped with tofu, veggies, kimchi, and a creamy coconut sauce make a fun, healthy weeknight dinner. One of my favorite cauliflower rice recipes!
Easy Dinner Recipes:
Stuffed Baked Potatoes, Many Ways
For those nights when you really don't want to cook much – these stuffed sweet potatoes are the best! They're all fast and easy to make, but each variation is packed with flavor.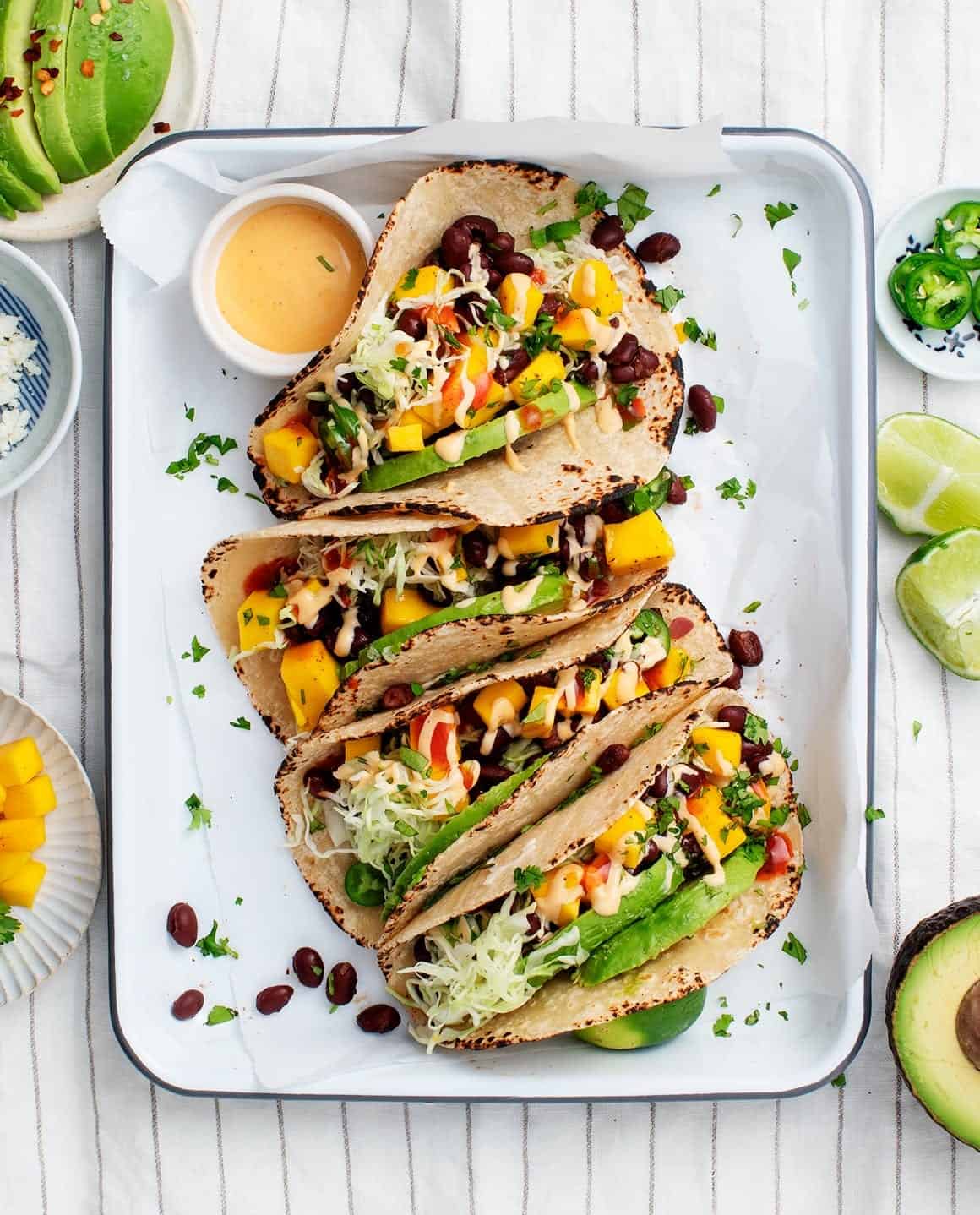 Spicy Mango, Black Bean & Avocado Tacos
What's more fun and more simple than mango tacos? Almost nothing. Serve these sweet & spicy little guys for a crowd-pleasing weeknight dinner.
Quick Dinner Ideas:

Vegan Pesto Pasta
This quick and easy pesto pasta is a delicious vegetarian weeknight dinner made with tangy kale pesto and peppery arugula.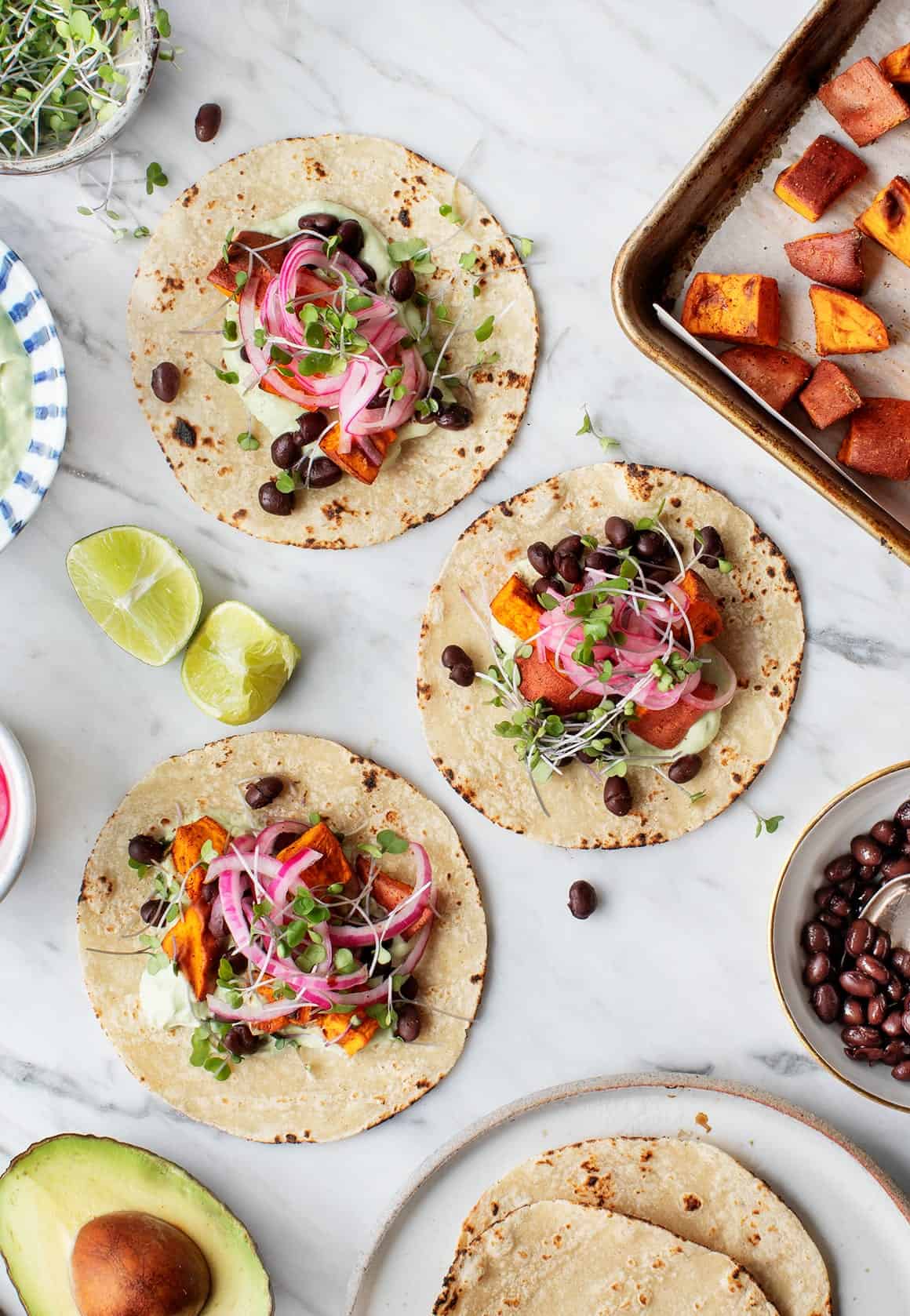 Avocado Sweet Potato Tacos
These simple chili-spiced avocado sweet potato tacos, topped with creamy avocado-yogurt lime sauce, make a delicious vegetarian dinner.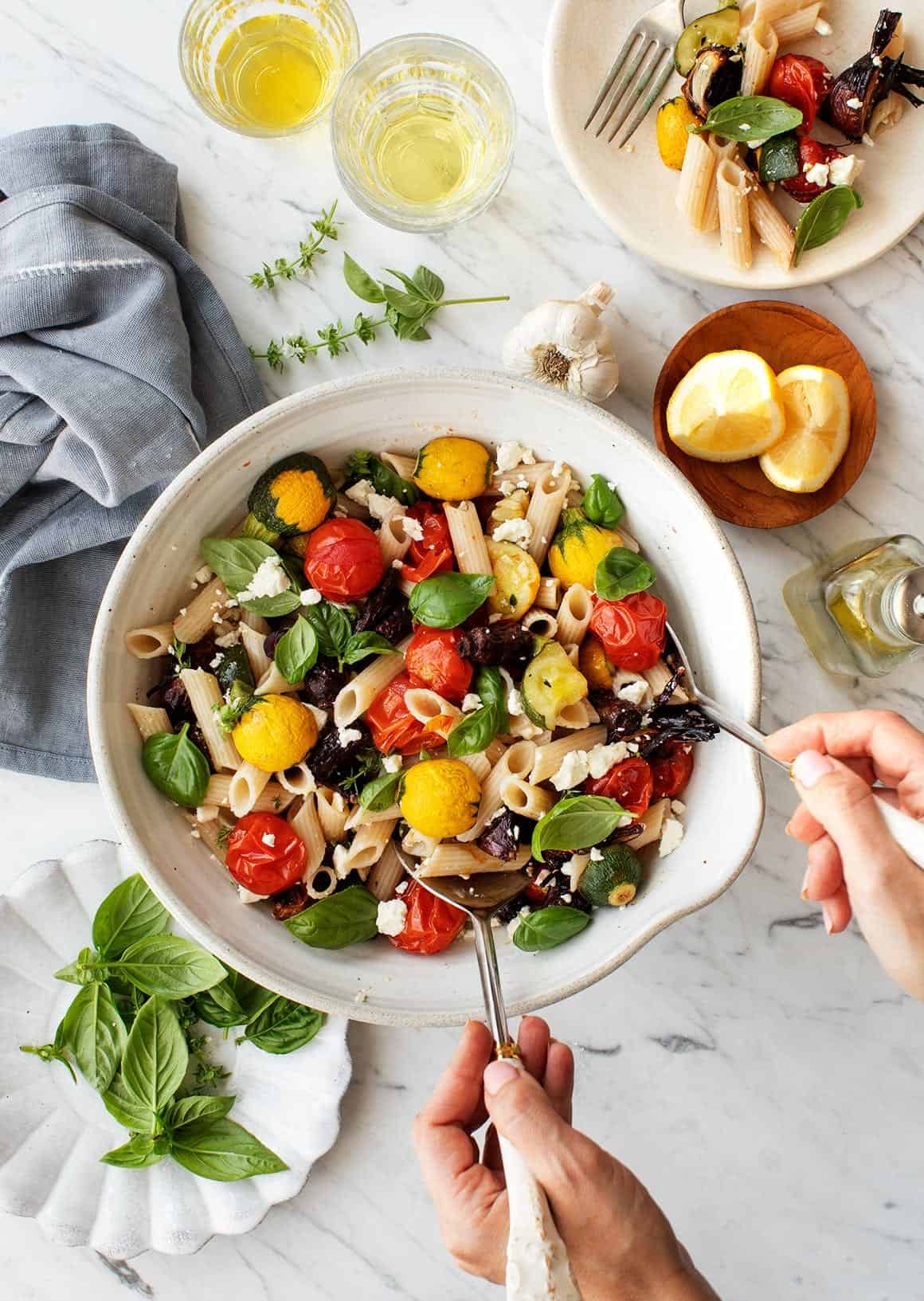 Many-Veggie Roasted Vegetable Pasta
Make this flexible roasted vegetable pasta with whatever veggies you have on hand! I used zucchini, tomatoes, onions, carrots & plenty of herbs.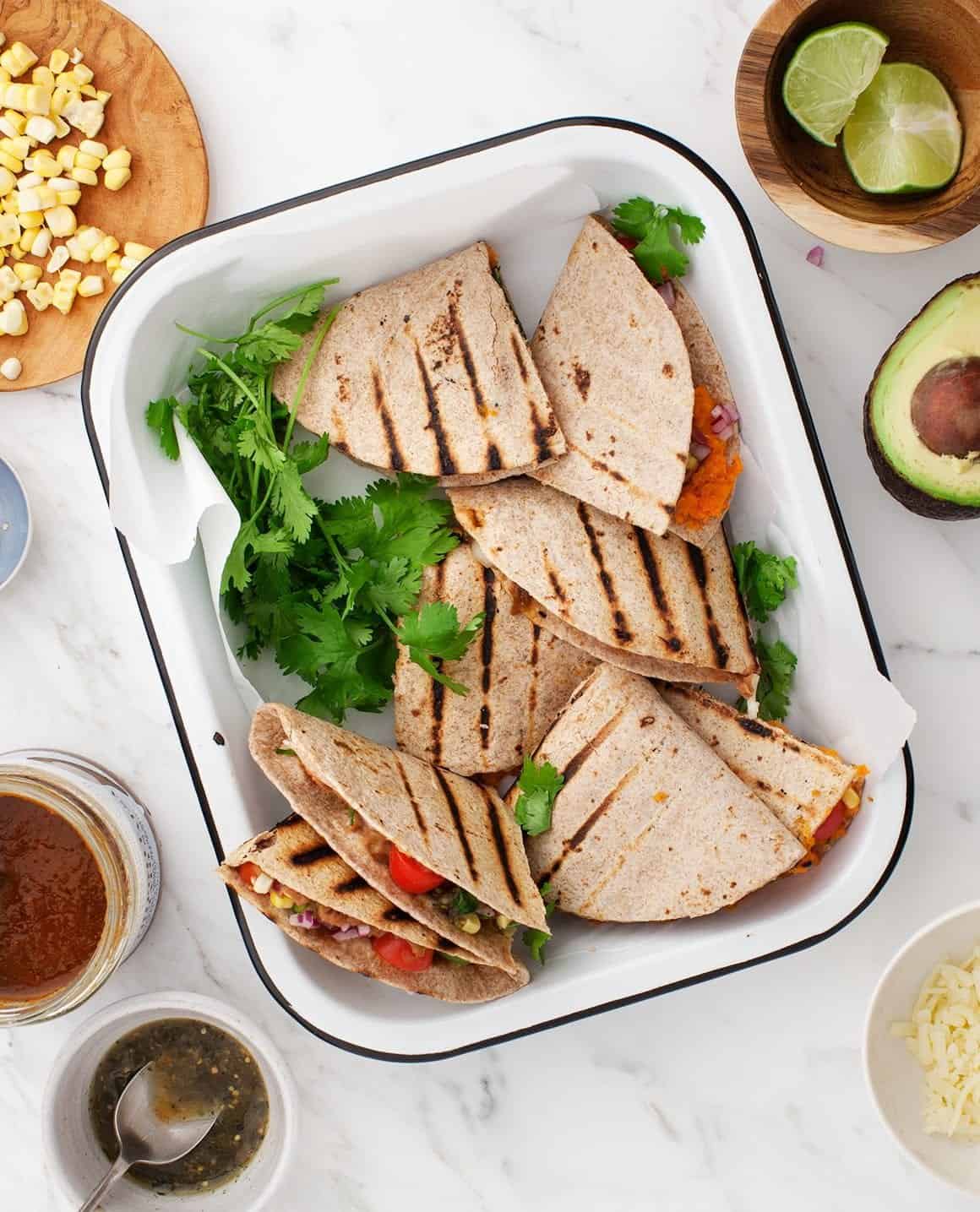 Mix & Match Veggie Quesadillas
Short on time? Make a veggie quesadilla for dinner! This recipe gives you fun mix & match vegetarian quesadilla filling ideas for healthy, quick meals.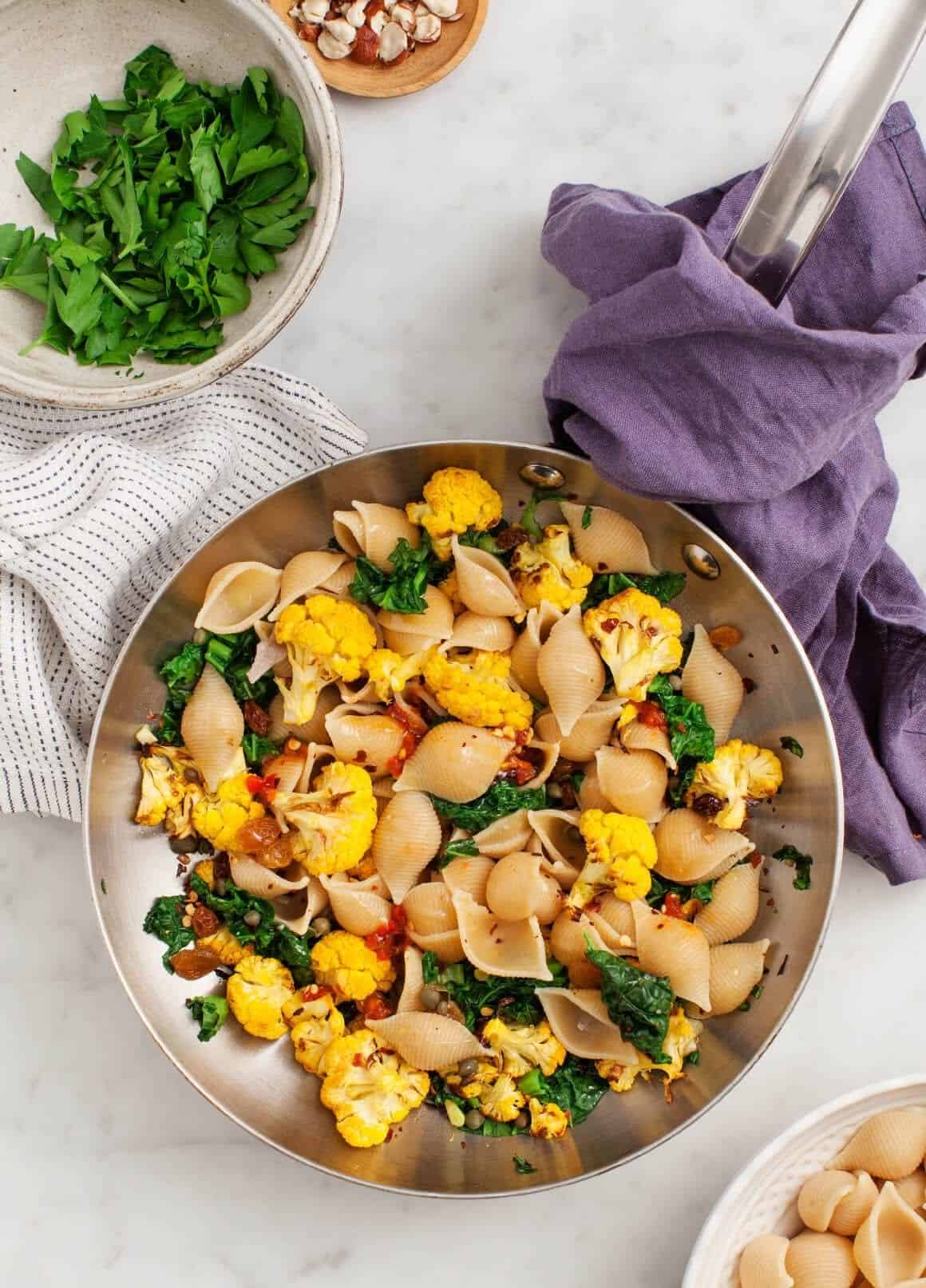 Shells & Roasted Cauliflower
This surprisingly sweet & savory pasta is one of my favorite easy cauliflower recipes. Try it once, and it'll stay in your weeknight dinner rotation.
For more healthy dinner ideas, check out the main dish tab in our recipe index.
Healthy Dinner Recipes
One of my favorite healthy dinner recipes: Creamy White Bean Shells
Ingredients
2½ cups small shell pasta
1 tablespoon extra-virgin olive oil
1 small yellow onion, chopped
5 cups broccoli florets, chopped stems, and leaves (keep stems separate)
¼ cup toasted pine nuts
lemon wedges, for serving
For the white bean sauce:
1 (14.5-ounce) can cooked white beans, drained and rinsed
¼ cup vegetable broth, more as needed
3 tablespoons fresh lemon juice
2 tablespoons extra-virgin olive oil
¼ cup nutritional yeast*
1 garlic clove, minced
¼ teaspoon onion powder
½ teaspoon sea salt
freshly ground black pepper, to taste
Instructions
Make the sauce: In a blender, combine the white beans, broth, lemon juice, olive oil, nutritional yeast, garlic, onion powder, salt, and pepper, and blend until smooth. Set aside.
Bring a large pot of salted water to a boil. Prepare the pasta according to the instructions on the package, cooking until al dente. Drain and set aside.
Heat 1 tablespoon of olive oil in a large skillet over medium heat. Add the onion and sauté until soft, about 5 minutes.
Stir in the chopped broccoli stems and cook for another 3 to 5 minutes or until tender. Add the broccoli florets and leaves and a splash of water or vegetable broth. Cover and turn off the heat.
Allow the broccoli to steam for 2 to 3 minutes or until tender but still bright green. Add the pasta, then stir in ¾ of the sauce, adding more broth if the sauce is too dry.
Season to taste with more salt, pepper and lemon juice, as desired, and portion into bowls. Divide the remaining sauce onto each bowl. Top with the pine nuts and serve with lemon wedges on the side.