These healthy green breakfast tacos are my favorite breakfast to make at home. Fresh & light, they're easy to make, but they're packed with flavor.
If you asked everyone in Austin where they get their favorite breakfast tacos, you'd get a different answer from every person. Austinites have opinions about breakfast tacos like Chicagoans have opinions about pizza. Since I moved to Austin a number of years ago, I've eaten more breakfast tacos than I could ever begin to count – most I've loved (some I haven't) but after all that, my favorite place to have them… is at home. For 2 reasons:
First, I like to eat breakfast right when I wake up, so I usually don't have the patience to even run down the street to get tacos in the morning.
Second, I can make my version however I want – which means goodbye greasy tacos, and hello tons of veggies. The base of these tacos is a very green egg scramble that's filled with green peppers, green onion, arugula, and a scoop of fresh yellow tomato salsa. My breakfast tacos are fresh, healthy, and lighter than anything you'd find at a restaurant or truck.
And speaking of things that are green – this post is in collaboration with GreenPan, which is my favorite type of cookware to use to make scrambled eggs. Years ago, I got rid of all of my scratchy Teflon pans and switched to the non-toxic GreenPan. I get tons and tons of use out of mine – especially for eggs, pancakes, and generally any foods that I don't want sticking to the bottom of my pan. The slick ceramic surface also means that I can get away with using less oil in my cooking, so these chemical-free pans are a must-have in my opinion. 
I have this set, which is super versatile, and the white & blue color combo is just so pretty.
How to Make Breakfast Tacos
The first step to this breakfast tacos recipe is to make the salsa. It's a quick, fresh salsa that takes just a few minutes to mix together. It can also be made the night before for quicker morning taco-making. Of course, if you happen to have tomatillo salsa or pico de gallo on hand, they'd be great here too.
Next, cook the veggies with a scoop of the salsa. I like to do this in a separate pan from my eggs, because I find it easier to judge the cooking times. Needless to say, GreenPan nonstick cookware is a breeze to clean up.
When the salsa and veggies are finished, I start cooking the eggs and stir in the vegetables halfway through. This might be a personal preference, but I like to take my eggs off the stovetop while they're still a little bit runny to keep them from overcooking while I assemble the tacos.
Once off the heat, I stir in a big handful of chopped leafy greens. I often go for spinach, but this time I had some great-looking arugula. I also tossed in some cilantro for good measure.
 Breakfast Tacos Recipe Variations
Assemble the tacos with more salsa, avocado, and a dash of pepper. I make my breakfast tacos dairy-free because I'm not a huge fan of eggs and cheese together, but if you're a cheese fan, feta or shredded cheddar would be great here. In addition, any tortillas are fair game. If you use corn tortillas, these tacos are gluten-free (check the label to make sure), but if you prefer flour tortillas, go ahead and use them! You could also swap a scoop of guac for the avocado, add a few pickled jalapeños for heat, or even toss in black beans for a heartier breakfast.
Enjoy!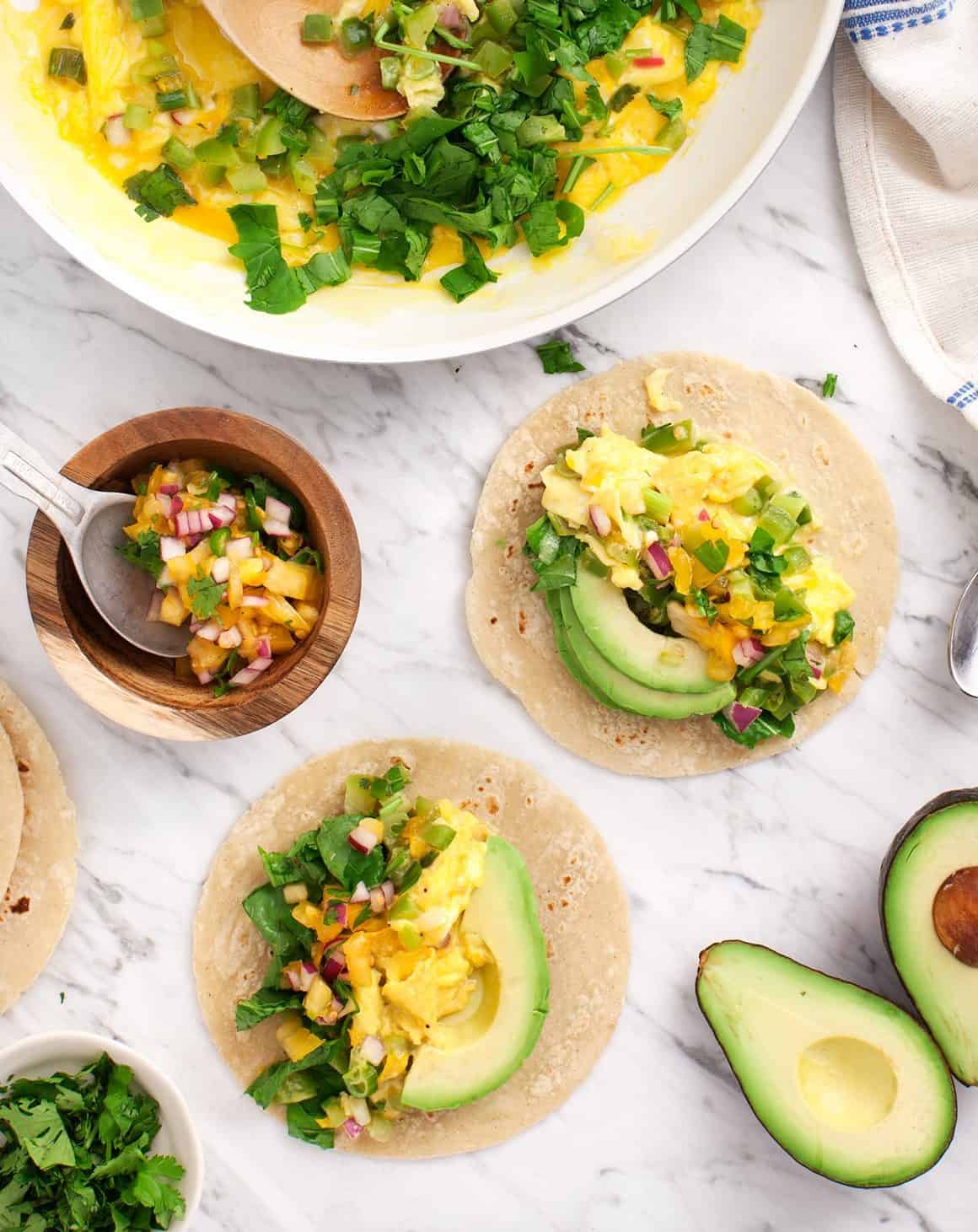 If you love this breakfast tacos recipe…
Try my breakfast burrito, frittata muffins, frittata, or breakfast casserole next, or check out this post for more healthy breakfast ideas!
Healthy Breakfast Tacos
You'll love making these healthy breakfast tacos at home. If you can't find a yellow tomato, a red tomato will work equally well in the salsa. Dairy-free and gluten-free with gluten-free corn tortillas.
Ingredients
Yellow Tomato Salsa
1 large yellow tomato, diced
3 tablespoons diced red onion
3 tablespoons chopped cilantro
½ to 1 serrano pepper, thinly sliced
1 garlic clove, minced
juice from ½ lime
¼ teaspoon sea salt
For the tacos:
1 green pepper, cored, stem removed, and diced
3 scallions, chopped
6 eggs, beaten
2 cups arugula or spinach, chopped
extra-virgin olive oil, for drizzling
sea salt and freshly ground black pepper
8 tortillas (corn, flour, wheat - whatever you like)
¼ cup chopped cilantro, more for garnish
1 avocado, sliced
lime wedges
Instructions
Make the Yellow Tomato Salsa: In a small bowl, combine the tomato, onion, cilantro, serrano, garlic, lime juice and salt. Chill until ready to use.
In a small nonstick skillet, heat a drizzle of olive oil over medium heat. Add the green pepper, scallions and a pinch of salt and pepper and sauté until lightly browned, about 5 minutes. Scoop a large spoonful of the salsa into the pepper mixture and stir. Remove from the heat and set aside.
Brush a large nonstick stick skillet lightly with olive oil and bring to medium heat. Add the eggs, let them cook for a few seconds and then stir. Add the green pepper mixture to the eggs. Continue to stir and scramble the eggs until just set. Remove from the pan from the heat while the eggs are slightly runny and stir in the arugula and half of the extra cilantro.
Assemble the tacos with the egg mixture, a scoop of salsa, the remaining cilantro and a few slices of avocado. Finish with a squeeze of lime and a pinch of salt and pepper, if desired. Garnish with cilantro and serve with lime wedges.
Special thanks to
GreenPan
for sponsoring this post. All images and opinions are my own.