My favorite fun & flavorful vegetarian main dishes, appetizers, and snacks for game day! Plenty of vegan and gluten-free options included.
It's game day week! Not that we're big sports fans, but I am a big fan of any day where it's perfectly acceptable to eat all of the spicy, salsa-smothered, avocado-filled foods that I crave. So I'm sharing my healthier versions of traditional party favorites that don't sacrifice in flavor because, well, foods like avocados, black beans, spicy peppers, and fresh salsa just taste good and are good for you!
The star of this nacho recipe is the oozy, smoky chipotle cauliflower "cheese." Yep, that's right, the queso you see pictured is actually a vegan, veggie-packed sauce made from cauliflower, potato, and cashews! Top it all with sweet & spicy pineapple salsa, and you'll see why this recipe is a fan favorite.
If you're hosting on Sunday, these BBQ Jackfruit Sandwiches would be great to prep ahead of time. Mix up the smoky, tangy chipotle BBQ sauce and sauté the jackfruit before your guests arrive. Reheat when you're ready to serve!
What's a game day celebration without guac? This easy kale version is just as delicious as the classic recipe, with the added nutritional benefits of hearty greens. A little lime, cilantro, cumin, and jalapeño boost the flavor here, making this a spicy, addictive dip!
These big, cozy sweet potato wedges smothered in vegan chili are what I'm craving this weekend. If you're not vegan, I recommend drizzling the tangy yogurt sauce on top, but if you are, the crunchy slaw and sliced avocado make a great topping on their own.
This recipe is a riff on my mom's old Tex-Mex dip recipe, which I loved growing up. This healthier version is every bit as crave-worthy, made with spiced quinoa, refried beans, guac, cashew cream, and plenty of veggies. Serve with tortilla chips, and dig in!
When I developed this recipe for the Superbowl last year, I took a big step out of my sweet potato comfort zone by using Russet potatoes. After I tried these crispy potato skins loaded with black bean salad, sunflower sour cream, and coconut bacon, I didn't look back. Healthier than your classic potato skin, but every bit as delicious.
These veggie quesadillas are a super simple, super fun game day dish! Quinoa gives them texture and extra protein, jack cheese binds them together, and tomatillo salsa makes them spicy and bright. Yum!
Never tried grilling avocados? This weekend's the time. Grill halves to charred perfection, and stuff them full of zesty veggie ceviche made of hearts of palm, tomatoes, red onion, cilantro, and serranos. If it's too cold for you to grill outside, you can grill up these avocados on a grill pan!
I love stuffed peppers, and I love all things mini, so of course I love these mini vegan stuffed peppers filled with cilantro lime rice & pineapple salsa. You can serve these peppers with smoky chipotle beans as a main course, but on their own, they'd be an adorable game day appetizer.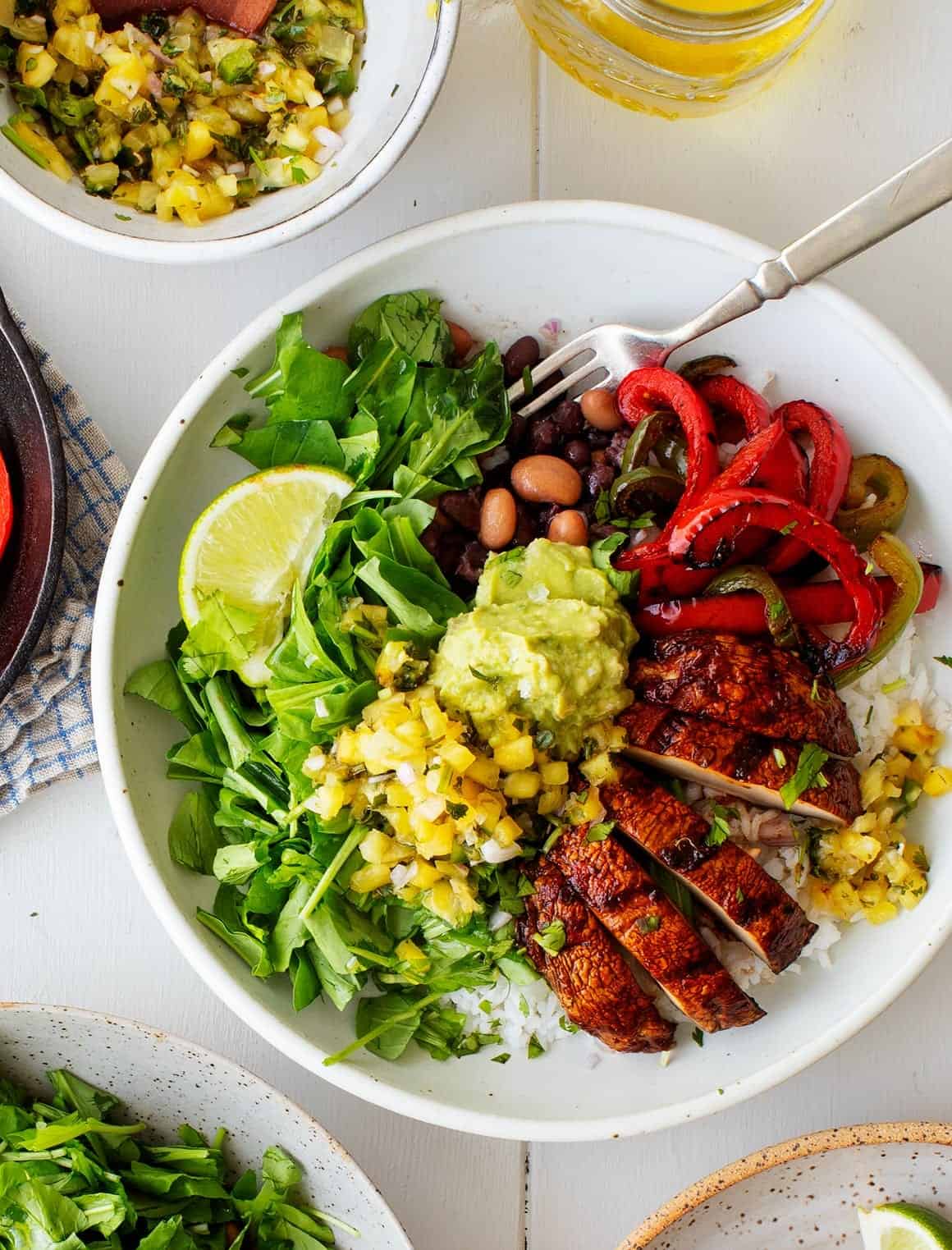 If you want to forget it's winter outside, make these bowls this weekend. They're incredibly easy to put together – just brush portobello caps with adobo sauce and grill them alongside sliced bell peppers. Pile your veggies into bowls with an easy guac, simple chipotle beans, and pineapple salsa for a fun game day meal.
These spicy mango tacos are SO fun and SO simple. Just stuff tortillas with mango, chili-spiced black beans, shredded cabbage for crunch, avocado for creaminess, and an irresistible 2-ingredient spicy mayo. You end up with sweet/tangy/spicy tacos that you'll want to make (and eat) again and again.
If you loved the cauliflower nachos above, you have to give this baked cheesy dip a try. To make it, blend together cauliflower, garlic, Greek yogurt, and Dijon. Your guests will never guess this creamy, tangy dip is packed with veggies!
There's a good reason this veggie burger recipe was one of the most popular on Love & Lemons in 2018. These burgers are savory, smoky, and hearty, made with portobellos and shiitakes, walnuts, brown rice, balsamic, tamari, and smoked paprika. Top them with your favorite fixings, and enjoy!
Happy Superbowl-watching, and stay warm!