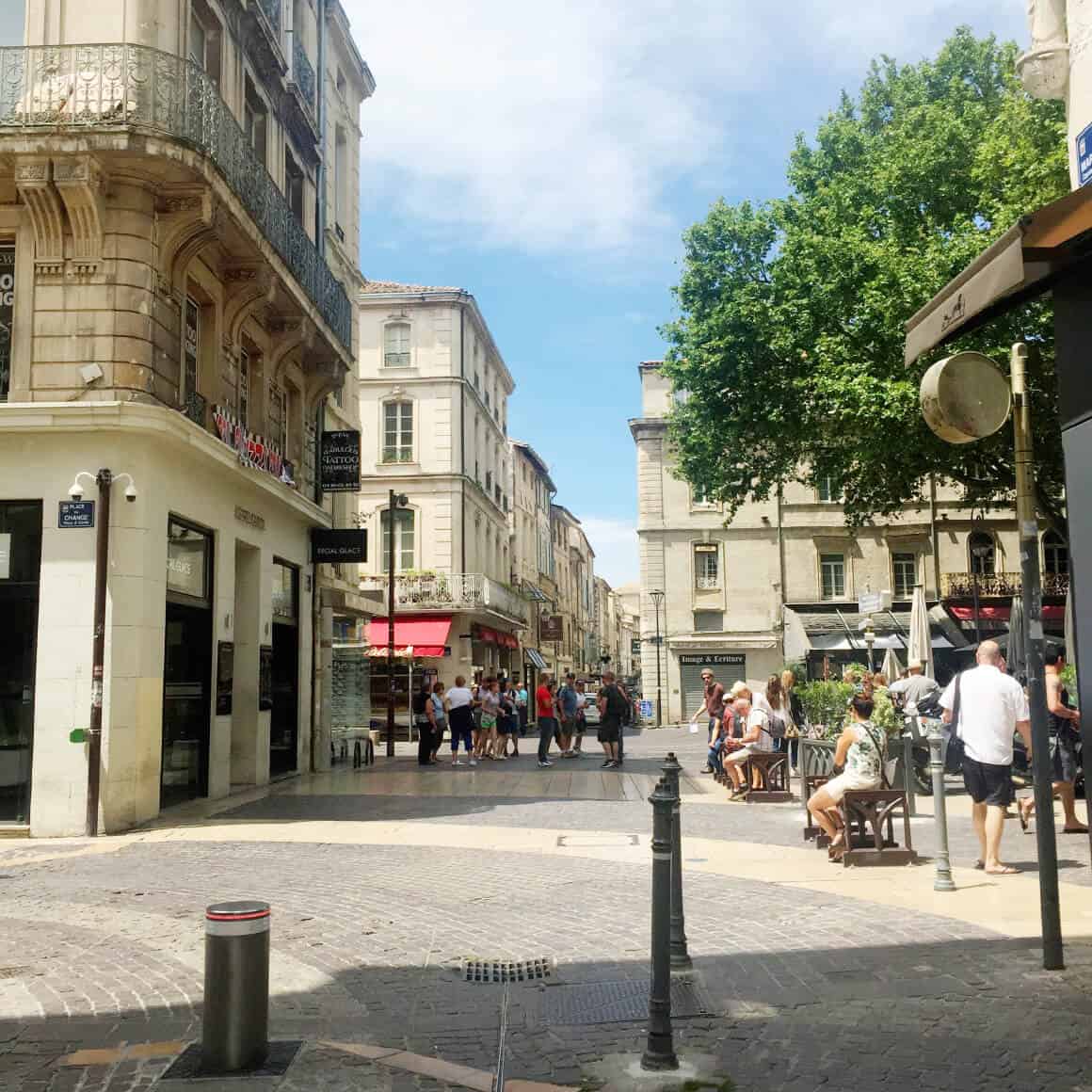 Last week, I spent a whirlwind 6 days in the Rhone Valley. I loved meeting many of the winemakers, hearing their stories, walking through the vineyards, and driving to the tops of (so many) peaks. There was so much to see in addition to the wine – olive trees, lavender, cherry trees, apricot trees, wild vegetables, and herbs growing everywhere. It's a heavenly place to visit if you love fruit, vegetables, and wines as much as I do.
All of the vineyards listed here are open daily for tasting. If you call in advance you can schedule a more personal tour or another activity (segway tour, picnic, etc). To get around in the Rhone Valley, I suggest you rent a car with a navigation system in Avignon.
Day 1:
I spent the morning on my own in Avignon, after arriving on train from Paris the night before. It's such a charming city that I had fun just wandering the streets. I walked through the Les Halles d' Avignon covered market before heading to brunch at L' Amuse-Bouche, a cute cafe that serves their food on shareable boards. I started my trip with croissants & chocolate mousse.
In the afternoon I took a tour of the Palais des Papes. I recommend getting the helpful audio guide, which is available in a few different languages.
In the evening, my guide drove me to Domaine des Peyre in Luberon. It's a gorgeous vineyard with 5 newly renovated apartment-style rooms and a beautiful infinity pool. I was surrounded by cherry trees, almond trees, and olive trees. My room had a view of the vines – it was basically heaven. We tasted the wines before the winemaker Patricia took me to her home for dinner where they served ratatouille – which I love – and apricot cheesecake with chocolate. I was pinching myself the entire time.
Day 2:
We visited Domaine de la Citadelle in Menerbes. The winemaker took us through his corkscrew museum (with over 1200 unique types of corkscrews!) After that, we visited his gardens (hike up a little bit and the view is amazing) and tasted the wines.
I then went to Cafe Fleurs for lunch. It's a lovely spot in the Isle sir la Sorge. Their menu changes seasonally – everything was delicious, especially the gazpacho with savory tomato sorbet. I skipped dessert but regretted it later when I took a photo of my guide Clemance's cake (pictured above) with lemon curd and strawberries. After lunch, we walked around the town and visited some of the many antique stores.
Later in the afternoon, we went to Vacqueyras to the Rhonea Winemakers club of Beames, Venise and Vacqueras wines. You can take a tour in a 4×4 of the nearby villages and vineyards (about 2 hours total). Because I'm a wimp, skipped that and drove straight to the top of Beaumes de Venise to taste the wines on top of the mountain.
Day 3:
After spending the night in Vaison la Romaine, I woke up and visited the big street market that takes place every Tuesday morning during the summer. Whenever I travel, visiting markets is one of my FAVORITE things to do and this one didn't disappoint. I took pictures of pretty vegetables and bought a few olive wood cutting boards.
We then drove to Domaine Rozel (one of my favorites). The family has been making wines for 22 generations! The winemaker Matthieu walked us through the vineyard showing us the farmhouse where he grew up as well as the lavender field, olive trees, wild asparagus, wild fennel, and wild honeysuckle. We were supposed cover this ground on Segways – but alas, I'm still a wimp, so we walked. Afterward we tasted wines – I especially loved their rose.
We had lunch at a cute cafe in the village of Valaurie. (I can't remember the name, but it was the only cafe you see see walking up to the village – pictured below).
After lunch, we had a tour of Suze la Rousse, a medieval chateaux which is now a wine museum and also a wine university. The photo below is the view from the castle. Driving in this area was one of my favorite parts of the trip because there are lavender fields everywhere.
Later that night, we drove further north to Tournon-sur-Rhône and stayed at Hotel de la Villeon which I LOVED. It's a very very nice boutique hotel in an 18th century building that was recently renovated. My room had a view of a castle, and we had dinner outside in the garden. They had a lovely breakfast in the morning too.
Stay tuned for more!
Special thanks to Atout France & Air France for sending me & to my new friends at Inter Rhone for taking me around!