These grilled tomato, mozzarella & herb pizzas are perfect for beautiful summer weeknights (+weekends, too)! Enjoy a healthy dinner in less than 30 minutes.
I really wanted this to be "every-herb-I-have-except-basil pizza." I've been on a bit of a basil kick lately and I really wanted to give some attention to the other herbs I have growing in the new garden. But the tomatoes I had were so pretty, I just couldn't bring myself to not match them up with basil. It would be like peanut butter without jelly… ketchup without mustard… or me without Jack (it's ok to groan, sorry).
Basil notwithstanding, I couldn't make up my mind on which other herbs to use, so I just went out and grabbed everything that looked good —  lemon-thyme, sage, parsley — chopped them all together and threw them on top of the finished pizzas.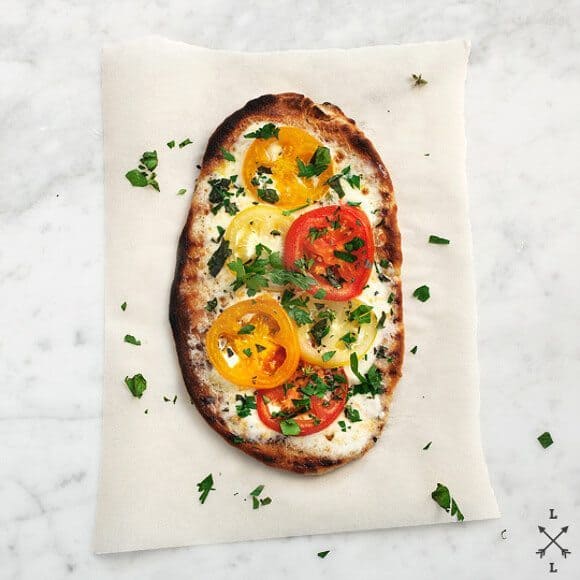 Grilled Summer Herb Garden Pizza
Serves:
4 individual pizzas
Ingredients
Pizza dough (I used pre-made dough from Whole Foods)
Garlic oil, for brushing dough (1 garlic clove + ¼ cup olive oil)
Fresh mozzarella cheese, sliced (if vegan, Daiya cheese, or no cheese)
1-2 small tomatoes per pizza, sliced
Fresh herbs, chopped (whatever you have/like… I used thyme, sage, basil and parsley)
Instructions
Heat your grill or grill pan to medium-high heat. If you're using an indoor grill pan, also preheat your oven broiler – if you want bubbling cheese, you will have to finish it in the oven.
Roll out your pizza dough with a bit of flour so that it's not super-sticky (you don't want it to completely stick to the grill). Divide into four ovals for individual pizzas.
Brush the dough with a bit of the garlic oil and place on the hot grill. The time you will grill each side will depend on how thin you have rolled out your dough. I grilled mine for 4-5 minutes per side. Using grill-safe tongs, you can slightly lift up a corner to look and see if black grill marks are starting to form. Once the first side has nice black grill marks, flip it over.
From here you have two choices: If you're using an outdoor grill, place the cheese, tomatoes, and herbs on the already-cooked side of the dough and shut the top of the grill until the dough is cooked through.
If you're using a grill pan, finish grilling the second side of the dough. Remove and place on a baking sheet. Place the cheese, tomatoes, and herbs on the pizza and broil it in the oven for another 3-5 minutes, or until the cheese is bubbling.