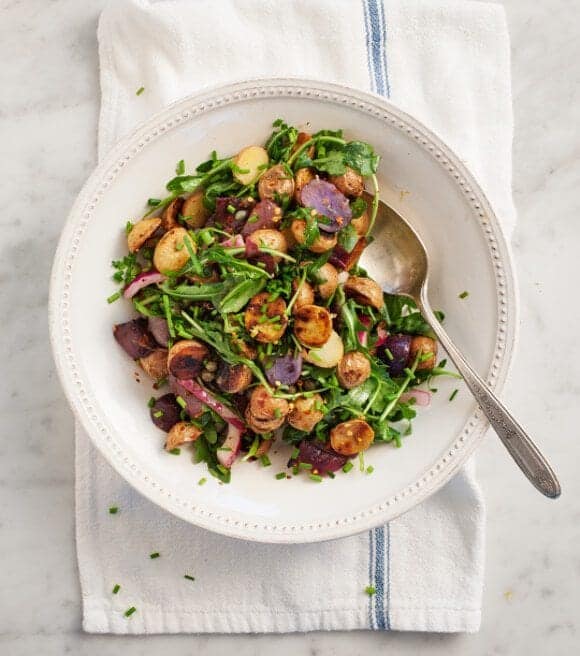 I might be from the land of meat and potatoes, but you all know how that my heart lies with the green stuff. I rarely eat potatoes, but I just couldn't pass up these little cuties. And since it's summer, I felt I needed to share a true picnic/cookout side dish.
These little ones grill up so well – they cook through without having to boil them first, and they get that nice charred edge. Off the grill, I drizzled them with a lemony dijon dressing. I let that soak in for a bit and then tossed them peppery arugula, pickled red onions, capers and chives. The end result… bright & tangy, filling but still light. I might just be eating a lot more potato salads this summer.
We ate this alongside some grilled salmon. The leftover potatoes were even better the next day – I snacked on them for lunch, and then repurposed what was left for a second's night dinner… I made full-meal salads by adding more arugula, smoked salmon, chopped cucumbers, pine nuts and a bit of the dressing that I had leftover.
grilled potato & arugula salad
Serves:
serves 4 as a side
Ingredients
1 pound little potatoes, sliced in half
salt, pepper
olive oil, for roasting/grilling
a few big handfuls of arugula
¼ cup chopped chives
1-2 tablespoons capers
lemon juice and zest
quick pickled red onions: (optional)
½ small red onion
a good splash of sherry vinegar
generous pinches of salt
dressing:
2 tablespoons olive oil
1-2 tablespoons sherry vinegar
½ -1 teaspoon dijon mustard
2 cloves chopped garlic
squeeze of lemon
Instructions
Slice potatoes in half and season with salt and pepper.
In a small bowl, combine the red onions with sherry vinegar and salt. Chill while you make everything else (or make ahead, the longer they sit the better).
Whisk together the dressing ingredients at the bottom of a large bowl. Set aside.
Heat a grill pan* to high heat and brush with oil. Place the potatoes, cut side down and let them cook without moving them until nice char marks start to form (flip one to check).
Flip them, add a good squeeze of lemon juice and continue cooking until roasted on the outside and tender in the middle. Reduce heat and cover if necessary (my grill pan doesn't have a cover, but we placed a baking sheet over it). I cooked my 1" potatoes for about 20-25 minutes total.
Transfer cooked potatoes to the large bowl with the dressing and toss to coat. Let cool and toss with arugula, onions, capers, chives and lemon zest.
Taste and add more dressing to your liking. Serve at room temp, or make ahead and chill.
Notes
*if using an outdoor grill, you may need a pan or grill basket so the potatoes don't fall through the grates. You could also could boil your potatoes or roast them in the oven.