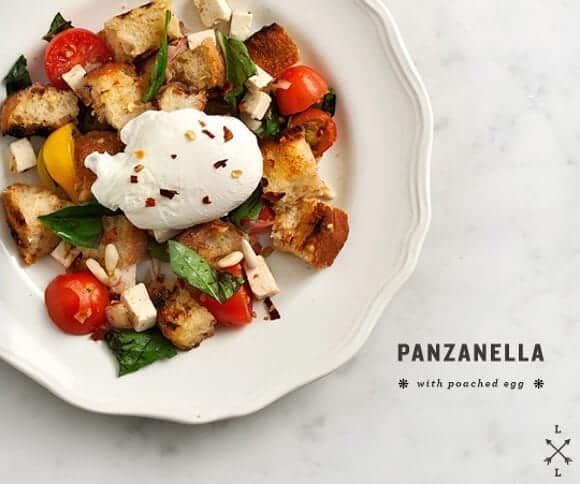 I love charred bread, but I haven't always.  When I was younger, my dad ate all the family reject burnt food. Overdone toast, accidentally burnt pancakes, cookies we left in the oven too long… my sister and I had a preference toward underdone and doughy food so whatever we messed up and overcooked, we'd pile on a plate for my dad. And he'd always say "this is the best kind."
The first time I put burnt toast on a plate for Jack, he looked at me and said "what's this, am I your dad now?" I had just always assumed that burnt food equalled man food. So over time, I selflessly became the eater of the black toast… not quite as black as my dad would eat but I've come to love bread with a nice deep char. Especially in a salad like this.
Toasty garlicky bread cubes kick up your average panzanella… that char offers such a delightful contrast to the juicy tomatoes, sweet basil and fruity olive oil.
Make it a full meal by topping it with a poached egg.




grilled panzanella
Ingredients
1 small red onion, sliced thin
half loaf of day-old ciabatta bread
olive oil
½ garlic clove
1½ c cherry and/or pear tomatoes, sliced in half
½ c ricotta salata cheese, chopped into ½ inch cubes
5 or 6 basil leaves, torn
¼ c toasted pine nuts
2-4 eggs, for poaching (optional)
Dressing:
¼ c olive oil
2 tbsp champagne vinegar (or white or red wine vinegar)
squeeze of lemon juice (1-2 tbsp, to taste)
salt & pepper, to taste
a few pinches of red pepper flakes
Instructions
Optional step: In a small bowl, toss red onion slices with a teaspoon or two of the champagne vinegar. Set aside while you work on the rest of the steps. This helps cut down on the harsh raw onion taste.
Slice bread into ½-inch thick slices, drizzle with olive oil, sprinkle a few pinches of salt and grill both sides until lightly charred. Remove bread from grill and rub it it with the sliced side of the garlic clove while the bread is still warm. Chop the bread into cubes and set aside.
In another small bowl, whisk together dressing ingredients and set aside.
In a large bowl toss the bread cubes, tomatoes, onion slices, ricotta salata, and basil together with the dressing. Top with toasted pine nuts and a few more red pepper flakes. Allow the salad to sit for 15-20 minutes for the dressing to soak into the bread. Taste and adjust seasonings.
Top plated servings with poached eggs if you wish.
For poaching the eggs: I love Deb's tutorial here.